Publisher:

Midway

Release Date:

May 9, 2006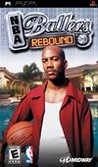 Summary:

NBA Ballers: Rebound is the only one-on-one basketball videogame highlighting the rags-to-riches path from an unknown Baller to today's NBA superstar and is based on the original Midway title, NBA Ballers. [Midway]
Please enter your birth date to watch this video:
You are not allowed to view this material at this time.
NBA Ballers: Rebound Gameplay Movie 1
A good arcade-style basketball game to pass the time. Just keep in mind that the loading is atrocious.

NBA Ballers: Rebound is almost as good as its console cousin. I only wish the designers had actually tweaked the controls to the PSP rather than just porting the game over straight. There are so many creative moves it's a shame you can't access them all with any reliability.

NBA Ballers Rebound for the PSP is like that veteran free agent your team just signed--it gets the job done but you've seen all these moves before.

A simple port of the popular franchise downsized to fit in the palm of your hand. Granted the core game mechanic is still tons of fun in small doses I believe that was the game's main goal in the first place and this iteration nails it flawlessly.

For the time being, we'd rather play Ballers than EA's "NBA Street," and that's really all you need to know.

An annoying little game that plays just well enough for us to nearly forgive the ridiculousness of it. [Issue#139, p.93]

Official U.S. Playstation Magazine

The few new modes exclusive to the PSP can't offset the lack of unlockable content when compared to the console. [Aug 2006, p.83]
This game is awesome. It is complete, has great graphics and is extremely addicting!