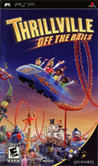 Summary:

Off the Rails lives up to its name with 20 death-defying rides so outrageous, they inspire the same word from every park visitor who sees them: "WHOA!" Players build these incredible "WHOA Coasters" to leap from one track to another, launch through the air like cannonballs, blast through a

Off the Rails lives up to its name with 20 death-defying rides so outrageous, they inspire the same word from every park visitor who sees them: "WHOA!" Players build these incredible "WHOA Coasters" to leap from one track to another, launch through the air like cannonballs, blast through a burning rings of fire and more. A new lighthearted story ties together more than 100 missions, complete with 34 playable multiplayer theme-park games and social interaction with park guests that's better than ever. The in-depth conversations both advance the plot and suggest better ways to manage the park. But is every guest to be trusted? [LucasArts]

…

Expand
Developer:

Frontier Developments

Genre(s):

Strategy

,

General

,

General

# of players:

2 Online

Cheats:

On GameFAQs

Rating:

E10+
While it still works and is a lot of fun, the differences are somewhat painful. If you're more interested in this game's party elements, pick it up for a different platform.

Thrillville: Off the Rails makes every part of building and running a theme park great fun.

Thrillville: Off the Rails is no revolution, given that it's a very similar package to last year's Thrillville. However, its light refinements mean that if you're interested in playing Thrillville then Off the Rails is the game to go for.

A strange double edged sword of a game, as a collection of mini games it's probably the best on the PSP, so good in fact that the theme park management elements you're forced to keep an eye on actually become an irritation after a while.

Improved mini-games help Off the Rails elevate itself higher than its predecessor, but we still have issues with such a bipolar approach to the theme park genre.

If you can put up with some repetition and the simplicity of the management system, you'll enjoy yourself. Most of the mini-games are quite a bit of fun, too, and they make for some good multiplayer sessions.

A series of semi-amusing, unconnected activities: sounds a lot like a sandbox, which, once you graduate middle school, loses its charm unless you can bring your gat.
pros: smooth gameplay, lots of games, you can talk to other people. cons: bad-ish graphics, interface and design is terrible, making your own

pros: smooth gameplay, lots of games, you can talk to other people. cons: bad-ish graphics, interface and design is terrible, making your own theme park is limited, narrow and boring, games need to be more fun. OVERALL: an okay game, it's mainly the disappointing custom theme park creation.

…

Expand
| | |
| --- | --- |
| 39 | |
| 79 | #79 Most Discussed PSP Game of 2007 |
| 65 | #65 Most Shared PSP Game of 2007 |