Publisher:

Nintendo

Release Date:

Mar 3, 2017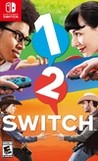 Summary:

Throw an impromptu party anywhere with anyone thanks to a new play style in which players look at each other—not the screen. Bring the action and fun into the real world as you face off in wild-west duels, cow-milking competitions, a copycat dance-off, and more. Each game takes advantage of

Throw an impromptu party anywhere with anyone thanks to a new play style in which players look at each other—not the screen. Bring the action and fun into the real world as you face off in wild-west duels, cow-milking competitions, a copycat dance-off, and more. Each game takes advantage of the Joy-Con controller features of the Nintendo Switch system in different ways. While the action unfolds off- screen, the audience watches the players themselves instead of the screen. [Nintendo]

…

Expand
Developer:

Nintendo

Genre(s):

Miscellaneous

,

Party / Minigame

# of players:

No Online Multiplayer

Cheats:

On GameFAQs

Rating:

E10+
The best reason to consider picking up Nintendo's new console. Yes, The Legend of Zelda: Breath of the Wild may go down as the finest game Nintendo's yet made. But you can play Zelda on Wii U. 1-2-Switch only works on the Switch. It is an absolute blast, a party game nonpareil, but also a showcase for the sort of "next-gen local play" possibilities the Switch may turn out to be persuasive enough to give literal legs to.

Yes, this is way too expensive; yes, it's in need of a decent amount of fine-tuning here and there; and yes, after getting a taste of a mini-game you have pretty much experienced everything it has to offer. However, while 1-2-Switch is not as good as it should be for a launch title, and although it gives a bitter tech demo aftertaste, it's hard to deny how fun it can be when gathering a bunch of friends ready to go bat-switch crazy with it.

1-2-Switch is a unique game thanks to the Joy-Con controllers. It is a party starter, but the party will not last very long.

By refusing to bundle 1-2-Switch with the base system, Nintendo has missed out on the kind of exposure that marketing simply cannot buy you; as a stand-alone release it feels too fleeting and ephemeral, but as a free pack-in it would arguably have been much more appealing.

1 2 Switch can provide you game sessions full of laughs and fun, but on the other hand it's just a collection of tech demos for the Joy-Con capabilities that unfortunately are not as deep to sell them as a retail package.

A proof of concept more than a game itself.

I haven't been this disappointed with a Nintendo game since Wii Music. Superficial tech demos camouflaged as mini games. If at all, the fun is very short-lived.
An absolute masterpiece! This is the must have game for the Switch. Get your alcohol, get your friends or waifus, enjoy!

If you like eatingAn absolute masterpiece! This is the must have game for the Switch. Get your alcohol, get your friends or waifus, enjoy!

If you like eating fake sandwiches, you'll love this game.

…

Expand

Отличная игра! В компании играть одно удовольствие. Мини игры разнообразные и интересные. Игра также не успевает надоесть (если у вас гости

Отличная игра! В компании играть одно удовольствие. Мини игры разнообразные и интересные. Игра также не успевает надоесть (если у вас гости конечно не каждый день;) ). Как по мне, заслуживает все 10 баллов.

…

Expand

At first I wasn't really convinced, of this game, but after playing it it was surprisingly fun. It's definitely worth it if you have friends/a family.

В теории очень классная игра, а на практике - так себе. Поиграл пару раз, а потом надоедает.

В теории очень классная игра, а на практике - так себе. Поиграл пару раз, а потом надоедает.

1-2 Switch well this is gonna be a short review just like this game. It is a bundle of mini games. The premise of most is to look each other

1-2 Switch well this is gonna be a short review just like this game. It is a bundle of mini games. The premise of most is to look each other in the eye and pretend your joy-con is a sword or use them to pretend to be a monkey.The games are fun for a party...for about an hour or so after that it will collect dust. The price of this game is asking way to much. This as most everyone on the planet has said,should of been a pack in game

…

Expand

1-2 Switch is one of the games that makes you scratch your head at the lack of depth of the games included. Included are 28 micro-games that

1-2 Switch is one of the games that makes you scratch your head at the lack of depth of the games included. Included are 28 micro-games that you play once and get bored of every time you play them again. The other downfall of this game is the price. It is mind-boggling to sell this as a full-price game when in reality it should be bundled with the console. I would recommend to look for a better Switch multiplayer game like Snipperclips or Overcooked and steer clear for this abomination.

…

Expand

It's fun for the first 5 minutes you play it. Iys a cool demonstration of what the switch can do but it's way to overpriced if it was 30-40$

It's fun for the first 5 minutes you play it. Iys a cool demonstration of what the switch can do but it's way to overpriced if it was 30-40$ instead of 60$ I would probably give it a higher rating

…

Expand