Publisher:

Ubisoft

Release Date:

Dec 6, 2019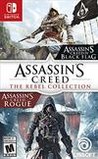 Summary:

Become the most feared pirate in the Caribbean in Assassin's Creed IV Black Flag. Take part in an award-winning naval experience and explore a massive open world. Become the ultimate assassin hunter in Assassin's Creed® Rogue, and play as a Templar for the first time in franchise history.

Become the most feared pirate in the Caribbean in Assassin's Creed IV Black Flag. Take part in an award-winning naval experience and explore a massive open world. Become the ultimate assassin hunter in Assassin's Creed® Rogue, and play as a Templar for the first time in franchise history. Experience enhanced features like Handheld Mode, HD Rumble, Touch Screen Interface, and Motion Control Aiming.

…

Expand
Developer:

Ubisoft

Genre(s):

Miscellaneous

,

Compilation

# of players:

Online Multiplayer

Cheats:

On GameFAQs

Rating:

M
It can feel weird going back to the older format after spending hours acclimating yourself to the gameplay of New Creed but neither Black Flag or Rogue feel dated in any way and remain insanely playable to this day. And if that doesn't sell you, perhaps knowing that the Rebel Collection offers the finest collection of sea shanties this side of the West Indies will have you galavanting over to the Nintendo eShop.

Assassin's Creed: The Rebel Collection provides a lot of gameplay for your money, even though overall Rogue feels a lot like Black Flag reskinned and moved to a new setting from a gameplay perspective. It's easy to recommend The Rebel Collection to action game fans, especially those who want to turn their daily commute into an adventure on the high seas.

The Rebel Collection is an all-around enjoyable and if you can understand that these games have some age to them, then I think anybody will find themselves enjoying it. Even those who have grown up with butter-smooth controls.

The Rebel Collection offers two great games that you can enjoy in a new way on Switch, thanks to a single package full of contents that will allow you to experience the journey of four different characters.

Overall, you're getting a massive amount of content in Assassin's Creed: The Rebel Collection, with the port of Assassin's Creed IV: Black Flag being one of the more impressive examples of an open-world game on Nintendo's handheld and Assassin's Creed Rogue being worthy of a playthrough if you haven't yet played it. The collection features two complete open-world experiences that are still a joy to play.

Assassin's Creed The Rebel Collection does not bring anything new to the series, yet this was expected. Fortunately the Nintendo Switch conversion went unharmed, and both games allow two big single-player "pirate simulators" to be portable. Shay and Edward suffer little technical issues but their respective design limits are counteracted by each other, even for the majority of the public only Black Flag will be worth the buy. Only for collection or if you didn't have the chance to play these games on current gen.

Assassin's Creed: The Rebel Collection for Nintendo Switch significantly undermines visuals for portability; there are better (and cheaper) options for Black Flag and Rogue.
I really enjoyed this game, the sound was clearer than the ACL port on switch.
I think the team that worked on rogue did really well on bothI really enjoyed this game, the sound was clearer than the ACL port on switch.
I think the team that worked on rogue did really well on both the FPS and graphics.
During the ship battles i noticed that there was little to no frame drop even with the particles and explosions.
This game must have been tested thoroughly as it has a great finish to it. I love the touch screen and it was very helpful at times.

Over all great game 10/10;
Love ACR;

…

Expand

This is my first time to write a review on impulse. I would highly recommend every NS player to purchase one copy! Every!
I have spent myThis is my first time to write a review on impulse. I would highly recommend every NS player to purchase one copy! Every!
I have spent my entire day in this game. I cannot believe one day this kind of 3A games can run almost at 30FPS in both Dock and handheld mode with such a high-level graphics performance
(1080p on Dock and 720p on the handheld). The experience of playing this game is exactly the same as my 1st experience of playing ACBF.
You can have a comparison with any other NS game.
This game makes me confident in purchasing further NS games.
Nice one, Ubisoft!

…

Expand

Amazing port! Graphics look phenomenal in docked or handheld mode! If youre a fan of AC Black Flag you will love this! One of my favorite

Amazing port! Graphics look phenomenal in docked or handheld mode! If youre a fan of AC Black Flag you will love this! One of my favorite games of all time! I've played through this campaign at least 3 X and as always its a swashbuckling fun time! Including Rogue is just the cherry on top as I'd probably pay $40 for black flag alone but I have also always wanted to be a pirate lol. Raise a cloud and sail the seas matey!

…

Expand

Solid graphics and performance with undocking 720p and dock 1080p.
Shut up and take my money!

Just a wonderfully superb port of two very fun games. Very stable framerate and graphics!

Two big games...Great miracle ports and great optimization for switch, a wonderful dream! ..much much better than ac3/liberation ports..30

Two big games...Great miracle ports and great optimization for switch, a wonderful dream! ..much much better than ac3/liberation ports..30 solid fps like ps4 in our hands!!!!! Very good work Ubisoft!! Now we want Ezio Collection and (if possible) AC Unity!

…

Expand

This is fun but Assassin's Creed 2 was better. I stopped buying Assassin's Creed after Assassin's Creed 2 because I went to play exclusively

This is fun but Assassin's Creed 2 was better. I stopped buying Assassin's Creed after Assassin's Creed 2 because I went to play exclusively on Nintendo consoles after my X-Box 360 and PS2 broke. I was so excited to pick this game up. But the long tutorial segment took away all my hype. I just wanna run around a city and hide form guards and it takes forever to get there. The ship battles are great and I'm glad the game starts off with that, but I just wanna jump run and explore and the map limits that greatly

…

Expand