Publisher:

Ubisoft

Release Date:

Dec 6, 2019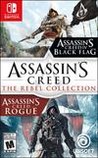 Summary:

Become the most feared pirate in the Caribbean in Assassin's Creed IV Black Flag. Take part in an award-winning naval experience and explore a massive open world. Become the ultimate assassin hunter in Assassin's Creed® Rogue, and play as a Templar for the first time in franchise history.

Become the most feared pirate in the Caribbean in Assassin's Creed IV Black Flag. Take part in an award-winning naval experience and explore a massive open world. Become the ultimate assassin hunter in Assassin's Creed® Rogue, and play as a Templar for the first time in franchise history. Experience enhanced features like Handheld Mode, HD Rumble, Touch Screen Interface, and Motion Control Aiming.

…

Expand
Developer:

Ubisoft

Genre(s):

Miscellaneous

,

Compilation

# of players:

Online Multiplayer

Cheats:

On GameFAQs

Rating:

M
It can feel weird going back to the older format after spending hours acclimating yourself to the gameplay of New Creed but neither Black Flag or Rogue feel dated in any way and remain insanely playable to this day. And if that doesn't sell you, perhaps knowing that the Rebel Collection offers the finest collection of sea shanties this side of the West Indies will have you galavanting over to the Nintendo eShop.

Assassin's Creed: The Rebel Collection on Nintendo Switch is nothing short of a technical marvel, proving what a big-time publisher can achieve with a port on the platform when dedicating enough time and effort.

Assassin's Creed: The Rebel Collection is an easy recommendation. While one game is indeed better than the other, there are still two very strong games for one single price. And you can't forget the addition of the previously released DLC that makes this whole package an extremely good value. Ubisoft has redeemed themselves with an almost perfect port of Black Flag while understanding the advantages that the Switch had to offer such as the motion controls. And of course Rogue is no slouch either. Ubisoft proves that you can port large scale games with some hard work and passion.

Assassin's Creed: The Rebel Collection has come as something of a surprise to us after the disappointment of Assassin's Creed III Remastered. Here are two excellent swashbuckling epics ported to Nintendo's console in fine fashion. Black Flag is a revelation in portable mode and looks and performs almost flawlessly as you blast your way around the Caribbean on Edward Kenway's captivating pirate adventures. Rogue, although it struggles to keep up slightly here and there, is always eminently playable and together with the excellent Freedom Cry, they give Assassin's Creed fans something they've wanted for a very long time now – this is handheld Assassin's Creed at a standard we weren't particularly sure we'd ever see on Switch.

With plenty of content to explore, whether on the water or dry land, the sea-based battles remain addictive to this day and the inclusion of all additional content makes this package a wonderful gem for everyone who wants to return to Assassin's Creed or simply try it for the first time.

On Nintendo Switch, with the Rebel Collection, Ubisoft has created a small jewel, capable of guaranteeing technical performance that (especially in portability) did not make us regret the console versions in the slightest.

Assassin's Creed: The Rebel Collection for Nintendo Switch significantly undermines visuals for portability; there are better (and cheaper) options for Black Flag and Rogue.
I really enjoyed this game, the sound was clearer than the ACL port on switch.
I think the team that worked on rogue did really well on bothI really enjoyed this game, the sound was clearer than the ACL port on switch.
I think the team that worked on rogue did really well on both the FPS and graphics.
During the ship battles i noticed that there was little to no frame drop even with the particles and explosions.
This game must have been tested thoroughly as it has a great finish to it. I love the touch screen and it was very helpful at times.

Over all great game 10/10;
Love ACR;

…

Expand

Just play these games. We know black flag is much better. And it's incredible good. One of my favorite games of all time. The games run

Just play these games. We know black flag is much better. And it's incredible good. One of my favorite games of all time. The games run smoothly on the switch and look pretty good.

…

Expand

Stable 30fps performance on Black Flag with almost no graphics compromise.
Ubisoft did learn from their AC3 **** on switch and made this AC4Stable 30fps performance on Black Flag with almost no graphics compromise.
Ubisoft did learn from their AC3 **** on switch and made this AC4 way more optimized and you can just see the results! Just get it for the shanties !
PS: 60fps mod available for the special switches ;) just google it!

…

Expand

Great collection for Switch!
Rogue is really underrated and deserves to be on as many consoles as possible

One of the best action/adventure experiences on the Switch to be sure, and in my opinion the best all-around Assassin's Creed experience pound

One of the best action/adventure experiences on the Switch to be sure, and in my opinion the best all-around Assassin's Creed experience pound for pound. In the Rebel Collection, you go from pirate, to liberator, to Assassin, to Templar. There's a LOT of variety when it comes to 'way of life' and exploring the intrigue of the underground societies of the Assassin Brotherhood and Templar Order and their philosophies, and you will probably enjoy all these transitions and the diversity of range they offer.

The gameplay between both games is mostly pretty uniform, but despite that, Rogue manages to improve upon Black Flag's formula and brings some unique add-ons to the experience and environments. Some improvements include military land-battles, reverse boarding, Assassin stalkers, double counters while fighting aboard enemy ships, the air rifle (possibly the single greatest piece of equipment in any AC), official hunt challenges, and much more. The only feature withheld from Rogue that was in Black Flag is underwater exploration, but that has a lot more to do with the environments than simply stripping content for the heck of it.

That being said, the games run well on Switch and there are very little issues with framerate or bugs. It's a well-tailored port and one that will more than likely be enjoyed by any gamer with an appetite for adventure. If you've played Assassin's Creed before, but stopped after II or Brotherhood, or were thinking about getting into the franchise, but only have a Switch, I would personally recommend this as it's a delight to play and offers fun exploration, naval combat, nice all-around customization, interesting stories, great characters, and one of the best AC experiences, even today.

…

Expand

I'd give it a 9, but unfortunately Rogue lacks the polish of Black Flag and has lots of glitches/hangups. It's a shame, because after playing

I'd give it a 9, but unfortunately Rogue lacks the polish of Black Flag and has lots of glitches/hangups. It's a shame, because after playing through Rogue I can confidently say I legitimately enjoy it more than Black Flag. Even if I don't like the story as much, gameplay wise Rogue is a huge improvement over Black Flag. It's a criminally underlooked AC game.

…

Expand

trash game ubisoft always knew how to destroy a good game with always online bs, bad control and stalking mission