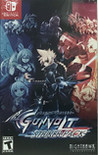 Summary:

Gunvolt is back and hitting store shelves for the first time in the new Azure Striker Gunvolt: Striker Pack!

The original critically acclaimed 2D action adventure, Azure Striker Gunvolt, is combined with its highly anticipated successor, Azure Striker Gunvolt 2, in one amazing gameGunvolt is back and hitting store shelves for the first time in the new Azure Striker Gunvolt: Striker Pack!

The original critically acclaimed 2D action adventure, Azure Striker Gunvolt, is combined with its highly anticipated successor, Azure Striker Gunvolt 2, in one amazing game package. These incredible platforming games harken back to the Japanese classics of yesteryear with their great controls, crisp graphics, unique gameplay mechanics, memorable characters, and epic boss battles.

Features:

-Two games in one for retail! Players have the opportunity to own both Azure Striker Gunvolt and its sequel, Azure Striker Gunvolt 2, on one cartridge! For the first time, Gunvolt will be available at retail worldwide!
-A powerful new enemy emerges! Gunvolt's battle with the Sumeragi Group may be over, but a brand new enemy is looming in the shadows. Can Gunvolt put a stop to the nefarious plot of this new threat before it's too late?
-Gunvolt's rival, Copen joins the fray! In Azure Striker Gunvolt 2, Copen makes his debut as a playable character! Soar through the air with Copen's dash, slam into his enemies to lock on, and then unleash a devastating flurry of homing shots! His high-flying control scheme is completely unique and engaging on a whole new level, so Gunvolt players will be able to enjoy the game in an entirely new way!

Exclusive Features:

-Choose your game! Enjoy Azure Striker Gunvolt and Azure Striker Gunvolt 2 on a single cartridge! In one convenient package, play the game that started it all, Azure Striker Gunvolt, or the exciting new follow up in the series, Azure Striker Gunvolt 2!
-Experience the Original Japanese Version! For the first time on the Nintendo 3DS, experience the original Japanese version of Azure Striker Gunvolt! The game now includes mid-stage dialogue that is fully voiced in Japanese with an updated English script that has been re-translated to better match the original Japanese version of the game.

…

Expand
Developer:

Inti Creates

Genre(s):

Miscellaneous

,

Compilation

# of players:

No Online Multiplayer

Cheats:

On GameFAQs

Rating:

T
Please enter your birth date to watch this video:
You are not allowed to view this material at this time.
Azure Striker Gunvolt: Striker Pack - Switch Trailer
With two comparable games from veteran action platformer developers, this dual pack is worth picking up even at full price.

Azure Striker Gunvolt: Striker Pack contains the high points of Inti Creates' oeuvre. The sequel included is easily the headliner of the two, bursting with content and generally being the much better designed title. The action is really addictive with playability being very tight and responsive. It's hard to let go of the game because it feels so good to play it. To find any big flaws in these would entail mostly petty nitpicks as they stand to be exemplary entries in the run and gun genre. Them being on Nintendo Switch only means that the action does not have to stay at home.

Azure Striker Gunvolt: Striker Pack is a wonderful collection of a couple of the best 2D action games ever made. If you're a fan of the genre and have yet to experience GV's adventures then this is definitely a must-buy compilation.

For diehards and the uninitiated, it's hard not to recommend Azure Striker Gunvolt: Striker Pack. The compilation features two compelling games, wonderful graphics and all of the previously released DLC all on one cartridge. The games have a couple of warts here and there, and the difficulty level can be demanding at times, but the gameplay will keep you coming back again and again. Fans of old-school, 2D platforming would do well to check this one out.

Despite its poorly told story, repetitive material grind, and wonky scoring system, Azure Striker Gunvolt: Striker Pack is a solid investment for fans of the 2D platformer genre. Gunvolt may not be Mega Man, but the series offers up much of the same charm and challenge that made Capcom's iconic franchise such a big hit. The pair of games doesn't quite hit the same highs as many of the Blue Bomber's greatest adventures, but Azure Striker Gunvolt: Striker Pack earns serious points for trying something new.

The asking price of 40$ for a port of 2 3DS games with DLC that cost 40$ on 3DS initially as a package might be a bit much for some but if you're a fan of action platformers, these are great and this pack is the definitive version of the Gunvolt collection.

As would be expected for a pair of 3DS games, the Gunvolt titles look sharp in handheld mode. There was a bit of an adjustment period when playing on TV, as I had mostly played Blaster Master Zero in handheld mode so I wasn't used to the pixels being enlarged for TV visibility. It's especially notable in the first game's credits. The music is not really noticeable until the Japanese pop idol overrides kick in, but those songs are a nice reward for the first game and serve as the DLC for the second title. Inti Creates's first six months on Switch have been quite strong, and this package is keeping the streak alive. Some of the additional content may water down the experience, but both games at their heart are worth a look.
A very nice Mega-Man-like game. The story is not a big deal but the gameplay balances that since it is significantly solid and addictive.

A very nice Mega-Man-like game. The story is not a big deal but the gameplay balances that since it is significantly solid and addictive. Personally, I prefer this game over Mega Man games.

…

Expand

Azure Striker Gunvolt is back, and on the Switch this time. The original games were on the 3DS, dating back to 2014 and 2016 respectively. If

Azure Striker Gunvolt is back, and on the Switch this time. The original games were on the 3DS, dating back to 2014 and 2016 respectively. If you're familiar with them, this is a nice way to snatch them up together with all the DLC and the option of playing on a larger screen. Plus the Switch's handheld screen is larger and the system more powerful. The game does look a bit pixelated on the big screen, but it IS meant to appeal to the retro crowd...

For those unfamiliar, this is a platformer made in the style of Megaman Zero/ZX, but it's hardly a clone. You follow the titular character, Gunvolt (real name unknown) on a quest to topple an evil syndicate called The Sumeragi group. And in the second game, an organization called Eden. Both bent on, you guessed it, World Domination.

The action focuses on speeding through levels, killing enemies, collecting goodies, and ultimately beating the bosses. Challenges can be accessed for stages after initial completion, adding to replay value. It keeps things fresh and involved while you attempt to beat your high score, or farm materials for equipment.

Equipment is used in this game in a variety of ways. It can give you more durability, improve your moves, or in some instances, remove the game's modern conveniences for a more hardcore experience. The materials are won from completing challenges and by collecting items from a series of boxes after completing each level. Your score dictates how many you can open initially, but you can collect medals through each stage to win more chances. The lottery aspect can be annoying at times, but satisfying when you get juuust the right item.

Combat is fun and unique. Your gun is mostly just there to tag your opponent and does only light damage. Lightning provides most of your punch, channelled into your opponent directly and in varying degrees, depending on how many times you tagged your target. When playing Gunvolt 2, you get a second character, Copen, who plays completely different. He glides around with a rocketpack, rarely spending any time on the ground. He jets around and tags enemies by crashing into them, then shooting them. Unlike GV's arsenal, Copen's is quite lethal. He also has the Megaman style ability of taking boss's abilities and using them against each other in the old "this boss's weapon beats that other boss" style rock, paper, scissors method.

The bosses are what you would expect from a Megaman game. Minibosses are usually huge and provide moderate challenge. Stage bosses are colorful characters that will banter with GV or Copen, if you have that option selected. Unfortunately these are no English VAs, but text is provided to distract you as they pummel you. The fights vary from boss to boss. Some are easy breezy, others require a bit more attention and forethought. They all possess a super move (that also varies in splendor from boss to boss) that will trigger after you have depleted 2/3rds of their health, and can be triggered again from that point until their death.

The story is surprisingly deep for a platforming game and well crafted. It's not terribly original though, using many tropes from anime and many story themes from the X-men. The characters will banter throughout stages just as they do during boss fights, and this is still completely optional. Unlike the Playstation-era Megaman games Gunvolt resembles, the conversations won't stop your character from moving or progressing. There are also plenty of cutscenes, though none are animated. It's all splash images with dialogue bars. The art is top notch, though.

The Striker Pack also has some difficulty tunings and some minor level and item location changes. It unfortunately suffers from being $40, where each game could be bought on the 3DS eshop for $14.99 each and found frequently on sale for lower. Is the extra price hike worth it? That depends on you. If you're spoiling to add a kickass game to your Switch, sure. If you're the frugal type, or if you already own the 3DS versions, you may reconsider. It's already a great platformer, though, and a very worthy successor to the Megaman Legacy. If that's not your jam then you may not enjoy this game. Some looking for a Megaman fix may also be offput by how not-Megaman the game actually is. It has its own style, and it's fresh. The game is not perfect by any means, but it's still a joy to handle. If you're still feeling trepidacious, at least give the first game a shot on the 3DS.

On a final note, the endings... are not something I wish to spoil, but I would like to make note that neither game's 'true' ending is available the first time you beat the final boss. If you want that ending, and I hope you do, you'll be coming back for seconds.

…

Expand

Bought the physical version for the Switch at Christmas and just completed Gunvolt 1 (january 9th 18) which was pretty good!! I loved the

Bought the physical version for the Switch at Christmas and just completed Gunvolt 1 (january 9th 18) which was pretty good!! I loved the story (too much dialogues for me tho), the gameplay was great, the bosses were engaging, the level designs were simple in general (but efficient). The difficulty of the game was fairly easy and I was able to reach the ''Firmament - Part I'' at level 25-30 (cannot remember) with GV, but I had to return to the previous levels and grind to level 40 to get one more skill to be able to beat the Nova boss (still hard tho) which I hated. I returned and beat the final boss again to get the ''true ending'', but I did not beat the ''true final boss'' yet as he seems ridiculously hard. Any gamer who likes the Mega Man series or platformer games should definitely give this series a try.

Just finished GV2 (February 12th 2018) with Copen. I feel this one was more enjoyable to play, but easier and shorter. I think I was done in 3-4 hours maybe...did not have to ''grind'' like the first game. The story in this one was a little bit confusing.

PS I played both games with the LOZ PowerA Controller and it was great!

…

Expand

It's a good game, but there are too many good games to replace.
It is true that this game lacks charm and completeness.

Gunvolt = 6/10
............................................................

Cast: 2/10
Story: 4/10
Fun: 6/10
Gameplay: 5/10

Not-Recommended
----------------------