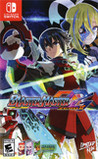 Summary:

The side-scrolling/top-down hybrid action adventure gameplay returns with a brand new sequel to "Blaster Master Zero"!

Experience the yet-untold story of Jason and Eve after defeating Earth's mutant scourge as they venture into the depths of space in their new battle tank, "GAIA-SOPHIA"! The side-scrolling/top-down hybrid action adventure gameplay returns with a brand new sequel to "Blaster Master Zero"!

Experience the yet-untold story of Jason and Eve after defeating Earth's mutant scourge as they venture into the depths of space in their new battle tank, "GAIA-SOPHIA"!

The story of Blaster Master Zero 2 begins a few months after the events of the first game (released on March 9, 2017), where the main protagonist Jason saves planet Earth from the mutants. Eve has been infected by mutant cells that are slowly corrupting her body, so together with Jason and Fred, they board G-SOPHIA and begin an intergalactic journey to Eve's home planet, Sophia, in hopes of finding a cure for the mutant infection.

…

Expand
Developer:

Inti Creates

Genre(s):

Action

,

Shooter

,

Shoot-'Em-Up

,

Top-Down

# of players:

No Online Multiplayer

Cheats:

On GameFAQs

Rating:

E10+
Please enter your birth date to watch this video:
You are not allowed to view this material at this time.
Blaster Master Zero 2 - Launch Trailer
It's a "blast" to play for those who want a great action game whether or not you're a fan of retro games. But by now with so many retro inspired games on the eShop both this and the first Blaster Master stand at the top of the offerings as true must-haves.

Blaster Master Zero was a phenomenal remake of an 8-bit classic so being able to finally enjoy a true sequel is an absolute treat. If you're up for a challenging and rewarding retro experience then playing Blaster Master Zero 2 is a must.

Nintendo Force Magazine

Feb 27, 2020

All in all, Zero 2 is a well-crafted sequel that actually feels like the sequel it's meant to be. [Issue #40 – July/August 2019, p. 18]

Blaster Master Zero 2 does a great job of coming off as a fun, difficulty-laden retro game of years past, while not feeling like its cheating the player with artificial difficulty.

It may feel a little bit short if we don't make the most of it, but it is a very, very good metroidvania with a great setting.

Blaster Master Zero 2 is the much improved sequel the original deserved. Everything here is superior to to it, to the point where it renders it redundant. The story has more going on with actual NES-style cut-scenes with beautifully drawn pixel art. There is a cast of friendly weird aliens that have amusing banter with their own side-kicks, and drive a respective vehicle too. There is even an alternate ending for completionists to earn. Some may lament that this is more level-based than the sprawling interconnected original, yet by focusing on the strength of mechanics and flow of the action, Inti Creates crafted a much more exciting title. As far as 2D action games on the Switch go, Blaster Master Zero 2 is up there as one of the better options.

Blaster Master Zero 2 delivers a fun and challenging action game which nearly every player can enjoy. With its well designed levels and gameplay mechanics lying on a quality audiovisual environment, Blaster Master Zero 2 is a welcome arrival to the Nintendo Switch catalogue.
While the first Master Blaster Zero was a nice nostalgiac trip with a cute, if simple, plot, it seemed a a bit lack-luster and the combat was

While the first Master Blaster Zero was a nice nostalgiac trip with a cute, if simple, plot, it seemed a a bit lack-luster and the combat was easily trivialized by just spamming the most powerful gun upgrade in the dungeons.
This sequel has greatly revamped the dungeons, with each of the weapons serving different purposes, and most enemies having a specific one they're weak to, added a fast-paced pseudo-parrying mechanic with a few different flavors to suit your preference or situational need, and expanded on the puzzle elements, though they're still very simple puzzles.
The overworld is completely broken up into different planets, planetoids, and ships scattered throughout space, which helps add a better sense of visual distinction and separation, though it does make the backtracking a bit more tedious compared to the first game's inter-connected main world.
tl;dr -- the dungeons are way better, the combat is faster-paced with reworked gun upgrades and the new parrying mechanic, and the overworld has been split up in ways that are mostly for the better.
The plot is also a bit more involved, with side-characters to meet along the way, and more variety in boss battles both in the tank mode as well as in dungeons.
If you liked the first game and just wanted a bit more depth, you'll love this sequel.

…

Expand

While I enjoyed the original Zero remake, I found slightly lacking. Zero 2 on the other hand is like 3-4 times better. Beautiful pixel art and

While I enjoyed the original Zero remake, I found slightly lacking. Zero 2 on the other hand is like 3-4 times better. Beautiful pixel art and great gameplay additions that really increase the fun of it all (serious improves the game). New original beautiful music in the classic Sunsoft style and a great new approach to structuring how you access areas. For 10 dollars this is a must buy. I'd even recommend skipping the first game if you're unsure of the series.

…

Expand

Blaster Master Zero II is a... blast to play. The game had me so engaged that I binged through it in two days (playtime around 11,5 h; I like

Blaster Master Zero II is a... blast to play. The game had me so engaged that I binged through it in two days (playtime around 11,5 h; I like to take my time and exhaust all the dialogue and whatnot). Inti Creates really improved on the first game in just about all respects!

Especially the difficulty has been hugely improved. The game is just the right amount of challenging, containing boss fights that made me die multiple times but feeling rewarding once I beat them. Your weapons have strengths/weaknesses against certain enemies, so you need to choose the best strategy/weapon combination for each situation. Some ideas introduced in the game, such as combining primary weapons with their optimal elemental damage subweapons, felt a little bit underdeveloped, when there exists the highest level gun, which provides a decent all-around weapon for the vast majority of encounters, so I wasn't that compelled/forced to experiment with other combinations too much. At least in this game the best weapon is a lot easier to lose compared to the previous installment.

In addition to the improved combat over the first game, I really liked how there were quite a few puzzles, some of them really clever, to provide some variation to fighting.

The story is still pretty predictable, like in the first game, but has more depth to it and there is more of it. The new characters are quite tropey and are left rather underutilized and underdeveloped, but I enjoyed their dialogue, regardless, and also mostly liked their designs. Jason and Eve, the ones you play with, naturally get the most attention and spotlight and have quite a bit of enjoyable to read dialogue, which drives the story forward and builds their relationship. One of the new characters introduced in this game does get a bit more exposure and goes through a more thorough, albeit rather predictable character development arc. Overall, the story isn't anything amazing, but interesting and entertaining enough to give the player something to look forward to when he or she progresses in the game.

But it's the rock solid gameplay that really takes the spotlight in this game, combined with crispy visuals with beautiful pixel art and an energetic soundtrack, which while being good, I didn't unfortunately find quite as catchy and memorable as in the previous game.

In short, if you like fairly challenging metroidvanias with great audiovisuals, I highly recommend Blaster Master Zero II.

…

Expand

Blaster Master Zero II improves greatly upon the controls and abilities from the previous game. The abilities while in the vehicle are pretty

Blaster Master Zero II improves greatly upon the controls and abilities from the previous game. The abilities while in the vehicle are pretty fun to use, but where the game shines is the sub areas. The sub area controls were improved greatly, with a new mechanic being added to make you feel much more powerful. These controls and abilities are amazing, a huge step up from the previous iteration.

Unfortunately, the bosses and levels are worse than before, which takes away from this improvement. They aren't bad bosses, but most of them are somewhat boring. With the exception of one of the later worlds, the levels are simply mediocre. The exception unfortunately is really bad, it has a mechanic that ruins what was otherwise a cool concept.

As for the DLC characters, Copen is a blast to play as. I would consider him a must buy, his abilities are really fun to use and you can play through pretty much the entire game without using your vehicle. Empress is still fun, but I'd only recommend buying her if you really enjoy the game. Her abilities are rather limited, forcing the vehicle to still be used for navigation and certain fights. She's pretty fun to use in sub areas fortunately.

Overall, I enjoyed this game, though not quite as much as I enjoyed it's prequel. I recommend buying the first game first, and then jumping into this one if you enjoyed it.

…

Expand

If you're looking for a casual metroidvania style game, then BMZ2 is probably for you. Gameplay is easy to learn as you progress through the

If you're looking for a casual metroidvania style game, then BMZ2 is probably for you. Gameplay is easy to learn as you progress through the game in either a side scrolling tank called Sophia or in a top down view of the main character Jason. There is plenty of weapon variety in this game with all the megaman-esque weapons that allow you to progress through the various levels. The art style is great and the music is retro which might cater to your taste. I found most bosses I could beat in the first try and that is the only reason why this does not get a higher score from me. This doesn't take away the sense of accomplishment you get as you progress through the game whether by sticking to the main quest only or exploring extra planets where you can buff your character with extra life, weapons, etc. This is a game that doesn't take long to master but for the price is well worth your time.

…

Expand

Volle Ladung, Feuer! Für die schönste Sache auf der Welt muss Zeit sein. Blaster Master ist zurück! Was für ein Feuerwerk.

Blaster Master Zero II is, unfortunately, not a game I can recommend.

The first level, Planet Florence, and the level that follows presentsBlaster Master Zero II is, unfortunately, not a game I can recommend.

The first level, Planet Florence, and the level that follows presents all of the game's core concepts -- Its premise, its combat, its traversal mechanics, level select system and exploration elements. The game opened up with all its ideas firmly in place, then left me to ponder in which exciting directions it would go from there.

The problem is that I was left pondering this for the rest of the game, all the way past the final encounter. All of the core ideas are barely touched upon, and all appeals the game could count on remain half-measured.

Its premise? At first it piqued my interest, and drove me forwards with its sense of urgency. However, the game couldn't seem to decide if it wanted to portray the situation as urgent or if it wanted you to take your time. Interactions with characters are unfulfilling. They for the most part just feel like side-characters in some episodic Shonen anime; Jason says hi to them, a fight happens, and then Jason goes to do something for them 'cause he's such a nice guy. And... nothing more to it, really. I wanted to interact more with these characters, really get to know their story; but there's just nothing to it.

Its combat? You get a few new weapons. Most of Sophia's are impractical for most of the fighting you'll be doing; one would probably just stick to the default weapon. To the game's credit, Jason's part of the combat is honestly rather fun, with his arsenal offering so many different ways to handle each situation. He gets just enough options to keep his side of the combat engaging; too bad everything that isn't combat just isn't fun for Jason. The bosses are easily the highlight of the game, with them asking to think smartly about how to fight them and really getting to know your options.

Its traversal mechanics? You get only one power-up that makes it a slight bit easier... and not by that much. Nothing you get in this game re-contextualizes how you go through levels; power-ups act as clearly-told keys to some obstacles, and that's about it. The levels themselves don't do much to reward players for understanding their layouts. No clever shortcuts here. It makes backtracking through these levels very dull later on when the player is tasked with doing so. This also ties into its exploration.

World map? It's kinda neat. Some of the games' most striking moments happen on the world map. I didn't really expect it to go any further than that, even though there is some room for more; but regardless, that's by far the lesser concern here.

Passing mention to the extra contents of this game; requiring about half an hour of fetch quest busywork to be rewarded with... honestly the most obnoxious segment I've played in any modern game.

The overall result is a game that, to me, felt like it was going to get good any minute now; but it does this far too late to justify the mind-boggling amount of waiting for it to happen, on all of its appeal fronts. In that perspective, I simply cannot recommend this.

…

Expand