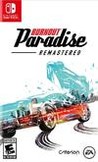 Summary:

Welcome back to Paradise City! Make action your middle name as you rule the streets in Burnout Paradise Remastered. Tear up the town from hectic downtown avenues to wild mountain roads. Relive the high-octane stunts and wanton destruction of one of the greatest arcade-driving games ever!

Welcome back to Paradise City! Make action your middle name as you rule the streets in Burnout Paradise Remastered. Tear up the town from hectic downtown avenues to wild mountain roads. Relive the high-octane stunts and wanton destruction of one of the greatest arcade-driving games ever!

Burnout Paradise Remastered provides the ultimate driving playground for you and your friends to play online. This remaster includes all DLC from the Year of Paradise, including the Big Surf Island update, meticulously recreated and ready to wreck in 4K on the PlayStation 4 Pro and Xbox One X.

…

Expand
Developer:

STELLAR ENTERTAINMENT SOFTWARE LTD

Genre(s):

Racing

,

Arcade

,

Automobile

# of players:

Up to 8

Cheats:

On GameFAQs

Rating:

E10+
If you've never experienced Burnout Paradise before — or even if you just want the convenience of having an all-time classic racing game with you everywhere you go — you're in for a treat with this Remastered version on the Switch. It may be more than a decade old, but time hasn't diminished it in any way, and it's still a must-play for anyone who likes a whole lot of destruction in their racing games.

Still best in class, Burnout Paradise Remastered on Switch is a perfect fit that plays as well as you remember it, even if it's far too expensive.

Burnout Paradise Remastered brings a strong open-world racing playground to Switch. The smart port job means that you can play the game on Switch without any notable technical compromise. The repetitive design might be a bother for some, but the open world's pick-up-and-play nature is so perfect on a portable system that it's hard to get annoyed.

The essence of Burnout Paradise is still intact in its remastered version for the Nintendo Switch, from the positive points such as the fun of doing a takedown, to the negative ones such as the looped repetition of the Guns N 'Roses song.

Burnout Paradise Remastered offers the possibility of feeling the adrenaline and speed that we enjoyed so much a decade ago; And that is priceless.

Overall Burnout Paradise Remastered, does exactly what it set out to do and accomplished it very well especially on a lower tier hardware like the Nintendo Switch. Most people will enjoy this romp around and new players will enjoy the open level design. The biggest downfall is the price I would really recommend waiting for it to go on sale because at its normal price it is too steep to recommend.

The remaster works well enough to buoy a remarkable game for its time, and a solid game today. Some players may be disappointed in the aesthetics, but others may revel in simpler times, particularly those without RPG mechanics forced into every facet of progression. There's an undeniable presence that exists in the Burnout franchise, and Paradise, even throughout the years, continuous to define the arcade-at-home experience for every petrol head with a Switch.
This game is wonderful. I don't have nostalgia for it because I've never played the game prior to the Switch port. The love and praise for

This game is wonderful. I don't have nostalgia for it because I've never played the game prior to the Switch port. The love and praise for this game is totally deserved. Every event and secret is centered around and takes place in a masterfully designed open world city. I was really surprised at how much variety there can be in a racing game. It's easily the best racing game I've ever played and is one of the best arcade games as well. I love it so much and plan to 100% it. The price is egregious compared to other consoles, but even at $50usd, it's worth it. (I'm giving it a 10 because it so perfectly executes it's vision).

…

Expand

I own no other consoles but the switch. This is worth every penny. Greatest arcade racing game of all time!

Se trata sin duda del mejor juego de coches de la Nintendo Switch (con permiso de Autosport Grid). Una conducción arcade muy divertida (con

Se trata sin duda del mejor juego de coches de la Nintendo Switch (con permiso de Autosport Grid). Una conducción arcade muy divertida (con drifting incluido), y un montón de secretos por descubrir en un mundo abierto que en ningún momento resulta vacío. Además, en el apartado técnico sobresale, siendo sin duda un juego totalmente imprescindible para los poseedores de Nintendo Switch.

…

Expand

This text does not contain spoilers
Attractive gameplay is the main factor to enjoy this game.
The gameplay contains a look at all theThis text does not contain spoilers
Attractive gameplay is the main factor to enjoy this game.
The gameplay contains a look at all the racing titles and brings a great game.
But its not-so-interesting graphics for the end of the 8th generation of computer games are the problem with this title, which will bother you a lot in the experience of this game.
Conclusion: Despite the poor graphics of the game and the lack of personalization of the cars and its attractive gameplay character, it has been able to perform at its best.

…

Expand

The reworked version of Burnout Paradise can be seen in a playful way, as well as graphically on the Nintendo Switch these days. It's simply a

The reworked version of Burnout Paradise can be seen in a playful way, as well as graphically on the Nintendo Switch these days. It's simply a lot of fun when you drive through Paradise City and can simply hear the scenery and the excellent sound. The tasks and challenges are always varied and will demand a lot from you. Thanks to the full version, fans and newcomers to the series will be able to enjoy a great collection and spend hours playing the game. Unfortunately, we find the price too high, when the other versions are already available at a much lower price. If you haven't had a chance to play the original, you should definitely buy "Burnout Paradise Remastered" at Nintendo Switch.

(https://www.playmoregames.de/post/burnout-paradise-remastered-switch-im-test)

…

Expand

I never played the original back in the day, but I loved the earlier Burnout games to death, especially the all-time classic Burnout 3. So

I never played the original back in the day, but I loved the earlier Burnout games to death, especially the all-time classic Burnout 3. So this is the review of someone going in with a fresh set of eyes.

And I have to say: I'm not impressed, especially not for the price. It's not a bad game by any means (6 still means above average, after all), but it's got a lot of flaws.

The world is pretty intricate when it comes to shortcuts and such, but it is also preeeetty small. Combine that with there only being a little more than a handful of locations that serve as destinations for races (totally unnecessary limitation, as there is really nothing special about these spots) and very few types of events, and they all start to feel same-y and repetitive REALLY quickly (I'm only 4 or 5 hours in and already bored). Also, they are way too easy. I'm currently on license B and the only time I ever lose races is when I miss a crucial turn, which leads me directly into my next point...

The open world-design really is a double-edge sword: On the one hand, it allows for exploration between races and creativity during events as you can always choose your own route. In practice however, it's usually pretty clear what the fastest route is and your task is really just to follow it, which is a pain in the arse, because you're somehow supposed to look at your mini-map and waypoints while simultaneously following the usual high-octane Burnout racing action, which is borderline impossible and results in a lot of crashes. It also really only serves to slow the gameplay down, because you want to make sure that you're on the right path rather than blowing by an important turn and having to back-track. I mean, did the developers think that we all have two sets of independently functioning eyeballs??

What's also suuuuper annoying is that there is no simple option to re-start or re-try an event and also no fast travel. Noooo, instead you have to manually and painstakingly drive all the way back to the starting point of the event, should you lose. I don't even bother most of the time and find something else to do. Similarly, you can't just change cars in a menu, but have to drive to a specific location to do it, which is totally unnecessary. And, oh yeah, you also can't even set way-points on your map...Some open-world-game, this is.

Another thing I found pretty weird is that you get instant access to a ton of cars right after the start of the game, including ones that are WAY faster than the car the game hands you at the beginning. I don't know if this is the result of DLC inclusion or something, but it's really weird, seeing as there is now basically no incentive to use the weaker cars that the game keeps awarding for winning races (other than doing one car-specific race for each one).

Also: NO CRASH MODE/EVENTS? IN A BURNOUT GAME? WHAT WERE THEY THINKING??? Why would you choose to omit the most fun and beloved mode out of all?? What's wrong with you?

So, all in all, there is *some* fun to be had here, but I would recommend playing Burnout 3 or even Revenge over this any day. If you've never played a Burnout game before and are looking for a fast Arcade-Racer on Switch, I could maaaaybe recommend this to you, but I would definitely get it on sale, as this is basically just a re-release of a 12-year-old game at full price.

…

Expand