Publisher:

Nintendo

Release Date:

Jan 3, 2020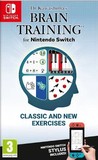 Summary:

Get ready to challenge your brain in a variety of ways in Dr Kawashima's Brain Training for Nintendo Switch. Enjoy new exercises, some of them making use of the right Joy-Con's IR Motion Camera*, or tap and train with classic exercises from past Brain Training games that you can play using a

Get ready to challenge your brain in a variety of ways in Dr Kawashima's Brain Training for Nintendo Switch. Enjoy new exercises, some of them making use of the right Joy-Con's IR Motion Camera*, or tap and train with classic exercises from past Brain Training games that you can play using a stylus (included with the packaged version from retail stores) or your finger. It's in your hands.

…

Expand
Developer:

Nintendo

Genre(s):

Miscellaneous

,

Edutainment

Cheats:

On GameFAQs
An effective update of the proven formula that we enjoyed many years ago. Anyone can enjoy it, although we expected a little more variety.

Quick, fun, entertaining and now multiplayer, Dr Kawashima's Brain Training is a good entry in the franchise. The cons are some really new elements and not being full compatible with Nintendo Switch Lite.

Dr Kawashima's Brain Training for Nintendo Switch certainly isn't as good as its predecessors. With its letter and number recognition problems and the Switch's controllers not detecting arm movements accurately, there are some minigames that players will definitely be put off by. But its unique new additions that utilise the Switch's IR camera are a real joy to play – and more than anything, even if it's not perfect, it's just lovely to have Dr. Kawashima on the Switch at last.

Unique touches like the IR games and two-player competitions give this Brain Training a fresh edge, despite how similar it is to the 2006 original. But in 2020 there's nothing here — aside from those two aspects — that couldn't be done on smartphones, and that's probably where Nintendo should have put it.

Solid brain-training with varying entertainment factor and small problems in terms of input recognition as well as online connectivity.

Everything about this game is very familiar. It is not something very exciting. We do appreciate the new training and the original way of adding the infrared of the Joy-Cons to the mix.

Regardless of what it may or may not do to your brain age, this is a disappointingly low effort remaster with serious technical issues and a lack of interesting content.
i **** adore this masterpiece. people praise the piece of **** ocarina of time but not this absolute **** necessity of a game. you absolute

i **** adore this masterpiece. people praise the piece of **** ocarina of time but not this absolute **** necessity of a game. you absolute **** baffoons. you dumbasses can never be trusted on the internet. because all of your opinions are just **** gay. i hope you get the big gay, and your grandmother too. suck the big dongo.

…

Expand

Free updates keep motivation high. Well suited to play in between. Now and then the recognition of the numbers does not work reliably. But all

Free updates keep motivation high. Well suited to play in between. Now and then the recognition of the numbers does not work reliably. But all in all a game for everyone that is fun.

…

Expand

With the lastet update, the game added a Working Memory section with a game like the ones found on Devilish Brain Training. I hope more

With the lastet update, the game added a Working Memory section with a game like the ones found on Devilish Brain Training. I hope more updates like this in the future. Otherwise, the game is very similar to the first Brain Training. I miss a section with the recopilation of the advices of Kawashima like in Devilish Brain Training, this game was more complete than the version for Switch.
The number and letter recognition I think that in the previous versions of the game was quite better.
However if you liked the previous Brain Training this game will no disappoint you.

…

Expand

The game is not bad, I bought it to have something to play with my girlfriend and she loves it. For the 30 minutes we play per day I would say

The game is not bad, I bought it to have something to play with my girlfriend and she loves it. For the 30 minutes we play per day I would say it is entertaining.

…

Expand

Lo primero de todo, ¿por qué va tan mal el sistema de reconocimiento de números? Siempre tengo problemas para escribir el 5 y el 8; no lo

Lo primero de todo, ¿por qué va tan mal el sistema de reconocimiento de números? Siempre tengo problemas para escribir el 5 y el 8; no lo entiendo.

En general, el juego no parece innovar en nada, si acaso en esa función tan molesta que hace hacer uso de los joycon... además, da la impresión de tener un catálogo de mini juegos bastante austero.

En resumen, un producto que no está a la altura de sus antecesores en cuanto a calidad y profundidad. Le doy el aprobado porque es entretenido en ratos muertos y porque me encantan los sudoku que trae.

…

Expand