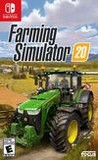 Summary:

In Farming Simulator 20, take control of vehicles and machines faithfully recreated from leading brands in the industry. For the first time on Nintendo Switch, this includes John Deere, the largest agriculture machinery company in the world. Drive other famous farming brands such as Case IH,

In Farming Simulator 20, take control of vehicles and machines faithfully recreated from leading brands in the industry. For the first time on Nintendo Switch, this includes John Deere, the largest agriculture machinery company in the world. Drive other famous farming brands such as Case IH, New Holland, Challenger, Fendt, Valtra, Krone, Deutz-Fahrand many more.

Farming Simulator 20 features a new North American environment in which to develop and expand your farm. Enjoy many exciting farming activities, including new machinery and crops with cotton and oats, new to the Nintendo Switch! Tend to your livestock of pigs, cows, and sheep, and now ride your own horses, letting you explore the vast land around your farm in a brand-new way.

…

Expand
Developer:

Giants Software

Genre(s):

Simulation

,

Virtual

,

Career

# of players:

No Online Multiplayer

Cheats:

On GameFAQs

Rating:

E
Farming Simulator 20 won't be for everyone, but if you're after high-octane, instant gratification, why are you sniffing around something called 'Farming Simulator 20'? It requires time and devotion – if you're not one to enjoy the long, languorous journey you'd be better off sticking to more abstract farming sims. Once you get into its low-key repetitive groove, though, there's a wealth of wholesome, calming work to get lost in and a satisfying flow to cultivating a field, sowing seeds, harvesting, repeating and watching those numbers go up.

Farming Simulator 20 on Switch looks great and provides a relatively decent sim experience, but it's not as robust as the last FS entry on Switch due to now being more mobile-focused.

Farming Simulator 20 is a good simulator of what a farmer's life offers and all the work involved. Its large amount of content and improvements offers us a title that, although not suitable for all players, can give many hours of fun.

While Farming Simulator 20 is likely to be appealing to long-term fans of the franchise, I suspect it won't be winning over many newcomers.

Farming Simulator 20 drives smoothly on the Nintendo Switch. Mainly being a game where you are only basically in the cockpit of your vehicle it isn't difficult in anyway to navigate especially since you can touch your screen to move your camera however draw distance on the Nintendo Switch seems very limited. It is difficult to enjoy a simulator if I am unable to see where my next task is turning my sessions of Farming Simulator 20 into a guessing game fairly quickly which is no fun at all. This version of Farming Simulator plays out like an after thought that needs drastic improvement as a "mobile console" title.

Farming Simulator 20 is a bit of a disappointment. As a newcomer to the series, I couldn't manage to find a hook to keep me playing before I was overwhelmed by the poorly explained gameplay loop, and with the draw distance as bad as it is, I can't imagine long-time fans of the series having a good time on Switch either. Agriculture is the backbone of society, but Farming Simulator 20 will not be the backbone of the Switch's library any time soon.

In its current state, I have a hard time recommending Farming Simulator 20 for the Nintendo Switch. If this is a title you just can't pass up, get the iOS or Android version and save a lot of money. Maybe GIANTS will consider throwing Nintendo a bone when Farming Simulator 21 is released.
THIS GAME IS TOO EXPENSIVE!!! This game costed $45.00 on Eshop. Although it is for mobile like FS 2018, 2018 had similar features and was

THIS GAME IS TOO EXPENSIVE!!! This game costed $45.00 on Eshop. Although it is for mobile like FS 2018, 2018 had similar features and was under $10.00. I quickly realized it was a waist of money after I bought it. It is also obvious that FS 17 had A LOT more features and was CHEEPER!!! This game is a waist of money, and if you are looking for a mobile FS game, DONT WAIST YOUR MONEY. Instead, by FS 18 or even FS 16, and you will get a MUCH better bang for your buck.

…

Expand

First let me qualify by telling you I have been playing FS games on mobile and console since FS14 was released on Android. I am a huge fan of

First let me qualify by telling you I have been playing FS games on mobile and console since FS14 was released on Android. I am a huge fan of the series and have never been disappointed by a series release... Until now. This game is six bucks on the play store... I spent $45 in the switch eShop for the same exact game. I regret it immensely. Do yourself a favor and buy Farming Simulator: Switch Edition. This release is a waste of your time.

…

Expand

I had high hopes for this release after the, imo, great port of FS17 to the switch. I wasn't really expecting a $45 mobile game. If you are

I had high hopes for this release after the, imo, great port of FS17 to the switch. I wasn't really expecting a $45 mobile game. If you are looking for a more complete farm sim feel, get Farming Simulator Nintendo Switch Edition. It's cheaper and closer the the pc and console versions.

…

Expand

I was so excited for this game to come out as I LOVED FS Switch Edition, and I thought that this was going to be that, but better. More crops,

I was so excited for this game to come out as I LOVED FS Switch Edition, and I thought that this was going to be that, but better. More crops, more vehicles, HORSES TO RIDE AROUND?? Sign me up. I bought it as soon as I could and downloaded, waiting in anticipation... only for it to open to the most barebones version of Farm Simulator I've ever seen.

"No problem," I thought. "I'll just mess with the settings." No. There are no settings. All the settings from Switch Edition, that basically made you the god of the farm universe, are gone. You've got horizon tilt, acceleration something or other, and sound sliders. At this point, I realized that I probably should've read reviews before I bought the game. As others have stated, this is literally a mobile game ported to the switch. Everything I loved about Switch Edition is gone. Instead, we got this, which I literally had to double check to see if it was an actual Farm Simulator game, or some cheap knockoff that I got conned into paying FORTY-FIVE DOLLARS for.

graphics suck, UI is large and clunky, customization is nonexistent, and everything you know and love about farm simulator on the switch is gone. Buy Switch Edition. Don't be fooled like I was. Save yourself.

…

Expand

I feel robbed. Just no radio is a deal breaker for me. Also, Giants software didn't give a damn for the users and just squeezed the mobile

I feel robbed. Just no radio is a deal breaker for me. Also, Giants software didn't give a damn for the users and just squeezed the mobile port right into switch. If they could port FS2017 to switch, 20 should have been possible as well. I wouldn't have mind slightly worse graphics and instead would've preferred a true port of fs2019. I even read comments in various forums, where some devs actually rebuked users having negative criticism of the game. The devs just barked on the users that it's not easy to port games on switch. Well then maybe they shouldn't.

The worse part is that they just slapped a mobile app version of FS on a switch cartridge and charged 10 times more price, for the same app that you can buy cheap on any mobile store.

It's pathetic, and I will make sure that this company will never get any more of my money ever in the future.

…

Expand

This game is such an insane step backwards from the last installation on switch. Zero customization options, controls have been slashed to

This game is such an insane step backwards from the last installation on switch. Zero customization options, controls have been slashed to bare bones, and it's basically a mobile game ported to switch. No difficulty or gameplay customization options are available, there is only one game mode and one map. Don't waste your money.

…

Expand

I am a superfan of Giants Software Farming SImulator series, but this is a huge step backwards! This game costs $45, more than Farming

I am a superfan of Giants Software Farming SImulator series, but this is a huge step backwards! This game costs $45, more than Farming Simulator 19, but lacks a lot of features. There isn't much to do in this game. First, there isn't enough equipments to work with. When your farm is big, you can only hire 4 helpers! Second, you can't even exit your vehicles to walk around and go to sleep. Third, you can only have 3 savegames, and there is NO MULTIPLAYER like FS 19. In this game, many equipments and key gameplay elements are missing. It would be much better if Giants ported FS 19 to the Switch. My tip: Avoid this game, that's all I can say!

…

Expand