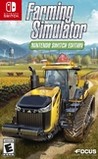 Summary:

Take on the challenges of the modern farmer. Explore a huge open world including a detailed North American environment, loaded with farming activities, over hundreds of acres of land. Drive over 250 authentic farming vehicles and equipment from over 75 manufacturers, including brands such as

Take on the challenges of the modern farmer. Explore a huge open world including a detailed North American environment, loaded with farming activities, over hundreds of acres of land. Drive over 250 authentic farming vehicles and equipment from over 75 manufacturers, including brands such as Challenger, Fendt, Massey Ferguson and Valtra. Harvest many types of crops, tend to your livestock, take part in forestry work, and sell your products to expand and invest in your farm. Transport your goods in trucks and trailers, or load and drive trains to reach your destination. [Nintendo]

…

Expand
Developer:

Giants Software

Genre(s):

Simulation

,

Virtual

,

Career

# of players:

No Online Multiplayer

Cheats:

On GameFAQs

Rating:

E
Please enter your birth date to watch this video:
You are not allowed to view this material at this time.
Farming Simulator 18 - Gameplay Trailer
If you do happen to be a driving simulator fan and already played this on another platform, then the question is—is it worth it to double-dip for the Switch version? GIANTS Software has done a great job at preserving the core Farming Simulator experience here on Switch, so you'll certainly feel right at home. If you're willing to give up mods, multiplayer and DLC in exchange for portability, then I'd say the Switch Edition does deserve a look. But, I have to note that it is a letdown that the Switch Edition is currently going for $50. That is rather high considering the missing content and year-later release.

I can't imagine anyone beating Giants' offering when it comes to Farming Simulator 18. If you're looking to relax and feel the digital earth between your digital hands, this one's a keeper. Recommended.

The experience also naturally fits with the Nintendo Switch and handheld gaming.

Farming Simulator is not something that you can recommend for everyone but there is something here that offers a really unique and enjoyable experience. If tycoon games of any variety tickle your fancy, I'd like to think you'll find something in Farming Simulator that you'll enjoy for a fair amount of time.

Farming Simulator on the Switch doesn't add any new content or special modes or new machines that aren't included in versions on other systems, but it does competently bring a well-liked sim to the new generation of Nintendo handhelds and gives Switch owners another decent, full-featured game in the sim genre. This isn't Stardew Valley, another farming-heavy title ported to the Switch, but a tycoon game that spends as much time with facts and stats as it does behind the wheel of a tractor.

Farming Simulator Nintendo Switch Edition is reliable, but it needs some upgrades. It is the old tool that never really got a good upgrade that hits the same levels of quality. Fans of the franchise are going to love the meditative state ploughing the fields, and having the feeling of productivity. It has a certain magic to it in its realism that makes it a wonderful simulator, and those looking to try out the modern farmer life, or just look at the machines and drool, are not going to be left disappointed.

All in all, Farming Simulator Nintendo Switch Edition kind of achieves what it promises: a smaller Farming Simulator that borders on machinery porn. It's not overly exciting, but it doesn't have to be. It has good moments, and the portable nature of the Switch makes it easy to drop in and out at any given time. Technically, it's underwhelming, and the world is cold, empty and feels too disconnected to engage the player. When repetitiveness sets in, only hardcore fans and enthusiasts can look past it and still enjoy the game. The core experience is fun enough that I'm reasonably surprised. If developer Giants Software can expand on the idea, I'm certain the Farming Simulator series will gain even more traction in the coming years.
This game is the full PC version Farming Simulator 17 for your Switch folks. Finally we can take it on the go. I see some critics online

This game is the full PC version Farming Simulator 17 for your Switch folks. Finally we can take it on the go. I see some critics online reviewing the game itself which is ridiculous. Most of us already know what we are getting into. I am here to tell everybody that this is a solid port of the game. For those who are not familiar with this game, check the Steam reviews for the PC version.

…

Expand

The first thing that's crossing your mind is....."running a farm, how can that be interesting, while everyone else is hyping about FPS

The first thing that's crossing your mind is....."running a farm, how can that be interesting, while everyone else is hyping about FPS games"......well it can!
It's so wonderful to get this game on Nintendo Switch - the game is beautiful, calm and really challening. Also you have a lot of freedom to choose, do what you want.......AND it's pretty fun to driving tractors LOL (I'm impressed!).
The game has all what the other versions got - so lots of machinery, animals, content to explore. Graphics are REALLY good in handled, wauv!
I like simulation games and I like it's different way the game goes instead hype gaming.
In the future I would like to see more content for Nintendo Switch - the Switch got a really nice approach to Farming Simulator.
PS. I love my pickup trucks

…

Expand

One of the best looking games ive played so far on the Switch. Only thing missing is some kind of multiplayer.

Having played no farming simulator before, this game is a welcome addition to my collection. I'm 47 and was quickly through the tutorials in

Having played no farming simulator before, this game is a welcome addition to my collection. I'm 47 and was quickly through the tutorials in no time. I thought the combination of L, R and L&R + buttons is ingenious to toggle up the array of tools and controls. After awhile it becomes second nature.

I have not played it docked but absolutely have no beef with the graphics when undocked - they are crisp and sharp enough for mobile play. The machines, animals and farm furniture look great (failing eyesight like mine helps perhaps) Really you don't need to look at the horizon in the far yonder to benchmark the graphics when all the action is up close (and you do need to hustle and get the land tilled!). And up close, the game looks beautiful.

Too much action games on my plate of late (SMO, BOTW (still!) and I have been spending many hours on Flame in the Flood and Farm Simulator instead - where proceedings are .. calmer. Great purchase for me. No regrets

…

Expand