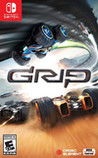 Summary:

GRIP is a high octane, hardcore combat racer, packing ferocious speed and armed to the teeth with heavy weapons. Harnessing gravity defying physics alongside a bristling arsenal of outlandish weapons, GRIP delivers the fastest, most competitive racing experience ever. Scale walls, ceilings

GRIP is a high octane, hardcore combat racer, packing ferocious speed and armed to the teeth with heavy weapons. Harnessing gravity defying physics alongside a bristling arsenal of outlandish weapons, GRIP delivers the fastest, most competitive racing experience ever. Scale walls, ceilings and anything else you can get your tyres on to... as you master tantalising tracks, tricks and perform mind-blowing stunts to race your way across the cosmos.

…

Expand
Developer:

Caged Element Inc.

Genre(s):

Racing

,

Arcade

,

Automobile

# of players:

Up to 10

Cheats:

On GameFAQs

Rating:

E10+
Please enter your birth date to watch this video:
You are not allowed to view this material at this time.
Grip: Combat Racing - Official Trailer
While GRIP isn't perfect by any means, the game's change of pace from my standard racing fare in Mario Kart 8 Deluxe was welcome and somewhat addicting. For Nintendo Switch owners who are looking for a racing game that differs from the "kart" scene, the low-gravity and speedy thrill of GRIP is the way to go.

While its controls can often be a little too unforgiving - especially when travelling at such high speeds - once you've got the hang of each vehicle's unique yet temperamental handling, GRIP: Combat Racing really opens up. Serving as a faithful nod to the original Rollcage, the wide range of modes and unlockable parts could make it the next Rocket League - if it manages to gather a similar cult following. If you're in the market for a larger than life racer that isn't Mario Kart 8 Deluxe, this could well be your next racing obsession.

GRIP: Combat Racing is an entertaining racer for the Nintendo Switch. It isn't the best racing title the system has to offer, but as a tribute and a throwback to arcade racers of the old days, it certainly succeeds in achieving its goal.

GRIP: Combat Racing is a decent racing game that can get a little too wild at times.

GRIP: Combat Racing boasts exciting gameplay that is sadly held back by technical issues. It's worth a look into for fans of racers, but other folk may want to wait until a price drop.

There are enough consistently frustrating issues to hold it back from being truly exceptional for most. Both the gameplay and performance can feel a little too inconsistent at times as the controls and frame rate can sometimes be equally bumpy. Regardless, at its core, GRIP: Combat Racing is still an impressively fast racer that almost anybody should be able to have at least some fun with.

On paper, GRIP sounds like a thrilling combat-racing experience. In practice, it's a dull and outdated execution despite its content-rich package.
Think extreme G 1, 2 3 , twisted metal , F Zero, Rush 2049 etc. ...do you miss those games?!? Then buy this one. indie games suck and shooters

Think extreme G 1, 2 3 , twisted metal , F Zero, Rush 2049 etc. ...do you miss those games?!? Then buy this one. indie games suck and shooters are stale nowadays but you peeps buy that instead of a worthwhile fresh experience in a dieing genre that could go extinct in the face of the mediocre game scene it is today. Buy just because you don't want Vanilla to be the only flavor.

…

Expand

Do not pay attention to the critics, GRIP is an awesome racing game. GRIP is a combat racing game developed by Caged Element and published by

Do not pay attention to the critics, GRIP is an awesome racing game. GRIP is a combat racing game developed by Caged Element and published by Wired Productions that pays homage to RollCage, a beloved PS1 game. One new feature GRIP adds is the ability to drive on the walls and ceilings, which in my opinion is awesome! Once you get deeper into the game, the game begins to turn into a death race esk style game.

My final thoughts on GRIP is that its an awesome combat racing game. You should play it for yourself, because if you focus on the negative reviews, you could be missing out on quite a gem.

…

Expand

In the time of people always saying you need 60fps and 4K resolution, I had to just let my son (10) play it and ask what he thought. Even

In the time of people always saying you need 60fps and 4K resolution, I had to just let my son (10) play it and ask what he thought. Even though the 1080p with 30fps on the Switch, he had a blast and he and his friends said this deserves a 9.

And what can I say, it looks great, it's challenging in a fun way and kids know how to have fun without taking things to seriously, so that 9 is well deserved.

…

Expand

Grip is an exhilarating combat racer that takes influence from games of the PS era: Rollcage, Firebugs etc. Grip is exactly that:

Grip is an exhilarating combat racer that takes influence from games of the PS era: Rollcage, Firebugs etc. Grip is exactly that: exhilarating. The sense of speed as you hit the higher classes is overwhelming, for better or for worse. When you successfully complete a blistering lap time it is immensely rewarding. However sometimes it can be difficult to complete a lap!
Grip can be frustrating, with it's difficulty definitely tailored to the more hardcore crowd. Catching the wrong bump or camber on track can send you pirouetting into skyscraper 3 miles away. I found myself having to remember tracks and go on 10+ lap marathons just to be able to progress the punishing Career mode. While this is fun, the tracks don't have obvious landmarks to track where you are, and as the tracks aren't exactly in '2D space', so there's no mini-map to judge when a corner is coming. For this reason it can be difficult to learn tracks, especially on the harder difficulties.
It is also worth mentioning the AI rubber banding is extreme! In some cases it's best to hide out in 3rd or 4th, then power on the last lap to overtake. Trying to get any kind of lead in Grip is futile!
That said the vehicles including 'air blades' are really cool. Weapons are also fun to use and you can power them up for different variants as you get deeper in the Career mode. The weapons do almost feel like an optional extra though, and most times don't decide races. The Career mode does a good job of pacing different styles of play as you progress to keep it fresh and interesting. The Ultimate Race mode is great fun, it's a point based system where you get points for weapons aggression as well as your final standing in the race.
Technically, on Switch it struggles. Single player is usually fine, with the odd texture pop in here or there or frame rate drop but it usually recovers. Split-screen however is just ugly on Switch. Textures have been noticeably down-scaled, and FPS is a bit of a mess. This doesn't detract from the overall enjoyment of Grip though. My only other gripe aside from sometimes unstable handling is one weapon in particular. It is your Mario Kart lightning equivalent, and aims to squeeze the pack up, by very obviously slowing down lead cars. The visual effect of this pickup can be quite nauseating and detract from the end user experience. In races where I forced the game on my friends, the main reaction to this weapon was overwhelmingly negative as they didn't understand what was going on, and really broke the game immersion.

Pros
-Intense combat racing
-Great vehicle designs
-Driving upside down in '3D' environments is exciting
-Great aesthetics

Cons
-Handling can be unforgiving and unpredictable
-Difficulty gets tough in that last part of the Career
-Rubber banding can make going for any lead pointless
-Technically struggles on Switch
-One pickup is immersion breaking

Grip is a fun but often cruel game, one focused on sheer exhilaration of driving upside down at high-speeds, if that's your thing. (And it is.) Aside from the odd texture pop in and heavy rubber banding, it's a well designed, aesthetically pleasing, addictive arcade racer.

…

Expand

There's a lot of wasted potential in this game. Trailers make it look great, but, unfortunately, the real thing is a bit of a mess.

First,There's a lot of wasted potential in this game. Trailers make it look great, but, unfortunately, the real thing is a bit of a mess.

First, the racing is simply not great. In fact, it's borderline non-existent since the only part of any race that matters is the last few seconds. There's a boost system at the start of each race that let's you get a headstart. BUT there's no point in taking advantage of it because it will have zero effect on the race outcome. In fact, I'll often find myself sitting checking messages on my phone while the race starts because I know I'll catch up whatever I do. Cars pass you when you're boosting on a straight after nailing the previous corner, you can pass other cars after bumping off every wall. How you drive makes barely any difference to the outcome. Add to this the fact the tracks are frequently hard to make out and the seemingly random physics where hitting a curved edge sometimes stops you dead (all too frequently halfway inside the wall) and hitting a 90 degree angle sometimes launches you skywards - or vice versa. Jumps and ramps are placed around the track but all too often these ping you into something hanging overhead or into an invisible wall. Basically, just keep going in the races and hope you don't get blown up on the finish line. Whether you win or not is mostly going to come down to luck.

Then there are the non-race races. There's a battle mode where the aim is to damage the other racers - this is actually pretty fun and works well, but it;s far too easy. Then there is a quite, quite hideous kind of airtime mode that, honestly, I still don't really understand how it works. You seem to get points for how long you're in the air, but...if it's based on distance or height or tricks...I have no idea. All I know is I'll usually be in first place for most of the 'race', be told I finished 5th or 6th after crossing the finish line (at which point other racers who scored higher than me will be displayed with their points tally) before finding myself first again in the tournament table. Weird, stupid and a typical example of the total lack of polish in this game.

You can also upgrade your car. Or can you? The only upgrade in the garage is new cars, which are just there as you rank up so you forget which ones are new (they're not arranged in any order and most look pretty similar). You can unlock new tyres which make no difference to performance and are almost indistinguishable from each other and a few decals. The whole garage is basically pointless.

Finally, we have the coup de grace. After EVERY race in single player, you will be prompted FOUR times to join Nintendo Switch Online. FOUR times it comes up and FOUR times you have to cancel. After EVERY race. This takes approx. 40 seconds to get rid of. There are three races in a tournament (so two minutes per tournament) and three or more tournaments per rank (so six-plus minutes per rank). With 11 ranks, that means completing the campaign will involve ONE TO ONE AND A HALF HOURS OF YOUR PLAYTIME WILL BE SPENT CLICKING CANCEL ON THE ONLINE WINDOW.

All such a shame, because this looked like it was going to be really solid. Unless you are desperate for a racer on Switch, this is definitely one to avoid.

…

Expand

The cars are so hard to control, it's a chore even trying to get through a race let alone actually beating one. Not worth the time. If you

The cars are so hard to control, it's a chore even trying to get through a race let alone actually beating one. Not worth the time. If you want to have brainless and frustrating comedy, this is one joke of a racing game! I thought it was a glitch or a dream, but NO! It's the entire game, and yes...it's real. Unlike Rocket League (vibrant, beautiful settings, memorable soundtrack, tons of designs, amazing gameplay) GRIP has NONE of that. Only reason I bought this is because an F-Zero game isn't on the Switch...yet. LOL

…

Expand

Major disadvantage of this title is huge frame rate drops, where high and constants FPS is crucial for this kind of games. Also graphics

Major disadvantage of this title is huge frame rate drops, where high and constants FPS is crucial for this kind of games. Also graphics quality during race is poor, most noticeable is low resolution, race looks totally different than on advertisements in official NS shop, it's just a cheating customers...

I hope ports for other platforms are more polished than for Nintendo Switch... Port for NS is not worth any penny and any storage space on your Switch.

…

Expand