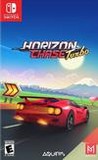 Summary:

Horizon Chase Turbo is a racing game inspired by the great hits of the 80's and 90's: Out Run, Top Gear, Rush and others. Race your way through the opponents and master the circuits as you relive the classic arcade gameplay with unbound speed limits of fun.
A must for classic gaming fans.

Horizon Chase Turbo is an unexpected surprise. A quality arcade racer that builds upon the groundwork of the classic 80s racers and brings it up to date with dazzling visuals and engaging racing action.

Horizon Chase Turbo is chocked full of cars and tracks, and numerous variations on all of the above. Not only does the Brazilian developer Aquiris bring quantity, but it also brings impeccable quality. This high-level slew of content, finesse and masterful, fast-paced racing, perfectly captures the true essence of any racing title. Anyone looking for a racer on the Nintendo Switch, should automatically consider this without any hesitation.

A great tribute to the games of the 80s and 90s. Horizon Chase Turbo stands out in its genre thanks to its visual and sound section.

Horizon Chase Turbo's modern take on the arcade Outrun racer is a fast and fun colour-drenched experience barely diminished by a few crashes along the way.

Horizon Chase Turbo is a game of few fresh ideas that nevertheless remains compelling as an often electric arcade racing bonanza.

Horizon Chase Turbo does a good job of creating a sense of speed, and emulating the look and feel of Out Run. Where it falls down is in replacing the timer mechanics of Out Run, which made for a frustrating but ultimately exciting and tense arcade game, with a more typical racing track structure. It plays fine, but with none of the intensity, nor sense of reward, of the game it pulls almost all of its inspiration from.
Picked this up as it looked interesting but was not expecting it to be quite as good as it actually turned out to be! This is a modern take on

Picked this up as it looked interesting but was not expecting it to be quite as good as it actually turned out to be! This is a modern take on the 16 bit racing games of old (Think Outrun, Lotus Turbo Challenge and Jaguar XJ220 etc). It is presented wonderfully and there are various modes that unlock as you play. The game plays brilliantly and feels like the old games that it sets out to emulate while still feeling modern and tight. The graphics are clean and nostalgic while still being sharp. The music is pure genius and is as catchy as the tunes in the 16 bit games of the 90s (So many new games have forgettable music). There is a huge number of locations and tracks and cars unlock as you play. All in all this is a great game for anyone that loves racing games, especially those that love 16 bit racing games.

…

Expand

Simplesmente sensacional.
Muito gostoso de jogar. Gráficos simples mas bem feitos. Músicas ótimas.

Horizon Chase Turbo to typowy arcade racer, w którym pędzimy do przodu na wykręconych trasach i omijamy przeciwników. Tytuł bazuje na takich

Horizon Chase Turbo to typowy arcade racer, w którym pędzimy do przodu na wykręconych trasach i omijamy przeciwników. Tytuł bazuje na takich klasykach gatunku z lat 80-tych i 90-tych jak jak Out Run, Lotus Turbo Challenge i Top Gear (SNES). Gdy wjedziemy z dużą prędkością w lampę lub znak na zakręcie to zostajemy wybici w powietrze. Samochód robi szybką przewrotkę i wskakuje na jezdnię tracąc na prędkości... ale zabawa trwa dalej i ciśniemy pedał (przycisk) gazu na maxa.

Tytuł Aquiris Game Studio oferuje stosunkowo dużo zawartości, która odblokowuje się wraz z postępem w podstawowym trybie World Tour (kariera). Za dobre wyniki dostajemy nowe samochody, dostęp do kolejnych tras, do nowych trybów gry i możliwość rozbudowywania pojazdów przez tuning wybranych części. Tym samym zwiększamy przyspieszenie, prędkość, zużycie paliwa itp...

W World Tour należy przejechać przez kilkanaście regionów świata, takich jak: Kalifornia, Brazylia, Południowa Afryka, Zjednoczone Emiraty Arabskie, Japonia... i jeszcze kilku - co daje w sumie dwanaście lokalizacji. Podróżując po świecie, każdy z opisanych rejonów podzielony jest na około 8-10 zmagań (ponad 100 wyścigów) w różnych tematycznie sceneriach.

Za zajęcie dobrego miejsca na mecie zdobywamy puchary, ale jest jeszcze możliwość wygrania super pucharu za zebranie tokenów na trasie. Gra zlicza nam wtedy pozycję w wyścigu i zdobyte niebieskie krążki sumując je na walutę odblokowującą kolejne regiony do przejechania. Dodatkowe bonusowe punkty można zdobyć jeszcze za pozostałe paliwo w baku. Na trasie rozmieszczone są więc kanistry, po zebraniu których zwiększamy zawartość zbiornika. Czasami kanistry dodają tylko punkty, ale na dłuższych trasach ich zbieranie jest już obowiązkowe bo może zabraknąć nam paliwa.
Wspomnieć należy jeszcze, że każdy wyścig zaczynami z określoną ilością nitro. Turbo doładowanie znajduje się też na trasie jako dodatkowe butle do zebrania, które mogą uratować nas przed przegraną. Warto więc się za nimi rozglądać i zapamiętać ich lokalizację na kolejnych okrążeniach.

Tytuł oferuje zmienne warunki jazdy, takie jak dzień, noc i anomalie pogodowe (deszcz, burza z błyskawicami, śnieg, mgła, burza piaskowa a nawet i pylący wulkan Eyjafjallajökull). Trasy są proste i kręte, różnią się też ukształtowaniem, np. wzniesienia. Technicznie pierwszy plan pracuje przewijając się na boki i w pionie zakrywając tło w oddali. Ścigamy się na szerokich pięcio-sześcio pasmowych asfaltowych jezdniach jak i na wąskich polanach lub pustynnych, pokrytych piachem szutrach. Fajnie wygląda też wydobywający się spod tylnych kół kanciasty dym na off-road'ach.

Horizon Chase Turbo to wyścigi w starym stylu, ale jednak w jakości HD w unikatowym design'ie. Tytuł nie stara się naśladować pixel art'u, tylko wprowadza swoją geometryczną wizję świata, szczególnie uwydatnioną na obiektach przy drodze: krzewy, roślinność, kamienie. Ma to swój urok i podoba się.

Zwykłe wyścigi byłyby niczym, gdyby nie zachowanie przeciwników na drodze, a to jest świetnie wykonane. Walka o pozycje na trasie to jeden z kluczowych mechanizmów gry. Przeciwnicy spychają nas z drogi, czasami wjeżdżają nam przed maskę blokując przejazd lub stukają w tylny zderzak chcąc nas wyprzedzić. Czuć więc rywalizację o pozycję na trasie.

Poza głównym trybem kariery mamy jeszcze do ogrania tryb Tournament, który zawiera zawody złożone z czterech tras jak Grand Prix w Mario Kart. Na każdej trasie zdobywamy punkty za dobrą pozycję na mecie, a na końcu suma z czterech wyścigów klasyfikuje nas w rankingu. Zawodów do rozegrania w tym trybie gry jest ponad dwadzieścia na różnych poziomach trudności. Jak się pewnie domyślacie – daje to sporo grania, aby zaliczyć je na złoto. W Tournament nie musimy już zbierać tokenów i skupić możemy się jedynie na zajęciu dobrej pozycji w każdym z wyścigów......

Podsumowanie
Horizon Chase Turbo to kawał solidnego kodu, który na Nintendo Switch prezentuje się świetnie. Tytuł polecam wszystkim lubiącym dobre wyścigi arcade – bo jest to naprawdę fajna gra z dużą ilością zawartości na kilkadziesiąt godzin. Tytuł zawiera ogrom wyścigów, o różnym i zmiennym ukształtowaniu terenu, w różnych regionach świata ze zmiennymi warunkami dnia/nocy i pogodowymi. Jest to też szybka i dynamiczna gra z fajnymi mechanizmami walki o pozycję na trasie, dzięki którym czuć rywalizację i satysfakcję zarazem. Aquiris Game Studio stworzyło naprawdę świetną grę w unikatowym stylu w oprawie godnej nowoczesnych konsol zachowując jednocześnie ducha gier wyścigowych z lat 80-stych i 90-tych.
----------------------------
Grywalność - 9/10
Grafika - 9/10
Dźwięk - 8/10
----------------------------
Ogółem - 8.7/10
pełna recenzja na goomba.pl

…

Expand

It's a fun and well polished racing game, with great controls, nice visuals, fairly challenging AI and a good amount of content considering

It's a fun and well polished racing game, with great controls, nice visuals, fairly challenging AI and a good amount of content considering it's range of price. With many hours into it, I haven't encountered any FPS drops. I'm a bit dissapointed when it comes to the music chosen for this game. The pool feels fairly small and repetitive. And I would love to see more (more epic, more energizing) music implemted via update or DLC

…

Expand

Horizon Chase Turbo for the Nintendo Switch
Low Poly, High Speed
Horizon Chase Turbo is an arcady racer, a throwback to all of those retroHorizon Chase Turbo for the Nintendo Switch
Low Poly, High Speed

Horizon Chase Turbo is an arcady racer, a throwback to all of those retro racers from when I was a youngster.

Immediately dropping into the action the controls are simple enough with an accelerator, brake, and nitrous boost. Realizing very quickly that you can basically hold the gas down the entire race with needed taps to the brake button being few and far between. The nitrous boost is incredibly important however, as saving for that perfect moment to maneuver between vehicles has proved vital on more than one occasion. For those who haven't played arcade racers this is by no means a racing sim.
The real challenge in Horizon Chase Turbo is to keep your collisions to a minimum. As you bounce back quite a bit every time that you bump into an opposing vehicle, giving them a little boost forward. This can mean the difference between bronze and gold, giving your opponent a huge advantage. Which leaves you in the dust, as your unlocks of levels and cars are tied to the amount of points earned in each race. Leaving you with significantly less if you don't lock down first place.
As you get gold in more races you'll earn more points unlocking new locations on the map and new cars. Each country has one upgrade race and if you achieve the rank of 3rd place or higher your be able to choose one upgrade which will apply to all of cars you have unlocked thus far.
As far as content goes, Horizon Chase Turbo has loads of countries each with enough races to keep you replaying time and time again looking for the gold, in order to unlock even more countries and more cars. Along the traditional World Tour mode is the tournament mode and new to the game with the Switch release, Playground mode, a selection of friend and online ranked races with different twists and difficulty levels that will have bi-weekly seasons, for ongoing trash talking.
As the game is a throwback to earlier generations of gaming, the well designed low poly models feel incredibly arcadey with a modern touch. As beautiful as many of the levels look contextually, they fall a little short as the environmental effects do very little to affect the way that you drive. Driving the same on a snow covered road, feels the same as a dirt covered road, feels the same as driving on pavement. Throwback or not, It would really add the the replayability if each environment truly made a difference in the way that you race.
Horizon Chase Turbo plays great on the Nintendo Switch and does support couch co-op with up to four players including single joycon support.
Horizon Chase Turbo is a very good retro racer with tons of content, creative new modes for replayability, and a nostalgically modern artstyle. If you are a racing game fan, then you should waste no time getting into this low poly world.

…

Expand

It's got great presentation and some great music, but it just got too repetitive. I realize it's an arcade racer, but we're not in that era

It's got great presentation and some great music, but it just got too repetitive. I realize it's an arcade racer, but we're not in that era anymore and need a bit more to keep us coming back. There's also no break from the constant high-alert mental state of watching out for very sharp turns, which makes the game stressful to play after a while. I wish they had broken it up with some laid-back courses with long turns so you could just sit back and enjoy the view and the music.

…

Expand

This game is a lot of fun. The gameplay is quick and responsive, the music is one of the best soundtracks I have on my Switch und the

This game is a lot of fun. The gameplay is quick and responsive, the music is one of the best soundtracks I have on my Switch und the graphical style is really cool in my opinion. It's also really fun in multiplayer, though it sometimes crashed. But all in all it's totally worth it and one of my favoirte games I bought in the last year

…

Expand