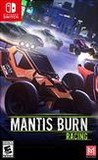 Developer:

VooFoo Studios

Genre(s):

Racing

,

Arcade

,

Automobile

# of players:

Up to 8

Cheats:

On GameFAQs

Rating:

E10+
Mantis Burn Racing was an OK racer on PlayStation 4 and Xbox One that became a good racer through the release of DLC. On Switch, the game comes as a complete package and is all the better for it. It feels right at home on the console with both handheld and docked modes providing fantastic racing. With great multiplayer and a wealth of singleplayer content, this is a game that will keep you coming back for a long time to come. Mario Kart 8 Deluxe may well still be the best racing game on the system but Mantis Burn Racing comes a close second and well ahead of any other racers out there.

If you're looking for some more multiplayer racing action then Mantis Burn Racing is an excellent choice, and yet another must-have title for Nintendo's hybrid console.

All in all, if you're looking for a fun pick-up-and-play game that's easy to race a round or two and then move on, Mantis Burn Racing might be for you. If you like driving games which offer you the option to tune your machine to the way you like your car to handle, MBR has a promising system to allow you to do just that.

All said Mantis Burn Racing plays brilliantly on the Switch whether in docked or handheld mode. Control is smooth, the drifting is satisfying, and in general it looks great. You can enjoy playing against the AI but it is far better to play with friends locally or online and in general I didn't have issues finding people to play against since it is cross-platform to boot. If you're willing to grind through the Career Mode in order to learn the nuances of the controls and unlock everything the game has to offer it does deliver a satisfying payoff, I just wish tastes of it came sooner.

When it comes to performance, there are a few instances of minor slowdown but nothing major like a lot of the other ports. I do wish it looked a bit better in portable mode. A bit more visual polish could really make this shine on the Switch screen. VooFoo Studios has done a great job with this port.

Mantis Burn Racing expands the Nintendo Switch catalog on the racing genre and brings forth a fun and well-made effort, featuring an entertaining driving challenge, with plenty of content to explore and very detailed visuals. It doesn't avoid a certain feeling of repetitiveness but Mantis Burn Racing has what it takes to be a recommended racing game for the Nintendo Switch.

Mantis Burn Racing is an incredibly frustrating game. An overview of the game reveals a lot of promise thanks to its solid visuals, rewarding upgrade system, and interesting career structure. However, once you actually start racing, things begin to fall apart; your first few events will be fun but you'll quickly realize how the content is spread thin and you have a long way to go before you'll get to experience something new and fun. In other words, there's some good stuff buried in Mantis Burn, but getting to it is a real slog, thus making hard to recommend for all but the most hardcore of racing fans desperate to relive the top-down experiences of yesteryear.
I'm so thrilled that more racing games starts to show for the Switch. I loveeee racing. This kind of racing game brings back memories in the

I'm so thrilled that more racing games starts to show for the Switch. I loveeee racing. This kind of racing game brings back memories in the 90s hits like 'Slick'N'Slide' or 'Micro Machines' - just way better!
The graphics runs very well in every mode. I really love the way VooFoo has made the table mode for local play, good work guys.....we love it for breakfast chill ;)
The game looks "simple" on the outside - BUT trust me, the game offers soooo much.
Once again a must-have for your Nintendo Switch library.

…

Expand

The Switch version is awesome. Not only does it have all the graphichal and 60fps features, but it has all DLCs and allows for some exclusive

The Switch version is awesome. Not only does it have all the graphichal and 60fps features, but it has all DLCs and allows for some exclusive one-on-one modes that are unique. 10/10

…

Expand

@GrahfZeppelin: are you sure you commented on the right game? Mantis Burn Racing runs like a breeze on the Switch. It's smooth, has a good

@GrahfZeppelin: are you sure you commented on the right game? Mantis Burn Racing runs like a breeze on the Switch. It's smooth, has a good single player career, the cars are diverse enough, the cross-network online multiplayer is great and the local multiplayer playing at opposite sides other the Switch is a great idea.
I don't know what's your problem with this game, but I find it very good. And at that price it's almost a steal.

…

Expand

Don't want to be the grinch here, but I'm not really thrilled playing this game. It looked like a fasted-paced action racer, but it feels

Don't want to be the grinch here, but I'm not really thrilled playing this game. It looked like a fasted-paced action racer, but it feels rather like the engine is padded in way too many cotton pads. The music paces it up, but the very soft steering and boring never ever changing angle paces it down. Also I personally don't like the UI – it lacks polish. And there are a lot of modes which could be fun, if the racing itself wouldn't feel so repetitive. To be honest, I played this game for only 4 hours, but after this time, too little changed gameplay-wise to keep me wanting more.

…

Expand

Pretty looking game with tight controls and smooth performance. Unfortunately, the events get repetitive pretty quickly. On the plus side,

Pretty looking game with tight controls and smooth performance. Unfortunately, the events get repetitive pretty quickly. On the plus side, there is no forced in-app purchases to progress, but progress takes plenty of grinding.

…

Expand

I was expecting much more after reading the positiv reviews here. Of course the game is okay - the graphics look good and drifting around is

I was expecting much more after reading the positiv reviews here. Of course the game is okay - the graphics look good and drifting around is fun for a while. But driving on the same tracks over and over again, with little to no variation is just painfully boring. I played for around 4 hours as well and have to agree with esreverse - I don't see me coming back to this one.

…

Expand