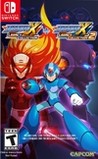 Summary:

The celebrated Mega Man X series comes to PlayStation 4, Xbox One, Nintendo Switch, and PC! Play as Mega Man X the powerful evolution of classic fighting robot Mega Man as he battles a variety of deadly bosses known as Mavericks in eight exhilarating action-platformer games. Mega Man X

The celebrated Mega Man X series comes to PlayStation 4, Xbox One, Nintendo Switch, and PC! Play as Mega Man X the powerful evolution of classic fighting robot Mega Man as he battles a variety of deadly bosses known as Mavericks in eight exhilarating action-platformer games. Mega Man X Legacy Collection includes the legendary 16-bit titles and the series' exciting foray into 32-bits: Mega Man X, Mega Man X2, Mega Man X3, and Mega Man X4. The heroic robot grows stronger as he takes down Mavericks and steals their weapons, and also has the ability to dash and wall jump for thrilling, fast-paced combat. Mega Man X's mysterious friend, Zero, also joins the fray as a playable character later in this collection.

Mega Man X Legacy Collection 2 also spans two gaming eras, showcasing the evolution of the series with Mega Man X5, Mega Man X6, Mega Man X7, and Mega Man X8. A third playable character, Axl, joins the cast in Mega Man X7 and Mega Man X8 as the series jumps into a new realm of 3D character models and environments.

In addition to eight iconic Mega Man X titles, both Mega Man X Legacy Collection and Mega Man Legacy Collection 2 come with an armory of new features. Test your Maverick-hunting skills in the new X Challenge mode, which pits players against two deadly bosses in a series of two-on-one battles. Think you can take down the slippery Chill Penguin and hulking Frost Walrus simultaneously? Give it your best shot! Additionally, Mega Man X Legacy Collection includes a huge museum filled with rare production art, catalogs of classic merchandise, a playlist of nostalgic commercials, and more. The collection also includes an animated a prequel film starring the origins of Mega Man X villain, Sigma.

…

Expand
Developer:

Capcom

Genre(s):

Miscellaneous

,

Compilation

# of players:

No Online Multiplayer

Cheats:

On GameFAQs

Rating:

T
Please enter your birth date to watch this video:
You are not allowed to view this material at this time.
Mega Man X Legacy Collection 1 + 2 - Announcement Trailer
Mega Man X Legacy Collections 1 and 2 are a great set of games featuring the history of X and Zero. While we don't have any stage challenges like the original Legacy Collections or the ability to rewind or use save states, the new X Challenge mode is definitely a challenge on normal difficulty and even on easy difficulty I enjoyed just whaling on Mavericks with just the X Buster. Overall, fans of the Mega Man X series should enjoy these collections, even more so on the go with the Nintendo Switch.

Mega Man X Legacy Collection feels like an upgrade on all fronts and should be an entry point for all Mega Man novices and longtime fans.

These are mostly unchanged Mega Man X games, but if you haven't played them yet, you owe it to yourself to catch up on these gems – and Legacy Collection is the best occasion you can get. [10/2018, p.78]

Like the previous legacy collections, this is a mix of some absolute masterpieces, some okay games, and some severe missteps. It's missing some features like save states or a rewind function, and a few songs from the original releases are gone completely. The new X Challenge mode also doesn't stand up to Mega Man Legacy Collection's Custom Challenge stages. Still, this a damn good collection for a series that hasn't seen a new entry in 14 years.

The Mega Man X series has always held a fond place in my heart. To be able to play all eight anytime, anywhere on Nintendo Switch is a dream come true. They may not all be top-tier classics, but the high majority that are maintain the same addictive grip now as they did back in the day. As for these particular collections? They may certainly play as well as I remember them, but the way the celebration has been stripped back like a budget party package made me pine for something a little more extravagant. The legacy of this 30-year-old Capcom mascot certainly deserves it.

Given the vintage nature of the productions, the only element that can be criticized is the price, but it is true that with just under 40 euros you will take home 6 excellent titles, 2 forgettable experiences, an OAV, hundreds of illustrations and hours of exceptional music. An offer that's really not bad!

With none of the quality-of-life improvements of the original collection and scarce new features, Mega Man X Legacy Collection can feel like a bit of a let-down, and warrants close consideration from newcomers looking for a little accessibility.
Mega Man X Legacy Collection is the definite way to play the series and an amazing addition to your Switch Library and something that any Mega

Mega Man X Legacy Collection is the definite way to play the series and an amazing addition to your Switch Library and something that any Mega Man Fan will love.

…

Expand

Esta colección presenta grandes títulos. Con dos añadidos extras en especial el "X Challenge" hace que la diversión esté asegurada.

These games are worth the price, if you enjoy side scrolling action with twist and turns the X legacy Collections 1+2 is the way to go

It's Megaman X, but on switch. That alone should be reason to be excited, but it takes it a step further by giving you the option to one of 3

It's Megaman X, but on switch. That alone should be reason to be excited, but it takes it a step further by giving you the option to one of 3 different graphical styles (Classic, 90's crt style, or new and smoothed graphics.), multiple wallpaper options, display settings, achievements, and more. A must have for any fan of Megaman or classic platformers, and the option of rookie mode makes the game a breeze for the new players or those strapped for time. You can even switch between the american and Japanese versions of each title. Only downsides were the fact that they split it into two overpriced purchases, and that they didn't include the Zero or ZX series, though those may get their own collection down the road. Overall a good purchase, if a little pricey.

…

Expand

Another solid Mega Man anthology from Capcom, with lots of extra content to supplement the flawless presentation of the X sub-series. There's

Another solid Mega Man anthology from Capcom, with lots of extra content to supplement the flawless presentation of the X sub-series. There's plenty of challenge for those who want it, as well as a few options to make things easier for newcomers. The first four games (Collection 1) are far superior to the last four (Collection 2), but it's worth having both volumes so you can judge for yourself.

…

Expand

reviviendo una gran saga. en lo personal fui muy fan de la saga de mega man X juegue y acabe mega man x1, 2 y 3. de ahí tuve problemas para

reviviendo una gran saga. en lo personal fui muy fan de la saga de mega man X juegue y acabe mega man x1, 2 y 3. de ahí tuve problemas para jugar el 4-8 por cuestiones de que no tenia ninguna consola en mi casa. tiempo después me prestaron una play y pude jugar el mega man x5 y el x6. el personal es una de las mejores sagas con una gran jugabilidad y aunque la formula es la misma siempre mega man tras mega man me encantan. esta colección es para los que no han jugado este hermosa saga por cuestiones de que no tienen mucho en la industria de los videojuegos pero es altamente recomendada.
PROS SWITCH: la movilidad y que respeta muy bien la calidad original del juego, son 8 juegos que no te pueden faltar en tu colección, el modo portátil para salir un fin de semana y acabarte los juegos en cada hora que tengas disponible, puedes jugar en japones o en ingles sin ningún problema
CONTRAS SWITCH: que tengas que descargar la colección 2 (en lo personal amo el formato físico y yo tuve que mandar a pedir mis dos juegos desde japón para tenerlos en formato físico).
recomendación amplia a tan bella saga.
calificación de 7 no por que sea mal juego si no por que tienes que descargar la 2da colección en el cartucho americano el cual es el que califico.

…

Expand

This collection SUCKS.
It's probably the worst treatment the X series had.
This Collection has the 8 Mega Man X games, COLLAPSED INTO 2 DISCS.This collection SUCKS.
It's probably the worst treatment the X series had.
This Collection has the 8 Mega Man X games, COLLAPSED INTO 2 DISCS. WHY CAPCOM? WHY AREN'T THEY IN A SINGLE GAME?
And the emulation... is the worst.
Mega Man X, X2 and X3 have probably the WORST input lag I've ever seen in a game, and not to mention, the version of Mega Man X3 they included, is the SNES version and not the PSX... why?
Mega Man X4, X5 and X6 have some sounds slightly changed... some sounds are in bad quality and others are just different. This also happens with the music, in X6 for the intro stage theme, they stick with the beta version of the song (the one that doesn't have guitars)
X7 and X8 are the only titles that run great...
Localization: You can play the japanese versions of these games if you want, but forget about WATCHING THE ORIGINAL JAPANESE OPENINGS/ENDINGS for Mega Man X4 to X8, is this a joke? What's the point on having the option to play the Japanese version when it doesn't have its features?
The X Challenge is lame, repetitive and unfair.
This Collection has "The Day of Sigma" and it doesn't even have Maverick Hunter X on it! What's the point on including content from a game that isn't included?
Overall, these two are the worst Mega Man collections...
Want a better experience? Buy Mega Man X Collection for PS2/GC.

…

Expand