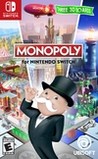 Summary:

Its MONOPOLY for a new era! Play the classic game and watch the board come to life! A full 3D city at the center of the board lives and evolves as you play. You own a miniature world that will interact with your progression throughout the game and celebrate your achievements. Play the way

Its MONOPOLY for a new era! Play the classic game and watch the board come to life! A full 3D city at the center of the board lives and evolves as you play. You own a miniature world that will interact with your progression throughout the game and celebrate your achievements. Play the way you want - you can change the rules and adapt them to your playing style. Take and display photos at key moments for an amplified social gaming experience. Monopoly PLUS raises the classic game to a new level! The downloadable version of this game supports English, French, Italian, German, Spanish, Danish, Dutch, Finnish, Norwegian, Polish, Portuguese, Russian, Swedish, Turkish, Korean, Chinese.

…

Expand
Developer:

Asobo Studio, Engine Software

Genre(s):

Miscellaneous

,

Board / Card Game

# of players:

Up to 6

Cheats:

On GameFAQs

Rating:

E
Monopoly for Switch does about everything right. The game offers numerous boards and you can adjust the rules to suit every need. And you can play the game where ever you want with up to six players. The waiting time with six players is long though.

While Monopoly for Nintendo Switch doesn't feel like a big enhancement of the three-year-old iteration that came before, the flexibility of options it retains does incentivize those initially put off by the game's infamously, never-ending demeanor. Unfortunately the questionable frame-rate levels, wonky online experience, not to mention the plague of lengthy load times one can suffer through at unknown times, ultimately stop the game far short of being considered an essential Switch library addition. Charming and surprisingly effective moreso with its strategic elements it might be, the issues present will require anyone going into this to be just that bit more wary.

Monopoly for Nintendo Switch is just alright. It doesn't do anything majorly wrong and does exactly what the product claims. That product, mind you, isn't anything majorly exciting and would have benefitted from a bit more content. It's interesting playing an animated version, and if you are in for the commitment you can have a decent time. That being said, there are plenty of party games on the Switch that offer more instant fun.

If Monopoly is your thing, you can't really go wrong with Monopoly for Nintendo Switch. It performs exactly how you'd expect it to – offering an almost exact, neatly-executed copy of the experience that you can get from the board game. This is its main problem, though – it does so little to offer anything new that it almost seems pointless having it in the first place. Call us old-fashioned if you like, but we'd play the board game version over this one any day.

Monopoly on the Switch works, much as it did on PlayStation 4. There are some nice little elements, like themed boards, which don't change the gameplay in any way, but are fun to see. All the popular Monopoly house rules are in there too, so however you like to play the game you're covered. Loading times are a bit long, and the AI takes its sweet time to take each turn, but otherwise it's a very clean, visually appealing take on the board game.

Monopoly super-fans will likely find the Switch version to be another great addition to their already-heaving collection, but for the rest of you you'll be getting an identical experience without the heart or soul.

Basically, don't bother with Monopoly on Switch until it becomes way cheaper, and with far fewer bugs and glitches.
SPOILER ALERT: It has people applauding when you buy something and I have to admit I'm one of them whenever I'm playing this beautiful

SPOILER ALERT: It has people applauding when you buy something and I have to admit I'm one of them whenever I'm playing this beautiful masterpiece. 10/10

…

Expand

The game is a great addition to the Switch.
As for the slow load times, reboot your swtich after you are done downloading it.
Fixes it instantly.
!

This game surprised me in a good way.

Someone below mentioned the long load times - I first experienced those too, but it turns out thatThis game surprised me in a good way.

Someone below mentioned the long load times - I first experienced those too, but it turns out that you just need to restart your Switch. After that the load time to launch the game changes to 10-15 seconds (I timed it). It's really odd that this even happens, but I'm quite relieved that it's so easily fixed.

The game itself runs quite smoothly, both in docked and handheld. There are different game modes, where you play classic Monopoly with classic rules, or you can switch (heh) it up and add action cards or house rules. There's also an addition of "living boards", where the boards have a theme, and the properties come alive when you land on them or purchase them. The visuals are really nice, and I the music is fantastic. I turned off the voices though, as I found them pretty obnoxious.

I noticed some input lag during the selection screen where you select your player piece, and I also think they should make the dice rolling using the joycons a bit smoother. It's pretty cool that they attempted to use motion controls with HD rumble for dice rolling though.

The online play also seems quite interesting. It wasn't very easy to get into a game, since a lot of players kept joining and leaving during the setup. Once a game got started, however, most people seemed to stick around.

In conclusion, this seems like a fantastic party game to play online or with friends, or just versus AI if that's your thing. Personally I think it's pretty great to have available on the go, and the presentation overall is quite nice. The price tag is a little bit steep, but I expect to get my money's worth over time.

…

Expand

Nada que decir, cumple muy bien un clasico monoplpy en switch y me ha salvado un par de tardes de cuarentena. Lo pillé barato en la eshop.

No joke: it's a five minute load for the title screen. And another five to get a game started. And another three when your game ends.

No joke: it's a five minute load for the title screen. And another five to get a game started. And another three when your game ends.

Unless they release a patch, you really should avoid this turd.

…

Expand

Abysmal. Worst Monopoly game I've ever played. How do you manage to make a Monopoly game with no option to turn auctions off? Especially when

Abysmal. Worst Monopoly game I've ever played. How do you manage to make a Monopoly game with no option to turn auctions off? Especially when previous versions for other systems have included that option. I'd like to be able to name the AI too, since they're given stupid names.

…

Expand