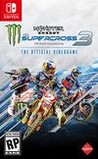 Summary:

For the very first time in the series, the Monster Energy Supercross official teams can be joined during the career. Choose your sponsor or join one of the official teams of the 2019 championship and become a teammate of the official riders.
Developer:

Milestone S.r.l

Genre(s):

Racing

,

Arcade

,

Automobile

# of players:

Up to 12

Cheats:

On GameFAQs

Rating:

E
Monster Energy Supercross 3 is a decent port on Nintendo Switch, but still suffers from some handling and AI issues.

All in all, this version of motocross is pretty unfair to anyone who hasn't played an entry before, doesn't want to spend tons of time with it, or who isn't already keenly familiar with the process of racing these types of machines. Monster Energy Supercross: The Official Videogame 3 offers an experience that is properly tailored for those fans who will more than likely make this purchase, but for anyone taking a passing glance, there is a barrier to entry that will take some determination to overcome.

If you've played the previous instalments and the series and you appreciate updated rider rosters, the introduction of female riders and the improved physics (for those that play on more realistic settings) then Monster Energy Supercross - The Official Videogame 3 will definitely appeal, but with a completely absent online community, this port is a tougher sell over those on PC and other console platforms. Still, despite its shortcomings, this is a solid two-wheeled racer that retains all the usual modes and extras and runs like a treat in handheld mode. Just don't expect it to feel massively different from the previous instalment.
Well, bought it and loving it so far! Been playing 2 and 3 for a couple of hours alternating between them both and 3 wins hands down. Lighting

Well, bought it and loving it so far! Been playing 2 and 3 for a couple of hours alternating between them both and 3 wins hands down. Lighting and shadows are way better in 3. Color palette is better in 3. Physics, track deformation, rider stance, yup, all better in 3. Suspension and bike reaction to track especially wet track is so much better in 3! I actually like the wet track a lot more in 3. I compared Seattle with a wet track and after playing 3 a bit, the wet track in 2 just seemed off and chaotic. The light reflections and puddles are very nice in 3. Next to that, it runs butter smooth! You know what is the biggest overall feeling? When I play 2 I feel like a spectator, with 3, I feel like I'm actually the rider! Milestone, well done!

…

Expand