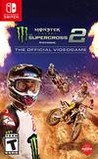 Summary:

All the thrills of the Monster Energy AMA Supercross 2018 Championship. Live the life of a pro, put yourself to the test in the Compound, tackle challenges, manage your events and attract new sponsors to earn fame and unlock new content.
Please enter your birth date to watch this video:
You are not allowed to view this material at this time.
Monster Energy Supercross: The Official Video Game 2 - Announcement Trailer
Monster Energy Supercross 2 is the same experience on Switch as it is on PC and the other platforms, albeit not as pretty. However, all of the content is exactly the same, unlike with some other multi-platform games on Switch (*cough* FIFA *cough*). There still isn't a huge amount of racers on Switch, and while this isn't a traditional entry, I enjoyed it nonetheless. Thus, my feelings for the Switch version of Supercross 2 are the same as its PC brother—it's a solid racing experience.

Monster Energy Supercross - The Official Videogame 2 is a vast improvement in many ways upon the first game. The inclusion of a track editor, the reinstatement of online multiplayer and the sheer level of authenticity on offer will impress both longtime supercross fans and casuals looking to spray mud on two wheels. Visually, it's a noticeable step up and while it does occasionally chug, the frame rate holds fast most of the time. It's just a shame those monstrously long loading times and a needlessly grindy unlock system takes away some of its shine.

With Monster Energy Supercross - The Official Videogame 2, Milestone has finally reached their true potential. They managed to make a decently fun motorcycle game that knows its target audience. The physics and individual gameplay elements are very much improved and will make potential racers grin. While I don't see myself going back to in the near future, I can't deny that the game is made well enough. Sometimes, that's just enough to keep me entertained.

Monster Energy Supercross – The Official Videogame 2 doesn't even have local multiplayer unless you have two systems and two copies of the game, which is one of the most ridiculous things I've seen of late! The polish, quality, and most of all fun, simply isn't here.
Monster Energy Supercross 2 is a solid racing experience and as much fun game as you can get. Fast, stable, with a really good physics. I

Monster Energy Supercross 2 is a solid racing experience and as much fun game as you can get. Fast, stable, with a really good physics. I don't give it a ten out of ten only for some minor bug that could resolve in a future update. If you like bikes and some crazyness is the right game for you.

…

Expand

I haven't put another game in since I got this week. The dual analog controls (steer, lean) are very responsive and fun once you get the hang

I haven't put another game in since I got this week. The dual analog controls (steer, lean) are very responsive and fun once you get the hang of it. The career mode is all I've played and it's surprisingly deep. Multiple division, sponsors, training and bike upgrades with in games cash. I am on medium size difficulty and having great races. I keep getting better, as I upgrade my bike. Make sure you do challenges as you need them beat advance the training. I don't take for granted playing this on my switch(lite), THE GREATEST HANDHELD EVER!!!!. I'd play on docked mode(Xbox) if I wanted to play on my tv.

…

Expand