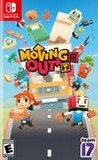 Summary:

Moving Out is a ridiculous physics-based moving simulator that brings new meaning to "couch co-op"!

Are you ready for an exciting career in furniture? As a newly certified Furniture Arrangement & Relocation Technician, you'll take on moving jobs all across the busy town of Packmore. SmoothMoving Out is a ridiculous physics-based moving simulator that brings new meaning to "couch co-op"!

Are you ready for an exciting career in furniture? As a newly certified Furniture Arrangement & Relocation Technician, you'll take on moving jobs all across the busy town of Packmore. Smooth Moves may not be the biggest moving company, but there's no task too dangerous or strange for this busy team of go-getters. Grow your business to brave new heights, recruit colourful customizable characters, and save your town from furniture peril!

…

Expand
Developer:

SMG Studio

Genre(s):

Puzzle

,

Action

# of players:

Up to 4

Cheats:

On GameFAQs

Rating:

E
Please enter your birth date to watch this video:
You are not allowed to view this material at this time.
Moving Out Gameplay - Overcooked But For Moving Furniture
Carefully curating a couch coop title that is unique and inventive can be difficult. SMG Studio has done just that. Moving Out may be challenging and occasionally unforgiving, however, it is an altogether charming and enjoyable gaming experience when played with friends.

The best game about moving out there's ever been but, more importantly, a fun four-player co-op game that's perfect for causing family arguments everyone can enjoy.

Moving out provides a lot of laughs and whilst being widly fun and has a great style, it isn't anything groundbreaking.

Unlockable avatars, helpful accessibility options, and a variety of objectives add compelling reasons to hire Moving Out for your next Switch event. A physics-based action-puzzle game like this comes with a certain amount of jank, but I never found it to be a deterrent to my enjoyment. If anything, the floppiness and bounciness of the characters make them more funny and charming. In addition, the colorful and light-hearted art style pairs well with the simple gameplay. The single-player experience probably isn't enough to justify a purchase, but if you can get multiple people together, Moving Out is another excellent local co-op title that you'll want to bring out again and again.

Moving Out on Switch has the potential to be the next Overcooked with some more polishing of the core gameplay, but regardless, it's a lovely new co-op experience From Team17.

A good game for cooperative fun with friends. Well-designed levels and an important use of physics gives as result a very recommended videogame, which lacks variety and more hours of gameplay.

Played in the mindset of having old-fashioned fun rather than pushing your gaming skills to their limits, Moving Out has quite a lot to offer. It looks good, sounds good and plays well; it's just a shame there isn't a little bit more to get your teeth into. It's a lot of fun causing chaos with friends – throwing toasters through windows or trying to balance that last lampshade on the back of an over-stocked removal truck – but it's just not resonant enough as a co-operative experience to stick in your mind. A very good effort, but in our view, just too slight to be a lasting classic.
Great couch co-op game with a hilarious sense of humour. Kept us fixated for many hours at a time. I see Moving Out becoming a staple party

Great couch co-op game with a hilarious sense of humour. Kept us fixated for many hours at a time. I see Moving Out becoming a staple party game in my house

…

Expand

This game is overcooked, but for furniture, and it's great. the controls are weird, but that's the point. me and my friends had lots of fun

This game is overcooked, but for furniture, and it's great. the controls are weird, but that's the point. me and my friends had lots of fun with this game, and i think you and your friends will, too!

…

Expand

It's pretty simple. If you liked Overcooked, you'll like this. But it lacks in one area that Overcooked does not.

First of all, this is aIt's pretty simple. If you liked Overcooked, you'll like this. But it lacks in one area that Overcooked does not.

First of all, this is a game about... moving out! You can play solo or with friends (locally only). And the goal is simple, move stuff out of a place and into your moving truck as fast as you can.

Second of all, you can probably tell by the trailer that this game is classic video game fun. The goal is simple, the controls are simple enough, and everything breaks or reacts to your actions. This means simple chaotic fun. It's very easy to enjoy this alone or with a group of friends. The gameplay is executed well enough to be a fun casual game for all.

Now here's the first thing you might not have totally guessed: this game is funnier than Overcooked. The overall vibe of this game deserves praise for its execution of its vibe. It's very 80s, very ridiculously upbeat yet destruction heavy, and very aware of all of the above. For example, in the first level the characters are super happy about the "backbreaking" work they're about to do. And despite "The Boss" sounding like an awful person, they seem to think he's amazing. Underscoring all of this is happy 80s music written by a famous 80s songwriter (seriously). So where Overcooked had a quiet charm, this game has a more ridiculous charm to it. And I think it's brilliantly executed.

There's one major flaw to this game though - beyond not having online play, which I don't really care about - and it only shows itself when you try earning Gold on a level. The game's physics and animations can seemingly randomly get in your way. When I earned Gold on a level, it wasn't just because I got better at the game. It was because the physics worked in my favor. For example, when I was dragging the fridge onto the truck it took a favorable bounce and tucked itself neatly in between a table and couch. And when I went to grab a coffee table on this particular run, the front door didn't swing open and slam shut on my arms. Because of it did, the coffee table would be stuck on the other side, propping it shut, and I would have to run around the house to continue the job. And those few seconds are all it takes to ruin your chances of getting Gold. In Overcooked, I would devise a strategy and continually tweak it until I earned Gold. And when I did, it felt like I was in control of everything. But in Moving Out I feel like I got lucky and, if I played the same stage again, I couldn't guarantee my next run would be Gold-worthy. Too many little things would come down to chance, adding on 10 seconds to my run. My solutions? For one, they should let players use the whack button to knock down doors, removing the obstacle that causes so much frustration.

Minus the disappointing issue above, this is a great game. The appeal is obvious. Almost anyone can pick it up and play it immediately. As long as you don't take it too seriously (and this is anything but a serious game), you'll have a blast. If you have enough interest to read this far, I'm sure it's a game you'll enjoy.

…

Expand

Nothing too exciting, game itself is fun, but the controls are just too wonky to make it competitive fun

-movements cannot be made withNothing too exciting, game itself is fun, but the controls are just too wonky to make it competitive fun

-movements cannot be made with necessary precision, which leads to frustration. especially when trying to pickup a 2-person furniture (i.e. couch), because it requires it to be picked up precisely at the opposing ends to be able to throw it.
- cannot use the D-Pad
- most buttons are unused. Only L-shoulder, B and Y

…

Expand

the presentation is cute but the gameplay is quite repetative and single playing really deosnt make any sense, no challenge, no coop obviously

the presentation is cute but the gameplay is quite repetative and single playing really deosnt make any sense, no challenge, no coop obviously and honest just lazy design

…

Expand

We loved Overcooked and thought this looked similar but the gameplay is repetitive, boring and challenge-free. Unless you're going for gold,

We loved Overcooked and thought this looked similar but the gameplay is repetitive, boring and challenge-free. Unless you're going for gold, there's no real urgency. One to avoid.

…

Expand