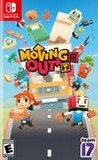 Summary:

Moving Out is a ridiculous physics-based moving simulator that brings new meaning to "couch co-op"!

Are you ready for an exciting career in furniture? As a newly certified Furniture Arrangement & Relocation Technician, you'll take on moving jobs all across the busy town of Packmore. SmoothMoving Out is a ridiculous physics-based moving simulator that brings new meaning to "couch co-op"!

Are you ready for an exciting career in furniture? As a newly certified Furniture Arrangement & Relocation Technician, you'll take on moving jobs all across the busy town of Packmore. Smooth Moves may not be the biggest moving company, but there's no task too dangerous or strange for this busy team of go-getters. Grow your business to brave new heights, recruit colourful customizable characters, and save your town from furniture peril!

…

Expand
Developer:

SMG Studio

Genre(s):

Simulation

,

Puzzle

,

Action

,

Virtual

,

Career

# of players:

Up to 4

Cheats:

On GameFAQs

Rating:

E
Please enter your birth date to watch this video:
You are not allowed to view this material at this time.
Moving Out Gameplay - Overcooked But For Moving Furniture
While one title is about kitchens and the other concerns movers, it's impossible to avoid comparing Moving Out with Overcooked!. Ultimately, this game is not as fantastic as its inspiration, but it's still absolutely worth your time. Like Overcooked, the magic of Moving Out is in full completion. Going for the accolades of gold medals and challenge completions requires strategy and coordination that demonstrates the full potential of the game's chaotic cooperative play. If you just walk on through collecting bronze medals, you'll still have a solid time tossing beds and getting in slap fights, but you'll also be robbing yourself of the game's true strategic depth that nearly rivals the best of its genre.

Moving Out is a simple game with an easy to understand premise, and even without its superficial similarities to games like Overcooked, it's likely to be welcomed warmly by any couch of friends. SMG Studios has designed an interesting set of challenges for teams to tackle, textured with interesting gameplay gimmicks that are just as likely to elicit a groan as they are a chuckle. It's been a long time since I've been able to share a game like this, which is just so effortlessly fun in every facet of its design.

If you put in some time, activate Assist Mode and bring in a few friends to fill out a multiplayer team of up to four simultaneous employees, you can have a ton of fun playing Moving Out. [Issue #47 – July/August 2020, p. 69]

Moving Out is a title that can be defined as a fun and humorous experience. Its physics and the variety of its levels make this game a really recommendable option, especially to play it with friends.

Moving Out is a great game to pull out on family night or when hanging out with friends, though don't blame me if this ends in an argument about how to get a couch through a door properly. Still, its cartoonish charm will easily entertain a group for a few hours. Even though the single-player offerings aren't as enjoyable as the multiplayer mode, there's plenty to enjoy through the optional objectives and zany environments. Those looking for the next over-the-top party game will find what they're looking for in Moving Out.

Played in the mindset of having old-fashioned fun rather than pushing your gaming skills to their limits, Moving Out has quite a lot to offer. It looks good, sounds good and plays well; it's just a shame there isn't a little bit more to get your teeth into. It's a lot of fun causing chaos with friends – throwing toasters through windows or trying to balance that last lampshade on the back of an over-stocked removal truck – but it's just not resonant enough as a co-operative experience to stick in your mind. A very good effort, but in our view, just too slight to be a lasting classic.

Moving Out is a silly, simple but enjoyable romp that follows the successful blueprint of series like Overcooked very closely. As a result, you have a game that delivers the same style of loud and manic cooperative fun but at the same time fails to do much that's new and surprising. In the end, Moving Out is perfect for those hungry for 'another one of those' but perhaps a tad too safe for others who have since moved on.
A fantastic 'couch co-op' game. This game is just great fun. You can customize your characters to give them some personality and can even give

A fantastic 'couch co-op' game. This game is just great fun. You can customize your characters to give them some personality and can even give your character a wheelchair which is something too few games do. My partner even fell in love with this game and she's not a huge gamer. We have spent hours playing this (it's definitely better with a buddy) but it has so much content with so many different scenarios. Worth every penny and very impressed.

…

Expand

This game is overcooked, but for furniture, and it's great. the controls are weird, but that's the point. me and my friends had lots of fun

This game is overcooked, but for furniture, and it's great. the controls are weird, but that's the point. me and my friends had lots of fun with this game, and i think you and your friends will, too!

…

Expand

This four-player co-op game has tremendous potential for having fun! With this simple recipe:

• Pick your character • Pick your job • GetThis four-player co-op game has tremendous potential for having fun! With this simple recipe:

• Pick your character
• Pick your job
• Get moving

Complete multiple levels with timed objectives. Move those objects in the truck while navigating:

• Enemies
• Traps
• Various obstacles in your path

Each job has its own twist and bonus objectives to keep you on your toes. You have a set time to get everything moved into the moving truck. You can't avoid teamwork if you want to win this game.

-DWN Family TV

…

Expand

Nothing too exciting, game itself is fun, but the controls are just too wonky to make it competitive fun

-movements cannot be made withNothing too exciting, game itself is fun, but the controls are just too wonky to make it competitive fun

-movements cannot be made with necessary precision, which leads to frustration. especially when trying to pickup a 2-person furniture (i.e. couch), because it requires it to be picked up precisely at the opposing ends to be able to throw it.
- cannot use the D-Pad
- most buttons are unused. Only L-shoulder, B and Y

…

Expand

Disclaimer: I've only played demo. This game is couch co-op gold. It's repetitive as any similar title. But the unique tactic here is

Disclaimer: I've only played demo. This game is couch co-op gold. It's repetitive as any similar title. But the unique tactic here is negotiating bigger, non-chuckable items and manipulating them with your partner. Try this game on the third River setting on the demo with a partner and it's the most fun you can have on a couch without Dr Freud and a prescription of md

…

Expand

We loved Overcooked and thought this looked similar but the gameplay is repetitive, boring and challenge-free. Unless you're going for gold,

We loved Overcooked and thought this looked similar but the gameplay is repetitive, boring and challenge-free. Unless you're going for gold, there's no real urgency. One to avoid.

…

Expand