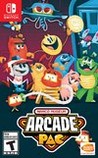 Summary:

Enjoy Namco classics such as PAC-MAN, GALAGA, SPLATTERHOUSE, and TOWER OF DRUAGA, or play games such as ROLLING THUNDER, SKYKID, or TANK FORCE with friends and family on the Nintendo Switch! The highly acclaimed PAC-MAN CHAMPIONSHIP EDITION series has finally come to the Nintendo SwitchTM in

Enjoy Namco classics such as PAC-MAN, GALAGA, SPLATTERHOUSE, and TOWER OF DRUAGA, or play games such as ROLLING THUNDER, SKYKID, or TANK FORCE with friends and family on the Nintendo Switch! The highly acclaimed PAC-MAN CHAMPIONSHIP EDITION series has finally come to the Nintendo SwitchTM in PAC-MAN CHAMPIONSHIP EDITION 2 PLUS. Featuring high-resolution 3D graphics and funky visuals, the latest version of the classic game takes chomping and chasing through mazes to a whole new leve. Play by yourself or with your friends in the all new co-op mode, "PAC-MAN CHAMPIONSHIP EDITION 2 PLUS 2P" – exclusive only to the Switch. When one player gets caught by a ghost, the other player can come to the rescue. Team up with your friends and family to weave through the mazes and make it to the boss battle together.

…

Expand
Developer:

Bandai Namco Games

Genre(s):

Miscellaneous

,

Compilation

,

Board / Card Game

# of players:

No Online Multiplayer

Cheats:

On GameFAQs

Rating:

T
Please enter your birth date to watch this video:
You are not allowed to view this material at this time.
Namco Museum Arcade PAC - Official Announcement Trailer
A compilation of Namco games that will give us unlimited hours of fun, thanks to the fact that it offers several game modes, including the cooperative mode and online rankings to share your maximum scores and compete for the first place. A game that mixes classic and modern features. Highly recommended for Namco fans.

If you love Pac-Man, consider a purchase – but I'd still wait for a price drop. [Issue #38 – March/April 2019, p. 73]

If you're a Namco fan, you've almost certainly bought these games several times before. If you're not a Namco fan, these games will likely fail to resonate with you. The whole Namco Museum collection is very much of a certain time. As a collection, they don't stand the test of time, and they certainly aren't worth the price of admission. If you're a Pac-Man diehard, you'll find a lot to love with the Namco Museum Arcade Pac. Otherwise, I'd give this one a pass.
Looks like Namco Museum Switch is now retail for 39.99, and it is totally worth it!

This a great "Pac"-age for everyone who has a switch. The only problem with this package in my eyes is that this dosen't have any bonus content

This is for hardcore Namco fans and people that want to play a LOT of Pac-Man. I wouldn't say it's the best option for casual fans, unless you

This is for hardcore Namco fans and people that want to play a LOT of Pac-Man. I wouldn't say it's the best option for casual fans, unless you can get it on sale.

…

Expand