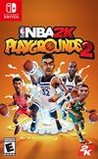 Summary:

NBA arcade action is back with NBA 2K Playgrounds 2. The sequel to the original smash hit takes street balling to the next level with a massive roster of current and retired NBA players, improved online matchmaking with dedicated servers, four-player online matches, three-point contests, new

NBA arcade action is back with NBA 2K Playgrounds 2. The sequel to the original smash hit takes street balling to the next level with a massive roster of current and retired NBA players, improved online matchmaking with dedicated servers, four-player online matches, three-point contests, new playgrounds, custom matches, and more. Pick your team, get ready to jam, and Ball Without Limits.

…

Expand
Developer:

Saber Interactive

Genre(s):

Sports

,

Team

,

Basketball

,

Arcade

# of players:

Up to 4

Cheats:

On GameFAQs

Rating:

E
Please enter your birth date to watch this video:
You are not allowed to view this material at this time.
NBA Playgrounds 2 - Debut Trailer
While the introduction of microtransactions is hardly surprising considering the history of its new publisher, they don't hit NBA 2K Playgrounds 2 as hard as might expect. It will take you a while to grind out every player (unless you just buy them all from the off), but it helps that the core arcade gameplay remains as fun and enjoyable as ever. It doesn't quite capture the blissful mayhem of NBA Jam, but if the main NBA 2K series has always felt a little too realistic for you, this larger-than-life spin-off offers a bright and empowering way to defy gravity like Air Jordan himself.

If you liked NBA Playgrounds then this game will surely be a solid improvement you enjoy. If the first game was too buggy, or there were too many issues, then Playgrounds 2 fixes many problems. There are still reasons to be cautious with things like roster unlocks and limitations in the game modes, but it is overall a solid package.

NBA 2K Playgrounds 2 improves on a quite a few aspects of the original game like game modes and gameplay mechanics. But its microtransaction model leaves a sour taste in the player's mouth. Unlocking great players takes a very long time and the game wants to get you to buy in-game credits. But if you're patient, or spending more money isn't a problem for you, you can have a lot of fun with NBA 2K Playgrounds 2.

NBA 2K Playgrounds 2 is a reasonably fun revisitation of the first game, carrying over the strong improvements its predecessor gained from patches, including a better shooting system. However, there's not much in the way of deeply engaging content to keep you playing more than a couple of pickup games with your friends.

The game is not up to its predecessor. It's still a great arcade title for NBA fans, and there is a clear graphic improvement but there are bad gameplay design decisions, such as forcing you to play for hours with each player until you get their attributes.

Overall, Playgrounds 2 is lacklustre and feels too much like a mobile game franchise. It takes advantage of its audience and never offers enough satisfaction in return for the money, or the grind sessions. Ultimately, NBA 2K Playgrounds 2 is a bad game, and certainly no spiritual successor. Stick with NBA 2K19 or NBA Jam itself.
Amazing game, all of the content could be unlock without need of payment and in a short time.
The championship mode is very addictive.

I picked this up right before heading off for Thanksgiving with all the family. That evening, after all the kids were in bed, we pulled this

I picked this up right before heading off for Thanksgiving with all the family. That evening, after all the kids were in bed, we pulled this out. We had a big group of us rotating through with 2 v 2 (4 player) games. We literally played for hours and had a great time. Feels like a blend between NBA Jam and NBA Street. Every single one of us thoroughly enjoyed the game.

The only down side, for the way we were playing, was the there are only a few characters unlocked from the start. However, as we played we quickly earned enough points to get a bunch of characters unlocked. We weren't at all bothered with the speed of the unlock and none of us felt obligated to pay the money to instantly unlock all the characters.

Very fun for everyone. Easy to pick up and start playing. Everyone struggled for their 1st game and many struggled during their 2nd game, but everyone had gotten the hang of it by their 3rd game.

…

Expand

It's not quite NBA Jam, but NBA 2K Playgrounds 2 is still a solid arcade-style two-on-two basketball title. There are plenty of options on

It's not quite NBA Jam, but NBA 2K Playgrounds 2 is still a solid arcade-style two-on-two basketball title. There are plenty of options on hand and an almost RPG-like leveling up mechanic for all players. You'll have to spend some time playing through season mode or a lot of online play to unlock the entire roster, but since this is a 2K-published game, you can pay extra to do so instantly. (I recommend grinding it out, unless you intend to play online only.)

…

Expand

I agree with the other negative reviews. This is a microtransaction cash grab. I was hoping for a NBA Jams clone and got a Star Wars

I agree with the other negative reviews. This is a microtransaction cash grab. I was hoping for a NBA Jams clone and got a Star Wars Battlefront pyramid scheme. The game comes with less than 10 players from maybe 5 teams. You have to pay to unlock the entire roster or spend countless hours grinding to get points to then buy random packs that unlock players. I seriously would not have bought this game if I'd known that right off the bat. $30 for the game $10 more to actually own anything close to the full game with all the teams represented. AND that doesn't even include any exclusive players! I'd already bought the game so paid for the stupid unlock. Some good players but loads of dregs. And some gaping holes in the roster regarding historic players (Rodman, Duncan, Laimbeer, Barkley, Dr. J, Meta World Peace, etc). I'm assuming those will cost additional money in the future. The ability of these pros is atrocious. Pippen has 0% chance of making a 3pt shot. Really??? 0%??? You level up players which is cool but then again, you are going to level up all these people somehow??? Basically this game is horrible for the price but as close as you get to NBA Jams. Wait for it to go on major sale. Don't be a sucker and buy at full price like I did.

…

Expand

Saber Interactive, you **** it up again! Last year's version sucked big time – so much that you gave us the **** Shaq Fu for free – alright.

Saber Interactive, you **** it up again! Last year's version sucked big time – so much that you gave us the **** Shaq Fu for free – alright. But this year it's even worse. Being so aggressive with the in-game payments for a 30$ game is absolute insanity. I hope nobody buys this game and you go bankrupt. Disgusting!

…

Expand

Total cash crab, in day's of MTX and Loot Boxes some publisher constantly try to see how far they can go in cashing on on their customers .

Total cash crab, in day's of MTX and Loot Boxes some publisher constantly try to see how far they can go in cashing on on their customers . So this game basically is a 30$ game that is not playable unless you purchase in game stuff.

…

Expand