Publisher:

Nintendo

Release Date:

Apr 29, 2022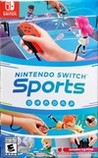 Summary:

Swing, kick, spike, and bowl your way to victory in a sports collection that will get the whole family moving. Get moving* with Soccer, Volleyball, Bowling, Tennis, Badminton, and Chambara (Swordplay) using Joy-Con™ controllers! Controls are intuitive, so you can hit the court (or lanes, or

Swing, kick, spike, and bowl your way to victory in a sports collection that will get the whole family moving. Get moving* with Soccer, Volleyball, Bowling, Tennis, Badminton, and Chambara (Swordplay) using Joy-Con™ controllers! Controls are intuitive, so you can hit the court (or lanes, or field, or arena) and get started. With controlled motions you can curve your bowling ball, add spin to a tennis shot, or even use a Joy-Con with the Leg Strap accessory to kick the ball in a Soccer Shootout. Family and friends can join in on the fun on the same system** or online***. Plus a seventh sport is planned to be added via a free update this fall; get ready to Golf!****

Play online and face opponents near and far to earn in-game rewards or aim for the Pro League

Face off against opponents worldwide and strive to reach the Pro League in every sport. As you play online*** in random matchmaking, redeem points you earn for in-game rewards like outfits, sports accessories, gear, and much more for your avatar. The selection of items will rotate each week, so check back and see what's in stock!

Play with friends and family in the same room or across the world

Bowl, spike, and duel with friends in all 6 sports! Pass a Joy-Con controller to a friend** for some 1v1, 2v2, or a free-for-all that will get everyone moving. In Bowling, all players can bowl simultaneously—no waiting for your turn. Play each game online***, or team up with a friend on the same system to take on opponents near and far in team sports like Volleyball and Tennis.


…

Expand
Developer:

Nintendo

Genre(s):

Sports

,

General

,

Individual

,

Athletics

# of players:

2

Cheats:

On GameFAQs

Rating:

E10+
Please enter your birth date to watch this video:
You are not allowed to view this material at this time.
Nintendo Switch Sports - Overview Trailer
My time with Nintendo Switch Sports has been one of the most fun experiences I have had with a co-op game. And frankly, the most fun I've had with anything sport-related ever.

Nintendo Switch Sports is probably the new must-have for family gaming. The formula works with all player profiles. The experience is fun and accessible from top to bottom despite the small flaws it can't escape: split screens that make certain actions difficult to read, slight framerate drops, lack of precision and unbalanced sprints in football games. But the fun remains constant and Nintendo Switch Sports serves up a varied sports program that will appeal to the whole family and that we can't wait to see expand in the coming months.

It's not a radical reimagining of the original Wii Sports, but Nintendo Switch Sports does a good job of translating a lot of the fun to a modern system. But the fun is largely about playing with friends. The three same-y court sports drag the collection down a bit, but we're hopeful that the good parts will be augmented by further development support in the future.

Nintendo Switch Sports is exactly what it needs to be. It's an intuitive package of Wii-era sports minigames with more precise motion controls and full online integration. Addictive activities like bowling and badminton make it one of the Switch's best multiplayer party games, though overly complicated minigames like soccer miss the simple appeal of the series. With long-term support planned, I'm hopeful that Nintendo can build up the currently thin offering and turn it into the kind of console staple that any Switch owner needs to have installed.

Playing the tennis and bowling game modes don't exactly bring anything particularly new to the table, but it's hard not to let muscle memory kick in after an extended period away. Volleyball and badminton also make for a grand entrance that are suitable additions to a bag filled with varied game modes.

Nintendo Switch Sports is a fun sequel that does online right. Those looking for that throwback Wii Sports feel with solid online play will fit right at home. It's great with friends and family in the living-room, too. The main drawback, however, is the lack of content - Golf being absent at launch and returning sports. Nintendo Switch Sports is a solid start, with that familiar feel and the potential to add more content in the future.

This game should have been released 5 years ago as a free bonus to the console itself, just like Wii Sports years ago. As a stand-alone game for a full price, Nintendo Switch Sports simply doesn't cut it.
The game is blast and Nintendo still has their charm and passion intact with this game right from the paste wii sport games

This game is tons of fun to play with friends and family. The online is stellar and the unlockables are great. My one complaint is the lack of

This game is tons of fun to play with friends and family. The online is stellar and the unlockables are great. My one complaint is the lack of mini games / training modes which I hope are added in the future. Other than that, this is a easy buy for 40$ USD; and a must have for any Nintendo Switch owner. If you enjoyed 51 Clubhouse Games then this will knock your socks off with the amount of replayability, and pure fun that we all remember from Wii Sports back in 06'.

…

Expand

too few games and unfortunately hardly any easter eggs but competitive is a good idea and battle pass

I am first going to rate each mini-game and their controls before rating the overall package.

1. Volleyball: It's fun, controls wellI am first going to rate each mini-game and their controls before rating the overall package.

1. Volleyball: It's fun, controls well enough, that's all I have to say. 8/10
2. Badminton: It's fun enough but the controls feels like it is fighting against you while the cpus are able to smash without any problems while you look like a money trying to do it yourself. 6,5/10
3. Bowling: Simple fun, the controls work most of the time, as a classic mode and a special mode with obstacles. 7,5/10
4. Soccer: I've gotta say, the controls work pretty well and the game is decently good. « Shoot to the net » is the only mode that uses the leg straps from what I've seen (maybe I'm dumb, but the instructions on screen are way vague for putting the strap). Normally, this sport uses 2 joy-cons. 8/10
5. Chambarda: First of all, swordplay on wii sports resort had way better controls than this. When I try to hit downward , the game tries to hit diagonally. Chambara has 3 modes: normal, energized saber, dual sabers. They all control the exact same. At least you can get used to it. 6,5/10
6. Tennis: What can I say, it's tennis like it's always been. 7,5/10

I'm going to honest: This is a barebones package. Only 6 sports for 60 Canadian dollars!? (40 US dollars). The original wii sports only had 5 sports, but at least it came bundled with the wii. Hell, wii sports resort had 12 sports. I've gotta say, the environments in during the sports are really cool (especially the bowling one). I haven't tried the online mode but apparently it's pretty but it seems that you need a Nintendo switch online subscription to play.
Ps: Golf is coming through an update during the fall ( Is there like 2 people working on this game?)

In conclusion, it's a fun game but don't you dare buy this at full price. Wait until it cost around 20$. Finally, I give this game a 6/10 overall (okay, almost mediocre)

…

Expand

To the surprise of nobody released another unfinished lazy excuse of a game early and it costs 40 whole dollars. The gameplay in general isn't

To the surprise of nobody released another unfinished lazy excuse of a game early and it costs 40 whole dollars. The gameplay in general isn't awful just extremely average and disappointing when compared to its predecessors. It's agonizing slow and is ungodly boring. I like how this game has only 6 minigames which is half the amount they had all the way back in 2009. This has to just come down to flat out laziness from the devs. They expect me to wait 6 months for golf when I can just play it on resort or the original and probably have way more fun. Half the games are just tennis with very minor tweaks that ultimately make them less fun. Never ever considered playing this game by yourself as it sucks out what little enjoyment was in the game and turns it into unplayable, unentertaining, mindless snooze fests. Badminton is easily the worst of the bunch as it's just nothing but pointless rallys for seemingly forever. Nintendo has seemed to have just forgotten what made the older games so much fun. I mean it's missing the 2 best sports being Basketball and Baseball. And instead of adding more to these already great minigames they instead make Tennis 3 times. The music is actually quiet catchy harkening back to the great tracks from Resort and Wii. But it still can't save the boring gameplay that is seen in most of the sports. Nintendo Switch Sports turned out to be another barebones unfinished cashgrab to poke at everyone's nostalgia.

…

Expand

Pretty disappointing overall. Games are fun but very limited, so the fun ends pretty quickly.

Bowling - Rehash of wii sports. Online playPretty disappointing overall. Games are fun but very limited, so the fun ends pretty quickly.

Bowling - Rehash of wii sports. Online play has a frustrating elimination mechanic, and you have no control of if you get regular lanes or the new obstacle course lanes.

Tennis - Basically the same as wii sports. It is timing based only, you have no control over movement of your mii.

Badminton - Essentially 1 v 1 tennis, with a drop shot mechanic added in.

Soccer & Volleyball - these are pretty fun with friends, but can be really awful playing with random people online (which is the only way to earn points towards unlocking accessories)

The Sword one - Fun, but very simple, gets old quickly.

…

Expand

one of the worst games that nintendo ever released. this is so frustrating. i dont like it