Publisher:

Nintendo

Release Date:

Apr 29, 2022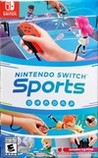 Summary:

Swing, kick, spike, and bowl your way to victory in a sports collection that will get the whole family moving. Get moving* with Soccer, Volleyball, Bowling, Tennis, Badminton, and Chambara (Swordplay) using Joy-Con™ controllers! Controls are intuitive, so you can hit the court (or lanes, or

Swing, kick, spike, and bowl your way to victory in a sports collection that will get the whole family moving. Get moving* with Soccer, Volleyball, Bowling, Tennis, Badminton, and Chambara (Swordplay) using Joy-Con™ controllers! Controls are intuitive, so you can hit the court (or lanes, or field, or arena) and get started. With controlled motions you can curve your bowling ball, add spin to a tennis shot, or even use a Joy-Con with the Leg Strap accessory to kick the ball in a Soccer Shootout. Family and friends can join in on the fun on the same system** or online***. Plus a seventh sport is planned to be added via a free update this fall; get ready to Golf!****

Play online and face opponents near and far to earn in-game rewards or aim for the Pro League

Face off against opponents worldwide and strive to reach the Pro League in every sport. As you play online*** in random matchmaking, redeem points you earn for in-game rewards like outfits, sports accessories, gear, and much more for your avatar. The selection of items will rotate each week, so check back and see what's in stock!

Play with friends and family in the same room or across the world

Bowl, spike, and duel with friends in all 6 sports! Pass a Joy-Con controller to a friend** for some 1v1, 2v2, or a free-for-all that will get everyone moving. In Bowling, all players can bowl simultaneously—no waiting for your turn. Play each game online***, or team up with a friend on the same system to take on opponents near and far in team sports like Volleyball and Tennis.


…

Expand
Developer:

Nintendo

Genre(s):

Sports

,

General

,

Individual

,

Athletics

# of players:

2

Cheats:

On GameFAQs

Rating:

E10+
My time with Nintendo Switch Sports has been one of the most fun experiences I have had with a co-op game. And frankly, the most fun I've had with anything sport-related ever.

Nintendo Switch Sports is not a series revolution, although there is a special, partly Rocket-League-like new football mode. But the game does not need to be a revolution. It is just an entertaining sports and party game, with a lovely presentation that's a pleasure to play, even alone, but especially together with friends.

Nintendo Switch Sports really is a game of two halves. Offline the game is sorely lacking in features but may still be enough for 'casual' families looking for some simple fun. Solo players, however, will want to head online, which is where the game's progression system (and its real longevity) can be found.

Enjoy casual spins on popular sports, such as soccer and tennis, in this motion-controlled game collection for the Nintendo Switch. Although volleyball and a few other new additions feature disappointing controls, returning fan favorites showcase just how exciting it is to move your body while playing a video game.

Nintendo Switch Sports is a modern retelling of the Wii classic. Despite somewhat less precise motion controls, it's about as fun as its predecessor, mostly thanks to the emphasis on online play.

Nintendo Switch Sports goes to prove there's still plenty of fun to be had in swinging and shaking away with imaginary sports equipment. With a more generous dose of sports, this could have been fantastic, but instead, Nintendo seems to have settled on pretty good. While some sports certainly score harder than others, the overall package nonetheless remains entertaining, easily accessible and surprisingly competitive online.

This game should have been released 5 years ago as a free bonus to the console itself, just like Wii Sports years ago. As a stand-alone game for a full price, Nintendo Switch Sports simply doesn't cut it.
Me gusta mucho este juego y me gusta que aprovechen las funcionés de los joy-cons y no se desperdicien.

Perfectly fine so far. I've signed up for the demo and I knew I had to buy it, so I had pre-ordered right after it and it was like going back

Perfectly fine so far. I've signed up for the demo and I knew I had to buy it, so I had pre-ordered right after it and it was like going back to Wii age with the online extra and improved graphics. It's incredible how joycons can do what wiimote did on that time.

…

Expand

too few games and unfortunately hardly any easter eggs but competitive is a good idea and battle pass

I miss Wii sport as this game is just not as fun or accurate. Also should have been cheaper.

Nintendo Switch Sports is Not So Good.Wii Sports Resort has 12 Sports and Nintendo Switch Sports only 6 Sports. The new characters are Awful

Nintendo Switch Sports is Not So Good.Wii Sports Resort has 12 Sports and Nintendo Switch Sports only 6 Sports. The new characters are Awful and Why is it not in 2017 come and Is with a Nintendo Pack

…

Expand

I was excited to hear there was a Wii Sports sequel coming to the switch, but Nintendo somehow found a way to f*ck it up! First I'll state the

I was excited to hear there was a Wii Sports sequel coming to the switch, but Nintendo somehow found a way to f*ck it up! First I'll state the obvious being the lack of miis. They are a huge part of what the series was in the first place, but they replaced them with these generic avatar mutants that look like sh*t. Yes I know you can play as miis, but they aren't the central focus and don't even look good here. There are only half the amount of sports that were in Resort, and three of them, being Tennis, Badminton and Volleyball, play the same way, which is pure laziness. None of the sports are fun here, and you can't even throw the bowling ball backwards anymore. The hub world of this game is no longer Wuhu Island and is now this google headquarters type of area with no soul whatsoever. The designs of everything in this game are horrendous and ugly in every way! The soundtrack is okay and that is probably the only good thing I can say about this game. The controls and physics are pretty awful. The worst part of this game however is the finish it later approach like they've used before. They released the game and don't even have all their sports ready! We have to wait until the fall to play golf which is absolute stupidity! Wii Sports and Resort are two of the most nostalgic Wii games which I loved, but this is like a generic third party off-brand version of Nintendo's own game. All the charm and soul of the series is gone here. Only a company like modern Nintendo can manage to pull this off, and even at 40 bucks, this game is not worth it!

…

Expand

Uninspired, unfinished, cash grab, trying to piggyback off of Wii sports success. The environment and theming is bland and generic, the new

Uninspired, unfinished, cash grab, trying to piggyback off of Wii sports success. The environment and theming is bland and generic, the new characters look like they were ripped from a mobile game. The controls are way worse than previous installments. The charm and atmosphere from the past games are completely gone and washed out with an uninspired modern theme with no character at all. The game doesn't even have half as many sports as the last game. It clearly was unfinished and just pushed out early without care. The graphics are overly simplified and the sound design is way less satisfying. Not worth playing over any wii wports games.

…

Expand