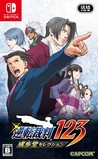 Summary:

Defend the innocent and save the day! Courtroom hero Phoenix Wright lays down the law this Winter in the digital release of Phoenix Wright: Ace Attorney Trilogy. Experience the original trilogy like never before in clear, high-resolution re-drawn graphics and immersive 3D visuals optimized

Defend the innocent and save the day! Courtroom hero Phoenix Wright lays down the law this Winter in the digital release of Phoenix Wright: Ace Attorney Trilogy. Experience the original trilogy like never before in clear, high-resolution re-drawn graphics and immersive 3D visuals optimized for the Nintendo 3DS system. Join rookie lawyer Phoenix Wright through the early years of his career in his quest to find the truth behind all of the classic cases! Prepare for intense courtroom showdowns by investigating crime scenes, collecting evidence, and questioning witnesses. Use evidence and the testimonies of witnesses to your advantage as you battle for the innocence of your client. Nothing less of a full acquittal will do in this court of law. Find the contradictions in witnesses' testimonies to expose the truth!

As a new feature, the Japanese version of the game, "Gyakuten Saiban 123 Naruhodo Selection," will be included, giving players the option to switch between the Japanese and English versions in-game. Phoenix Wright: Ace Attorney Trilogy includes Phoenix Wright: Ace Attorney, Phoenix Wright: Ace Attorney - Justice For All, and Phoenix Wright: Ace Attorney - Trials and Tribulations and will be available to purchase as a digital download title exclusively on the Nintendo eShop for Nintendo 3DS.

-Three beloved games in one: For the first time ever on Nintendo 3DS, experience all of the classic courtroom drama from the original Phoenix Wright trilogy in one epic collection.
-Familiar faces return: Join Phoenix Wright in his early years, as he gets introduced to his colorful cast of friends and foes, including Pearl Fey and rival prosecutor Miles Edgeworth.
-Two classic gameplay segments:
--Investigation phase - survey crime scenes, interview witnesses and gather evidence that will be used in court.
--Court phase - present findings from the investigation to support your case, listen to testimonies and examine witnesses.
-Play two versions: the Japanese version of the game, "Gyakuten Saiban 123 Naruhodo Selection," will be included, giving players the option to switch between the Japanese and English versions in-game.

…

Expand
Developer:

Capcom

Genre(s):

Miscellaneous

,

Compilation

# of players:

No Online Multiplayer

Cheats:

On GameFAQs

Rating:

T
It's been a long time since the original Phoenix Wright games released so this is the perfect excuse to play through them again and re-experience the thrill of each case. Also, the updated presentation is handled so well that it feels like a brand new collection of games.

The Phoenix Wright: Ace Attorney Trilogy is a title that everyone who loves a great well-written story should have and one that current fans can still enjoy returning to once more.

Phoenix Wright: Ace Attorney Trilogy is a satisfying collection of mysteries, many of which are still as sharp as when they were first published. Sure, certain aspects of these games feel a touch dated compared to some of the newer, edgier visual novels out there, but few can top Phoenix and friends when it comes to charm. This HD update is a bit barebones, but, overall, these classics are well-represented.

Decades after paving the way for later quirky, comedic adventure games with anime influences, the Phoenix Wright: Ace Attorney Trilogy brings the minimal updates needed to touch up an enchanting, silly and timeless collection.

Now built for consoles rather than exclusively as a handheld title, Phoenix Wright: Ace Attorney Trilogy still maintains the same charm and gameplay the series has always been known for over the years while looking cleaner than ever.

This remaster is the most appealing version of the original trilogy as its entirely readapted to HD. Even though Capcom have done a vague adaptation — as it lacks of new functions such as dialogue history, it's still a worthwhile entry though. Nintendo Switch turns out to be the best version overall.

The sheer age of the games are beginning to count against them but Ace Attorney still remains exhibit A in how to make even the silliest story-based games fun and engaging.
The differences to the 3DS release of the trilogy are minimal, but I've had a blast playing this regardless. It remains a great visual novel

The differences to the 3DS release of the trilogy are minimal, but I've had a blast playing this regardless. It remains a great visual novel experience. This version gives access to 10 save slots, which is convenient.

If you haven't played these games yet, I'd argue that this is the best way to do so. On Switch, you can play it both on TV and as a handheld game. If you're into story-driven games with mysteries to solve, I recommend the Ace Attorney series, and this is the perfect place to start.

…

Expand

Not sure why the reviews need something new to fit their fancy. This is a great port of a timeless classic, with redefined graphics and

Not sure why the reviews need something new to fit their fancy. This is a great port of a timeless classic, with redefined graphics and responsive controls. Currently the best way to play the game.

…

Expand

It's the OG Pheonix Wright Trilogy, what can you say? One the greatest puzzle VNs ever made. The rush of adreniline you get catching out a lie

It's the OG Pheonix Wright Trilogy, what can you say? One the greatest puzzle VNs ever made. The rush of adreniline you get catching out a lie is still unmatched. While these ports do have some caveats, such as the new art being a little too clean and sterile, this is counteracted with the ability to play these masterpieces on a big tv in surround sound. If you've played these before, it is a great way to reexperience them in a cinematic way. If you haven't its a great entry point, encompassing many of the the series highlights.
Here's hoping for a new, modern entry made for consoles!

…

Expand

I love the first trilogy, but please Capcom, do the same with Ghost Trick and bring Gyakuten Kenji 2 (Ace Attorney Investigations 2) - the

I love the first trilogy, but please Capcom, do the same with Ghost Trick and bring Gyakuten Kenji 2 (Ace Attorney Investigations 2) - the best game you ever did - to the west.

…

Expand

A fantastic series of games. I have bought each 3 times (hard copy, digital on 3ds and now on Switch) and it has been worth it each time. Even

A fantastic series of games. I have bought each 3 times (hard copy, digital on 3ds and now on Switch) and it has been worth it each time. Even though you know the answers to all of the questions ahead of time, the thrill you get when the music builds and the characters start slamming their hands down never gets old. And it does look absolutely beautiful on the Switch. If you're a fan at all of these games or looking for a great set of light puzzles linked to some fantastic stories, this is well worth picking up at only $30.

…

Expand

I love the Ace Attorney series. Solving mysteries in a courtroom setting is a genius idea for a game in my opinion. The characters are

I love the Ace Attorney series. Solving mysteries in a courtroom setting is a genius idea for a game in my opinion. The characters are charming and the stories are intriguing and keep me on the edge of my seat. The games really test my intelligence with the mysteries. They remind me of these books called Encyclopedia Brown where you have to figure out mysteries too. As much as I love this series, I can't defend the fact that this version is nearly identical to the 3DS version and other versions of the game. You have to pay full price too, which sucks.

…

Expand