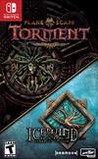 Summary:

Planescape: Torment Enhanced Edition

"What can change the nature of a man?" You are the Nameless One, a hulking figure covered in scars and tattoos collected over the course of countless livesnone of which you can remember, but are now coming back to haunt you. You are prodded awake byPlanescape: Torment Enhanced Edition

"What can change the nature of a man?"

You are the Nameless One, a hulking figure covered in scars and tattoos collected over the course of countless livesnone of which you can remember, but are now coming back to haunt you. You are prodded awake by Morte, a floating skull and keeper of secrets, to embark on an adventure from the dirty streets of Sigil through the mysterious Outer Planes and even into the depths of Hell itself.

Soon, you will discover that some destinies cannot be escaped and some memories are greater burdens than an even an immortal can bear.

Contains:

* Original Planescape: Torment campaign
* Restored quest content, cut from the original game

The Planes Await
Explore the furthest and most bizarre reaches of the Dungeons & Dragons multiverse, filled with strange magics, talking weapons, philosophic undead, and more.

Strange Bedfellows
A chaste succubus who can kill with a kiss. A confused crossbow-wielding cube. A suit of armor animated by a spirit demanding justice. Join these companions and more on your journey through the planes.

Optimized for Console
Experience Planescape: Torment in HD with a reworked interface designed for Console

Icewind Dale Enhanced Edition

Evil stirs beneath the Spine of the World.

Journey deep into Icewind Dale, a harsh and unforgiving territory settled only by the hardiest folk. Battle the cunning, ferocious beasts that survive among the snow-shrouded peaks, and confront an evil that schemes to wreak destruction upon the world.

Originally released in 2000, Icewind Dale is a Dungeons & Dragons tactical isometric roleplaying game set in the legendary Forgotten Realms.

Contains:

* Original Icewind Dale campaign
* Heart of Winter expansion
* Trials of the Luremaster expansion
* Adventurers of Neverwinter voice and portrait pack
* Restored quest content, cut from the original game

New Character Options
Select from over 30 new kits and classes to create the perfect adventuring party; customize your heroes with expanded options for hair, skin, and clothing colors, as well as new portraits and voice sets.

Gather Your Party
Tackle the dangers of Icewind Dale alone or with friends in co-op multiplayer.

Optimized for Console
Experience Icewind Dale in HD with a reworked interface design!

…

Expand
Developer:

Beamdog

Genre(s):

Miscellaneous

,

Compilation

# of players:

No Online Multiplayer

Cheats:

On GameFAQs

Rating:

T
This is a great port of two very influential western RPGs, though newcomers may be put off by the old school design.

Some minor visual elements don't translate to the Switch as smoothly as they could, but Planescape: Torment and Icewind Dale: Enhanced Editions sucks you into all the most captivating fantasy adventures.

Even after 20 years these games still hold some magic and these Enhanced Editions on the Nintendo Switch are faithful and competent ports.

Fans of real role-playing really ought to acquire this, since it offers the best of both worlds on the scale of CRPGs.

Two great games, particularly the first one, now available on new platforms. Control-wise, it doesn't play as well as on PC, but they're still enjoyable on consoles.

Once you get past the dated graphics, slow RPG gameplay, and wonky (but improved) PC-to-console controls, you will find one of the better stories available to you in gaming in each of these titles. A worthy place for fans of the original releases to return, as well as for those paper-and-pencil gaming aficionados.

I can really only recommend the Planescape: Torment and Icewind Dale: Enhanced Editions to people who played and enjoyed them in the past. Planescape has a terrible bug that freezes the game when you try to rest in one of the earlier areas of the game, and this is still the least of its problems. It's possible that the original developers of these games made them for an audience that would be familiar with the mechanics or have the patience to spend hours figuring out the systems at play. 20 years on, these games continue to be filled with brilliant story-telling, but what they really need to tell you is how to actually play.
I love this game, nyt almost everytime i træde with a merchant the game crashe if I take too long.

It's a slog. Unlike the refined (and excellent) Disco Elysium, this isometric RPG features repetitive dialogue and clunky controls. Twenty

It's a slog. Unlike the refined (and excellent) Disco Elysium, this isometric RPG features repetitive dialogue and clunky controls. Twenty years ago, this title might have been revolutionary. But it hasn't aged well. Combat is confusing and imprecise. Graphics are blurry and unconvincing. D&D RPG quests offer lots of personalisation but zero relevance to any real-world human themes or emotions. You're just a fake character in a fake world with fake problems. Reading the wikipedia plot synopsis feels like an exercise in "word salad" – but will save you money and lots of time. Some great ideas and lovely sonic textures don't change the fact that Planescape: Torment is really only for hardcore D&D fans and dedicated retro gamers.

…

Expand