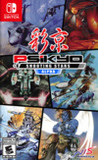 Summary:

Strikers 1945
A revolution broke out in shooting games in 1995. The Japanese brand "Psikyo" introduced a new enemy's attack, "Spread bullets" not seen before then, and the history of a new shooting game began.
Strikers 1945 II If you went to a video arcade, you might know a certain name.Strikers 1945
A revolution broke out in shooting games in 1995. The Japanese brand "Psikyo" introduced a new enemy's attack, "Spread bullets" not seen before then, and the history of a new shooting game began.

Strikers 1945 II
If you went to a video arcade, you might know a certain name. The name is "Psikyo."

The Psikyo made an awful disaster that called "Psikyo Bullets."

Many players felt indignation about speedy bullets from enemies and they cried at the end.

However, they were attracted to the magical power of "Psikyo Bullets" before they know. Psikyo's games were named "Psikyo Shooting" by big fans and Psikyo Shooting is divided as a different game genre or not.

"STRIKERS 1945 II" ... This is also one of the famous works of "PSIKYO Shooting."

Psikyo is the best choice when you really want to enjoy shooting game!

Strikers 1999
Relive the ultra-difficult "Psikyo" Shoot 'em up experience! Make use of your fighter's weapons and make your way through a chaotic dogfight!!

A shoot 'em up game released by Psikyo in 1999. Make use of Shots, Super Shots, and Support Attacks to make your way through a chaotic dogfight!

Historical piston fighters, such as the P-38 Lightning, are ready to rumble!!

A state of the art arcade shoot 'em up from the masters of the genre, Psikyo.

Players can change various game settings such as game difficulty, and also reproduce the atmosphere of arcade display settings at that time. Players can also compete against each other from all over the world with their high scores.

Sol Divide
Vorg heard a rumor that the army of Satan was searching for treasures called Seirei stones which led him to think that the time for revenge has come. In addition, he also knows that one of the Seirei stones was entrusted secretly to King Silverna from Vorg's homeland, the Kingdom of Miltia.

Vorg, who was a holy knight in Miltia, was in the forest town of Neraphai working for a mission when the king of Satan, Ifter, invaded the Kingdom of Miltia with Dhatilos armies.

Upon hearing the news, Vorg immediately returned to Miltia, but the kingdom has been destroyed.

After 7 years, a dark shadow went into the royal room inside the Silverna castle. That dark shadow was Satan, Ifter.

Vorg heads to Silverna castle with his Helos. Satan owns the Sol Divide which is the pair of heilos.

The tale of magic, sword, and vengeance starts now!!

Dragon Blaze
Earth, Water, Fire, Wind, Moon, and Sun. These four magic stones and the gods of the moon and sun brought prosperity in Megalith. Because of that, the people lived a peaceful and prosperous life.

However, their peaceful life ended when Nebiros and his armies appeared.

A long time ago, during the war of the gods when the world was created, Nebiros was defeated by the gods of the sun and moon. He was locked up by the 4 magic stones but was freed by summoning a country which aims to achieve victory in the war using him.

Nebirus, as an act of revenge, controlled the mind of the god of the moon using his dark power. The god of the universe transformed people's form and spirit into hideous ones and made them as his armies. And the entire Megalith fell into the abyss of destruction and chaos.

Nebirus' army has started to move towards the god of the sun. The god of the sun, who was threatened by Nebirus' move, entrusted the weapons of the gods to 4 dragon knights and ordered them to overthrow Nebirus.
Zero Gunner 2 Let's blast off every enemy's planes from various sides of your screen. Fans who have enjoyed Psikyo Shooting will definitely enjoy this Zero Gunner 2.

…

Expand
Developer:

Psikyo

Genre(s):

Miscellaneous

,

Compilation

# of players:

No Online Multiplayer

Cheats:

On GameFAQs

Rating:

E10+
Barring Sol Divide, this is a great collection of shooters from one of the best in the business. If you're a fan of the shmup that hasn't made the leap into these titles on Switch, now's the perfect time to do so, even if it does only just manage to justify its price versus picking up the games separately.

Six no-frills, but technically solid ports of mostly high-class 2D-shoot-em-ups.

If you haven't already purchased most of the games separately, Psikyo Shooting Stars Alpha can be a pretty sweet addition to any shmup fans' library as it contains a handful of solid titles that you're sure to enjoy for years to come.

If you're a big fan of shooters and don't already own the majority of the games included, Psikyo Shooting Stars Alpha is a bit of a no-brainer, really. You could spend more money just trying to pick a battered old copy of one of the included games up, so of course you've got to buy it. If you just like to delve into the occasional bit of shooter action, however, then there are more modern shooters available that are simply better than anything on offer here and also cheaper. With Psikyo Shooting Stars Alpha you get six blasts from the past, but the lack of fanfare alongside them is a little disappointing.

Psikyo Shooting Stars Alpha is a compilation of six classic shoot'em-ups that brings to today's players an experience of older times. The six games included are overall fun and enjoyable, even if they don't all provide the same satisfaction but the options included make this effort an adaptation that fits well on the Nintendo Switch, especially if played with the console's screen in a vertical position. Nonetheless, more extras and additional content would be more than welcome.

Psikyo Shooting Stars Alpha is a fun collection of notable artifacts from the golden age of arcade shmups. Most of the games included are a blast, one of which is a gem that's never been available on console before, and the whole package is a better value than buying each game piecemeal from the Nintendo Switch eShop. I would have appreciated more effort in the presentation, but mostly I'm just glad these gems have been dug up and are taking advantage of the Switch's unique capabilities.

This collection could be recommended for those who want to casually drop a few credits in a Psikyo game here and there, and are not going to become too concerned about learning or clearing the game. If you are the type of player who respects the original versions of these classics, however, and wants to experience the feel of the intended gameplay, the Psikyo Shooting Stars Alpha is not a worthwhile purchase.
Il est toujours très intéressant de pouvoir découvrir l'histoire des jeux vidéo grâce à ce genre de compilation, surtout lorsque le travail

Il est toujours très intéressant de pouvoir découvrir l'histoire des jeux vidéo grâce à ce genre de compilation, surtout lorsque le travail effectué est propre et plutôt bien mis en valeur. Vivement la deuxième partie de cette compilation. Si vous préférez aller directement à l'essentiel, et selon les conseils de la majorité des fans du studio Psikyo, les deux meilleurs jeux de cette compilation seraient STRIKERS 1945-III et Dragon Blaze. Après y avoir joué, je peux vous confirmer qu'il s'agit de 2 très bons Shoot'Em Up.

…

Expand

French review below---a good compilation with six Shoot'Em Up for Switch. 7/10.
You can Follow me on Twitter : @NintendoLegacy1
Il estFrench review below---a good compilation with six Shoot'Em Up for Switch. 7/10.
You can Follow me on Twitter : @NintendoLegacy1

Il est toujours très intéressant de pouvoir découvrir l'histoire des jeux vidéo grâce à ce genre de compilation, surtout lorsque le travail effectué est propre et plutôt bien mis en valeur. Vivement la deuxième partie de cette compilation. Si vous préférez aller directement à l'essentiel, et selon les conseils de la majorité des fans du studio Psikyo, les deux meilleurs jeux de cette compilation seraient STRIKERS 1945-III et Dragon Blaze. Après y avoir joué, je peux vous confirmer qu'il s'agit de 2 très bons Shoot'Em Up.

…

Expand