Publisher:

Nintendo

Release Date:

Nov 10, 2017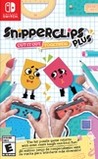 Summary:

Partner up with friends or family to solve puzzles, including new comic book and toy box worlds, 3 new activities, and a new stamp mode. Plus, play the original levels in new shapes. If you're new to the game, you can purchase this expanded version at retail. Owners of the original version

Partner up with friends or family to solve puzzles, including new comic book and toy box worlds, 3 new activities, and a new stamp mode. Plus, play the original levels in new shapes. If you're new to the game, you can purchase this expanded version at retail. Owners of the original version can purchase and download this additional content in Nintendo eShop on Nintendo Switch. Snip may need to cut Clip into a needle to pop balloons or maybe you'll have to team up to form a squawking, egg-laying bird! Prove you're a cut above the rest in Blitz mode, where 2-4 players* can compete in a series of puzzlingly action-packed challenges. Make it a party with Party mode, where up to four players* can team up to solve fun puzzles. [Nintendo]

…

Expand
Developer:

SFB Games

Genre(s):

Puzzle

,

General

# of players:

No Online Multiplayer

Cheats:

On GameFAQs

Rating:

E
Please enter your birth date to watch this video:
You are not allowed to view this material at this time.
Snipperclips Plus: Cut It Out Together! - Announcement Trailer
Snipperclips Plus completes a fantastic cooperative puzzle game. The additional games are a blast, stamp mode is a fun distraction, the new levels are fun with creative ideas, and the ability to play as random shapes breathes more life into an already lively batch of brainteasers.



All in all, Snipperclips Plus is a neat and tidy little package of delightful puzzles. The core concept of snipping and clipping one another gives the players the ability to be creative and have fun figuring out how to solve each puzzle, making for a very satisfying experience. If you liked the original Snipperclips, the new DLC provides more of what you love and should be totally up your alley, even though some new arrivals can be a little on the shallow side. So if you need a cute unique little puzzler, let Snip & Clip take you (and your friends) through the world of Snipperclips Plus.



What was already a fantastic package just got even better. The simple premise of cutting out shapes to solve puzzles is just as engrossing as it was upon release, and the addition of new puzzles for both single-player and multiplayer antics, as well as being able to revisit older puzzles with new pre-made shapes, make Snipperclips Plus: Cut it Out, Together! the ideal treat for Nintendo Switch owners this Christmas...and beyond.

The Snipperclips DLC makes an already sweet game even sweeter. Most of the new levels slot perfectly into the existing package, bringing fresh ideas that feel right at home without covering too much of the same ground as before. If you're picking up the all-in Snipperclips Plus bundle, it can be hard to tell where the original game ends and the DLC begins -- it's that seamlessly integrated.

Fun and original game perfect for those who want to play with a friend, while it's not that great for lonely players.

By expanding on an admittedly short base game, the Snipperclips Plus DLC does away with one of the game's only faults and makes this an absolutely essential purchase for the Switch. Get some family and friends round and you'll be roaring with laughter for hours!

The Snipperclips Plus DLC is a solid choice for anyone who enjoyed the original. Unfortunately, some levels feel rehashed and others are downright annoying, so it's not as fresh or accessible as the base game. But the majority of the game's 30 challenges keeps its penchant for creative multiplayer wackiness alive. The new modes and minigames enhance the package, making this a fairly good deal for the asking price. If you haven't yet tried Snipperclips, the full Plus collection functions like a complete game, and it's worth trying out with friends.
Este juego es simple pero divertido, lo jugue con mi pareja en clases. recomendado para aquellos que buscan pasarlo bien en compañia de alguien

This game is very very fun to play with family and friends! It's the only game that my mom wants to play with me and the controls are very

This game is very very fun to play with family and friends! It's the only game that my mom wants to play with me and the controls are very simple! Even the single player is still very fun and I recommend this game.

…

Expand

It's simple, it's goofy, it's creative, and it's a blast to play with someone. I never had a moment where i was confused so long I became

It's simple, it's goofy, it's creative, and it's a blast to play with someone. I never had a moment where i was confused so long I became frustrated, but depending on your experience, patience, and ability to problem-solve, it may be different. The extra levels and content in this version push the game to be very much worth it, though the lack of online play persisting in this version is really unfortunate. However, between the presentation, the interesting puzzles and challenges in each level, and the mad snipping of a friend on the couch, this is a great switch game that's worth picking up if you have said friend to spare.

…

Expand

I was divided on "should I give Snipperclips Plus a 6 or a 7?" because I really want to like this game, but sometimes it makes it really damn

I was divided on "should I give Snipperclips Plus a 6 or a 7?" because I really want to like this game, but sometimes it makes it really damn hard. At best, it's really enjoyable with a friend who takes it seriously and doesn't start Jigsawing you up into tiny pieces at the start of every level. The worst is when the thing I just said ends up happening because the level is really tedious or too long, since the game doesn't have any checkpoints and only includes an autosave feature after every level.
TL;DR, the concept is great, fresh and unique, but you should probably reconsider leaving it on the shelf if you don't have many friends to play often with, it's also a bit overpriced to my tastes.

…

Expand

I rarely want to play this, but my spouse always wants to. It's a pretty good game.. more fun with more people. Requires people to take it

I rarely want to play this, but my spouse always wants to. It's a pretty good game.. more fun with more people. Requires people to take it seriously, otherwise it can start getting frustrating, fast. It's very repetitive. I generally feel like this is only good as a party game, where you can all laugh at each other for doing stupid things.

…

Expand

It's a fun game, sure. I would say that I played it for a good 10 hours or so.
However, I can also say that it gets a bit boring after a fewIt's a fun game, sure. I would say that I played it for a good 10 hours or so.
However, I can also say that it gets a bit boring after a few hours of gameplay.
If you like smaller, more relaxing games, then I would recommend this to you.

…

Expand

Cute Idea, but it's not worth the price. it gets boring very fast. if you really want it try getting it cheap