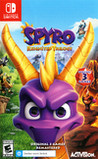 Summary:

The original roast master is back! Same sick burns, same smoldering attitude, now all scaled up in stunning HD. Spyro is bringing the heat like never before in the Spyro Reignited Trilogy game collection. Rekindle the fire with the original three games, Spyro the Dragon, Spyro 2: Ripto's

The original roast master is back! Same sick burns, same smoldering attitude, now all scaled up in stunning HD. Spyro is bringing the heat like never before in the Spyro Reignited Trilogy game collection. Rekindle the fire with the original three games, Spyro the Dragon, Spyro 2: Ripto's Rage! and Spyro: Year of the Dragon. Explore the expansive realms, re-encounter the fiery personalities and relive the adventure in fully remastered glory. Because when there's a realm that needs saving, there's only one dragon to call.

…

Expand
Developer:

Toys for Bob

Genre(s):

Miscellaneous

,

Compilation

# of players:

No Online Multiplayer

Cheats:

On GameFAQs

Rating:

E10+
Spyro Reignited Trilogy is still a blast. If you've been pining for the chance to replay these games for decades, I suspect it'll live up to your most cherished memories — and if, like me, you're new to the series, you'll easily understand why these games were so beloved in the first place.

20 years after its original release, it is still a great platform game, with the perfect balance between classic gameplay and new technical elements. On Nintendo Switch looks and feels great, especially on portable mode... but It's a shame that this port suffers from longer loading times and some FPS issues when playing in dock mode.

Spyro Reignited Trilogy can be a product made because of the nostalgia of a certain public, however, the games can be enjoyed even by today's standards due to it's quality. It's a title recommended to those that miss the series and to those that like the "collect-a-ton" sub-genre. Also, it's simplicity makes it a great game for children and to those that are not used to gaming.

Spyro Reignited Trilogy is a wonderful love letter to a classic series, keeping everything that made the original games what they were, but slapping on a fresh coat of paint for the HD era. There are a few creaking bones showing their age here and there, but only due to the developers' desire to keep things as accurate as possible. The Switch version looks absolutely stunning and runs surprisingly well, so if you're looking for a classic 3D platforming experience, you should definitely give this a look-in.

Spyro Reignited Trilogy offers us a remake of the first three Spyro titles so we can enjoy them again, looking now better than ever. It is a very accessible and fun trilogy, which will be enjoyed by both lifelong fans and new players. If you love to find collectibles, here you have entertainment for many hours.

Spyro looks and plays great on the Switch. As expected, there are some graphical compromises, but particularly on handheld mode is one of the best looking games on the system. And, of course, the three games still are a lot of fun.

Rather disappointing on the Switch. Visually it's a pretty game, but detail does feel sharper whilst in handheld. It's still lovely to look at whilst you're playing docked, but it's not as crisp. If it wasn't for the problems with the control's response time, I could easily play through the games again, however, if you're only interested in playing for the portability factor, it's still decent enough to take with you on your travels.
Pretty amazing and accurate remake of the original games. It really hits the nostalgia bone but the core gameplay is still very fun.

Spyro Reignited Trilogy es una remasterización de la trilogía original que está llena de encanto y nostalgia. Tiene unos personajes y diseños

Spyro Reignited Trilogy es una remasterización de la trilogía original que está llena de encanto y nostalgia. Tiene unos personajes y diseños muy bonitos, y derrocha magia en todos sus apartados. La adaptación a Switch está muy bien hecha, sin problemas de rendimiento. Es un plataformas totalmente recomendable para todos los públicos, con un muy buen equilibrio entre desafío, coleccionismo y accesibilidad. El único punto negativo sería que esta versión solo incluye el primer juego en el cartucho, el 2 y el 3 hay que descargarlos.

…

Expand

Perfect port on the Switch, no frame drops in docked and portable modes, customizable controls and audio for retro-style game play and what a

Perfect port on the Switch, no frame drops in docked and portable modes, customizable controls and audio for retro-style game play and what a pleasure to do these games I've already done 20 years before !

…

Expand

this is an excellent recreation if you've played the originals, and an excellent collection of games if you haven't. with the music being

this is an excellent recreation if you've played the originals, and an excellent collection of games if you haven't. with the music being great, visuals as well, plus the portability factor, but minus the bugs and the low processing power of the switch, and you have a nine out of ten.

…

Expand

This was a fun visit down memory lane and I thought was worth the buy. The updated graphics looked great.

Great game but a bit laggy. Even though at the beginning it bothered a lot, you get used to it.

Lo mismo de siempre, la calidad de esta version es muy inferior a la de otras consolas