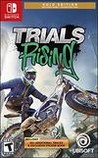 Summary:

Explore over-the-top action and physics-bending motorcycle racing in the latest edition of the Trials franchise. All-new features, more competitions, and more tracks mean more to play!.
Developer:

RedLynx

Genre(s):

Racing

,

Arcade

,

Automobile

# of players:

Up to 8

Cheats:

On GameFAQs

Available On:

Stadia

Rating:

T
Please enter your birth date to watch this video:
You are not allowed to view this material at this time.
Trials Rising - Extreme Mode And Tandem Bike Gameplay
Trials games have always been all about that feeling of "just one more try…", and Trials Rising is no different. This is the best game of its type on the Switch, and one that's sure to get its hooks into you and keep them there.

Trials Rising is a very addictive game. The great amount of hours that we will spend to get that gold or platinum medal will make us overlook small mistakes in the graphics section. Its level design is splendid.

Even with a few issues, Trials Rising is an excellent experience on Switch, filled with a slew of creative levels and a lot of reasons to replay and tweak your experience. Sure, the version on Switch might not be as pretty as other versions, but it's just as playable, aside from a few handheld framerate problems. Steady your hand and get to navigating the peaks and valleys of the world of Trials. Just make sure you're connected online.

Trials Rising is the (mostly) full package you've been waiting for. With its huge list of tracks to tackle and all the races and trick-based stunts you could ask for, RedLynx has served up the best instalment in the series since Trials Evolution. With a killer soundtrack, tons of customisation and an impressively deep tutorial mode, it's only really let down by a tutorial-free Track Editor. The drop to 30fps might put off those also playing on other platforms and the drop in visual fidelity can be hard to miss at times, but despite its blemishes, Trials has proved its right at home on Nintendo Switch.

Trials Rising, on Switch, delivers a great amount of content, with a lot of customization, from character to tracks itselves. That being said, we would have liked better graphical performances, some new ideas for the franchise and more interesting multiplayer tracks.

The Nintendo Switch version of Trials Rising is similar enough that this review still holds true, but it's definitely not quite up to par with the others. The graphics are reduced (though not distractingly so, especially in handheld mode), but the Switch's lack of analog triggers is the real pain point here. It means you have zero throttle control with the right trigger and instead have to use the right stick to subtly control your speed.

Trials Rising is the latest of the nearly-20 year phenomenon which, unfortunately, proves that less can indeed be more. The addition of the mid-game grind immediately dissuades the player from continuing and, coupled with the Switch version's shortcomings, only highlights how great we used to have it.
The game is crack on a cartridge- physics fine tuned to perfection with the craziest courses I've ever seen in a video game! Trials used to be

The game is crack on a cartridge- physics fine tuned to perfection with the craziest courses I've ever seen in a video game! Trials used to be an Xbox franchise, so we are blessed to have such an amazing game on Switch. Xbox fans, you've been holding out on us! Track editor is cross platform, as are the leaderboards and profiles... This is my new fave game on the Switch! This version isn't perfect btw- no game is. But it runs smooth enough, looks good on handheld (and decent docked, nothing spectacular but it'll do). But the game is so gosh dang good- I haven't had this much fun in a LONG time. I give this game my highest rating of approval. It really is that good.

…

Expand

This is definitely "Just one more try..." type of game, you have been warned. ;-)

nippen und nappen, weitermachen. wer aufstehen kann, spielt Trials auf der Switch.

I am casual player for this kind of game, I bought TR for some good motocross action. Gameplay has been fun and addictive. I have enjoyed

I am casual player for this kind of game, I bought TR for some good motocross action. Gameplay has been fun and addictive. I have enjoyed obtaining gold medals in every easy and normal tracks. Even, I obtained gold in every hard track that came in the first round. Sadly, things started to get rough from there. It's very hard to master bunny hop and other techniques, I think this Switch version is doing things even harder due to low framerate and buttons.

Progression is terrible, the level of grinding is too much. You will need DLC to keep going if contracts are too hard or too boring. Even stadium finals became a frustrating and repetitive excercise. The fun is gone.

Why Ubisoft couldn't do a game from everyone? I want to 'git gud', sure! But, I don't want to spend more than a reasonable (for a casual sport games player) number of hours perfecting jumps, speed, precision to a pro level just to beat the campaign.

…

Expand

Great game overall, but the performance on Nintendo Switch gets in the way of the experience. I'm a fan of the series and this is a deal

Great game overall, but the performance on Nintendo Switch gets in the way of the experience. I'm a fan of the series and this is a deal breaker for me when precision is one of the core element of the game.

…

Expand

Without a 8bitdo. Or another adapter this game is unplayable need Xbox or ps4 controller for acceleration dont know if pro controller works

Without a 8bitdo. Or another adapter this game is unplayable need Xbox or ps4 controller for acceleration dont know if pro controller works well. Better

…

Expand

!!!-The console reviews are misleading, look at the PC reviews for the rating this game actually deserves-!!! Could have been the best... but

!!!-The console reviews are misleading, look at the PC reviews for the rating this game actually deserves-!!! Could have been the best... but the game has been touched by scummy Ubisoft.
+The maps they made are VERY awesome
-The switch doesn't have proper triggers... So it's impossible to properly adjust the throttle and break. Their buttons, not triggers. -Many tracks have lag making things unnecessarily frustrating and difficult
-The soundtrack is absolutely disgusting. I've never heard a game with a soundtrack so annoying/distracting. I was very happy when I finally thought to just mute the music. -"Contracts" are just a fancy excuse for you to play the same level again in a way you probably don't want to.. Also think this is an artificial way to make the game longer and have "more" content, when your just repeating tracks
-WTF Loot Boxes!?!
-The physics can be very goofy and frustrating
-Sticker customization is uselessly difficult and time consuming
-Mandatory online/ubi account (game gates off content otherwise) -Customization is just awful if you can't go online or don't want to use loot boxes... Only after playing SEVERAL hours, will you unlock enough clothes to represent the Sponser that supposedly supports you. Just ended up going commando in spite, but you can't remove your helmet.. I guess to avoid encouraging riding a bike of a skyscraper... w/o a Hemet atleast
-Game isnt paced well... I've beaten all tracks with gold metals, but I'm 7 levels (hours of playing) away from unlocking the next tournament!?!? So frustrating, that I felt forced to quit a quater of the way through. I rather play a different game and experience new content instead of this games force feeding recycled content (what is this Assassin's Creed?)

…

Expand