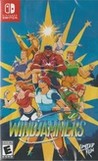 Summary:

A dazzling new game combining the thrills of tennis, the dangers of the discus, and the heart-stopping competition of competition sports. Six of the world's toughest and most clever athletes take court in the most thrilling new sport of the fin-de-seicle! WINDJAMMERS - It will blow you away!
Genre(s):

Sports

,

Individual

,

Other

# of players:

2

Cheats:

On GameFAQs

Rating:

E
Please enter your birth date to watch this video:
You are not allowed to view this material at this time.
Windjammers 2 - Announcement Trailer
Windjammers is something I never thought I wanted until I played it. Having spent a decent amount of time on it across PS4 and Vita, I'm glad to have yet another indie I played often available on the Switch through such a great port.

Windjammers is one of the finest co-op games in any genre, and it remains as essential now as it was back in 1994.

Windjammers was a lot of fun on Neo Geo and it's still fun now on the Nintendo Switch. While I had some minor problems at first using the Joy-cons to make precise curve shots, it's not to hard to adapt and soon you'll be throwing the disc every which way on demand. Once you've mastered the controls and have gone through Arcade Mode over and over again, grab some friends and have them join in on the fun.

Despite the passing of the decades the core gameplay still manages to entertain, and the 2D visuals have likewise stood the test of time rather well. The bone of contention remains the single-player side of things; if you're playing alone, you'll get bored relatively quickly. However, with online play and easy-to-configure local multiplayer, there's plenty of scope to embrace the game's true USP: two-player action.

As one of the better head-to-head titles on Switch, it is perfect for some quick rounds when you and a friend have a few minutes to spare. It's also deep enough for longer, more intense sessions. Windjammers is a surprisingly simple yet deliciously fun game, and if it's multiplayer you're looking for, this title belongs in your collection.

It plays wonderfully, is immensely fun, and is stuffed with '90s arcade fun. There are even a couple of extra minigames to fool around with, too, when not engaging in local or online multiplayer. The single-player mode might be a bit weak, but that should in no way deter anyone from buying Windjammers. It's yet another excellent addition to the Switch library!

Nintendo Force Magazine

Feb 26, 2019

Despite trying to connect at several times throughout the day, I've never found an opponent online. [Issue #37 – January/February 2019, p. 19]
Excellent game!
Well worth playing and highly addictive. Great on switch. Can't wait for the sequel.

Es un juego muy entretenido que jugaba de pequeño, esta conversión a switch es muy buena. Lo recomiendo

I'm not docking points for anything, it just isn't a 10 game but it is a great fun 2 player. As much fun as Mario Tennis Aces but less

I'm not docking points for anything, it just isn't a 10 game but it is a great fun 2 player. As much fun as Mario Tennis Aces but less polished and more user friendly. It's a great 2p gane and well worth £13. It hits £6 in the sale and totally worth that price.

Imagine Pong reimagined and mixed with a bit of frisbee and tennis and you're pretty close.

…

Expand