Network:

ABC

Series Premiere Date:

Sep 29, 2013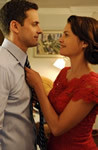 Starring:

Wendy Moniz

,

James Cromwell

,

Stuart Townsend

Summary:

This soapy, Chicago-set drama centers on a woman (Hannah Ware) who begins an affair with an attorney (Stuart Townsend), only to learn that he will be opposing her husband (another attorney, played by Chris Johnson) in an upcoming high-profile murder trial. James Cromwell, Wendy Moniz, and

This soapy, Chicago-set drama centers on a woman (Hannah Ware) who begins an affair with an attorney (Stuart Townsend), only to learn that he will be opposing her husband (another attorney, played by Chris Johnson) in an upcoming high-profile murder trial. James Cromwell, Wendy Moniz, and Henry Thomas also star for former ER producer David Zabel. The first season will consist of just 13 episodes.
 
 

…

Expand

Genre(s):

Drama

,

Action & Adventure
With law, politics, forbidden romance and the sordid doings of awful rich people all on the table, the raw material is certainly available for Betrayal to become a solid guilty pleasure.

Adapted from the Dutch series Overspel (adultery), Betrayal is consistently overwrought.

Even with a closing twist that introduces a narrative hook beyond mere adultery involving a murder trial, the show already has a strained feel in its piling on of happenstance and near misses.

While it may not be the worst new show of the season, it feels like the least essential.

So far, there's not much here you don't see coming from many miles away, and there's barely enough chemistry between Ware and Townsend to make things bubble.
I love this show!!!! I hope they come back with another season!!! I think there is so much chemistry between Jack and Sarah and then there is

I love this show!!!! I hope they come back with another season!!! I think there is so much chemistry between Jack and Sarah and then there is the added mystery to the show. Can't get enough of it!!

…

Expand

I like Betrayal and hope they bring it back for another season. Can't wait for the next one. ABC always cancels the good shows.Hope they don't

I like Betrayal and hope they bring it back for another season. Can't wait for the next one. ABC always cancels the good shows.Hope they don't cancel it like Red Widow.

…

Expand

I really loved the show, it's so intense and full of story. When I saw the first episode I stayed so petrified that I only thought in seeing

I really loved the show, it's so intense and full of story. When I saw the first episode I stayed so petrified that I only thought in seeing the next one. The actors are amazing and I'm really exciting to see what's comming next.

…

Expand

Excellent drama with Hate and passion! Easy to watch, fantastic actors, the series are all brilliant.I'm looking forward to season two, so far

Excellent drama with Hate and passion! Easy to watch, fantastic actors, the series are all brilliant.I'm looking forward to season two, so far the best drama I have seen during the last few years.
Hopefully season 2 is not cancelled.

…

Expand

Me personally, I LOVE this show! I hope they come out with another season, and another after that. Can't wait to see what happens as this

Me personally, I LOVE this show! I hope they come out with another season, and another after that. Can't wait to see what happens as this first season finishes out! Love the chemistry and suspense that comes with it!

…

Expand

I saw a commercial for the show and hoped there was a BBC version so I could watch that instead. There was a swedish version not in english.

I saw a commercial for the show and hoped there was a BBC version so I could watch that instead. There was a swedish version not in english. But I tuned in and was pleasantly surprised. While I generally don't go for these shows, i was really drawn into the lust the two characters had. Stuart Townsend is a great actor. The main actress seems a little off. But hopefully as they get more comfortable it will get better.

I enjoy the twist in the beginning and can't wait to see how it unfolds. I don't know how long you can go hiding but we shall see. I hope it doesn't get cancelled.

…

Expand

It's a total rip-off. A Revenge/Scandal/666 Park Avenue rip-off. I don't why ABC is keep giving new shows that no one really cared for and let

It's a total rip-off. A Revenge/Scandal/666 Park Avenue rip-off. I don't why ABC is keep giving new shows that no one really cared for and let them watch the MLB postseason instead and hopefully wait for the World Series. Last Spring they cancelled Red Widow, now it's time for Betrayal to get Betrayed and never survive in the ratings and then gets the axe.

…

Expand