Please enter your birth date to watch this video:

You are not allowed to view this material at this time.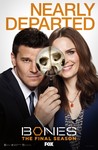 Episode Details & Credits
FOX |
Air Date:
December 13, 2005
Starring:
David Boreanaz, David Boreanaz, John Francis Daley, Tamara Taylor, John Boyd, Jonathan Adams, Emily Deschanel, Emily Deschanel, Eric Millegan, Michaela Conlin, T.J. Thyne, T.J. Thyne
Summary:
Brennan and her team are brought in to identify the body of a man found in a fallout shelter. While cutting into the bones of the man, Zack accidentally releases a deadly fungus that causes the team to be quarantined over Christmas.
Genre(s):
Comedy

,

Drama

,

Suspense

,

Science
Seasons & Episodes
Season 12

Season 11

Season 10

Season 9

Season 8

Season 7

Season 6

Season 5

Season 4

Season 3

Season 2

Season 1

Season 1 Overview

Air Date: September 13, 2005

S1:E22. The Woman in Limbo

Air Date: May 17, 2006

S1:E21. The Soldier on the Grave

Air Date: May 10, 2006

S1:E20. The Graft in the Girl

Air Date: April 26, 2006

S1:E19. The Man in the Morgue

Air Date: April 19, 2006

S1:E18. The Man with the Bone

Air Date: April 5, 2006

S1:E17. The Skull in the Desert

Air Date: March 29, 2006

S1:E16. The Woman in the Tunnel

Air Date: March 22, 2006

S1:E15. Two Bodies in the Lab

Air Date: March 15, 2006

S1:E14. The Man on the Fairway

Air Date: March 8, 2006

S1:E13. The Woman in the Garden

Air Date: February 15, 2006

S1:E12. The Superhero in the Alley

Air Date: February 8, 2006

S1:E11. The Woman in the Car

Air Date: February 1, 2006

S1:E10. The Woman at the Airport

Air Date: January 25, 2006

S1:E9. The Man in the Fallout Shelter

Air Date: December 13, 2005

S1:E8. The Girl in the Fridge

Air Date: November 29, 2005

S1:E7. A Man on Death Row

Air Date: November 22, 2005

S1:E6. The Man in the Wall

Air Date: November 15, 2005

S1:E5. A Boy in a Bush

Air Date: November 8, 2005

S1:E4. The Man in the Bear

Air Date: November 1, 2005

S1:E3. A Boy in a Tree

Air Date: September 27, 2005

S1:E2. The Man in the S.U.V.

Air Date: September 20, 2005

S1:E1. Pilot

Air Date: September 13, 2005