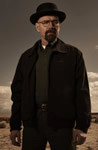 Creator:

Vince Gilligan

Season 1 premiere date:

Jan 20, 2008

Episode Length:

50
Please enter your birth date to watch this video:
You are not allowed to view this material at this time.
The acting is as good as you'll see on TV (take a hard look at the genius of RJ Mitte, who really does have CP). And the script and plot are as out-there as creator/writer/producer Vince Gilligan's other series, "The X-Files."

Occasionally, something will pop up to remind us of just how good television can be when smart writers come up with an intriguing concept and execute it well. A case in point is Breaking Bad, an edgy, challenging new series.

Give Gilligan credit for a pilot, written mostly as one long flashback, that is suspenseful and surprising. Cranston is always fun to watch and Bad is no exception. What's more, a strong supporting cast suggests there is a lot of room for this series to grow.

It sets up a scenario that sends Walt, played by Bryan Cranston ("Malcolm in the Middle"), on an unpredictable, surprisingly fun-to-watch journey that frees him from his law-abiding past.

Cranston's performance alone is enough to keep me watching for a while, but I'd like to see something resembling a completed formula, and soon.

In such rare instances [in the second episode], Breaking Bad achieves a perfect moment of nerdy believability, but too often the series fails to provide details that would help explain its characters' illogical choices.

Breaking could be a good study of acting, since Cranston and Aaron Paul (as his partner, Jesse) get under the grimy skin of their characters. But there's not enough of the good stuff, like writing, directing, mood, cinematography--you get the point.
This review contains spoilers

, click expand to view

.

This series is directed very well. And I can say that Bryan Cranston is an brilliant actor. Moreover, Aaron Paul should be respected for his performance.

…

Expand

The best show I've seen on TV in years.

Is there a Show that can remotely compete with Breaking Bad? No... let me spell that out for you: N, O... may I add a reinforcing word before

Is there a Show that can remotely compete with Breaking Bad? No... let me spell that out for you: N, O... may I add a reinforcing word before and a few exclamation marks after: HELL NO!!! ...so... there you have it.

…

Expand

Epic TV series - and CLASS A acting that will go down in history as one of the best series ever made!

I never knew I could ever watchEpic TV series - and CLASS A acting that will go down in history as one of the best series ever made!

I never knew I could ever watch anything other than chick flicks until this series blew my mind away and started making my brain cells do their thing again.

…

Expand

This is hands down the best show AMC have produced, actually the best show on TV ever made. The story is superbly written by Vince Gilligan

This is hands down the best show AMC have produced, actually the best show on TV ever made. The story is superbly written by Vince Gilligan and the acting from Bryan Cranston (Walt) and Aaron Paul (Jesse) are top class. This show will keep you wondering in suspense 'What is going to happen next?' and the outcome of the scenario isn't what you would expect...which is why you should watch this incredible show.

…

Expand

Are you looking for a television series that is filled with action and drama? Not looking for just another sitcom or a criminal investigation

Are you looking for a television series that is filled with action and drama? Not looking for just another sitcom or a criminal investigation show like Criminal Minds, NCIS, or CSI? Breaking Bad is the show for you. Breaking Bad is a drama television series that aired from 2008 to 2013. It is an AMC series that falls under the drama/thriller genre. The show won two Golden Globe Awards, and Emmy for Outstanding Drama, another 117 wins, and 189 nominations. It was also rated 5 out of 5 stars on Rotten Tomatoes and 9.5 out of 10 stars on IMDb. The writer of the show is Vince Gilligan and Michelle MacLaren is the director. The main characters are Walter White played by Bryan Cranston, Jesse Pinkman played by Aaron Paul, and Skyler White played by Anna Gunn.
The plot is about a middle-aged man, Walter, who is over qualified to be a public high school chemistry teacher who was recently diagnosed with stage III lung cancer. He has a 15-year-old son with cerebral palsy and a wife on maternity leave with a baby on the way. Walter considers the future of his cancer. How will he pay for the treatment and provide for his family without debt? He discovers a way make quick money for his chemotherapy and provide for his family when he is eventually gone. Walter teams up with an old student, Jesse, who is experienced in selling illegal drugs on the streets. Together they cook and sell the purest form of methamphetamine sold on the street they call "blue meth". Walt and Jesse quickly become well known and popular in the drug world. Their lives soon become filled with crime and drama that they cannot escape from. They encounter some very dangerous criminals and eventually become criminals themselves. Walt's brother in law, Hank, is a DEA (Drug Enforcement Administration) agent. Hank is investigating crimes Walt is secretly the cause of or involved in.
This television series will hook any type of person in. The show is aimed toward older teens and adults no matter on gender or interests. Each episode is so unpredictable that anything can happen and will make you want to keep watching. Each season is very organized and planned so there are no open-ended questions. Everyone appreciates and enjoys good acting with a creative story with some dry humor. The plot is very unique and not copied or modeled off of anything done before.
Besides everything I think was done well, there were a few things I did not like within the series. My main complaint was what some of the characters turned into as the show progressed. For example, Walter's character starts out as a quiet, nice, timid, and very intelligent father. Once he starts cooking and selling drugs, he becomes very greedy and merciless. Cooking methamphetamine comes very easy to him, which leads to large money flow that blinds him from knowing when enough is enough. By the end of the show, he becomes too greedy and his main priorities are lost.
The father, Walter, is simply a teacher and the mother, Skyler, is pregnant. They are a quiet family that acts and dresses proper and conservative. These details are relevant because you would never expect their situation from an outside perspective. The family is very relatable because to the rest of the world, the Whites are average family. The setting takes place in New Mexico because the use of methamphetamine is more popular and active than it is in Pennsylvania, for example. In my opinion, the acting was terrific and very professional. The main actors have had multiple awards for their performance.
This series was by far one of my favorites. Within all five seasons, I found minimal flaws. This show is very organized and leaves you without questions or wonders. I recommend this show to anyone because it is not aimed toward one specific audience.

…

Expand

This has got to be one of the worst TV shows of all time. What do you people see in it? I wanted all the characters killed off except for

This has got to be one of the worst TV shows of all time. What do you people see in it? I wanted all the characters killed off except for Saul. Plot's dull. Storyline stupid... who in their right mind will cook meth in someone else's house while it is supposedly being renovated?

…

Expand