Network:

Prime Video

Series Premiere Date:

Jan 26, 2018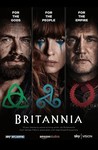 Summary:

Set in in 43AD, Gen Aulus Plautius (David Morrissey) leads the Roman Imperial Army to conquer Britannia only to find not only druids led by a mage named Veran (Mackenzie Crook) but other Celtic tribal leaders like Regni's Queen Antidia (Zoe Wanamaker) and the Cantii's King Pellenor (Ian

Set in in 43AD, Gen Aulus Plautius (David Morrissey) leads the Roman Imperial Army to conquer Britannia only to find not only druids led by a mage named Veran (Mackenzie Crook) but other Celtic tribal leaders like Regni's Queen Antidia (Zoe Wanamaker) and the Cantii's King Pellenor (Ian McDiarmid), who will not bend to Rome's will in this historical drama created by Jez Butterworth, Tom Butterworth and James Richardson. It is the first co-production between Sky and Amazon Prime Video.

…

Expand

Genre(s):

Drama

,

Action & Adventure
Season 1 premiere date:

Jan 26, 2018

Episode Length:

60
The longer you stick with this nine-episode season, the more the players reveal themselves. It's a big part of how Britannia,"written and co-created by Jez Butterworth ("Black Mass," "Edge of Tomorrow"), transcends its genre roots.

Britannia doesn't slow down long enough to be as engaging as the HBO show, but ultimately, it has enough going for it that if you like such fare--not everyone is a "GOT" fan--you can get into the Amazon show.

Violence it has. Also, domestic drama. Dynastic intrigue. A soupçon of the supernatural. Set in A.D. 43, during the second Roman invasion of the British Isles-to-be, the nine-part Britannia also displays what might be an unfortunate side effect of the rise of bingeable drama--the seeming nonchalance with which writers are approaching a storyline.

The first five of the nine episodes provided for review also have echoes of "Spartacus," and "Rome" slopped with a sauce of graphic novel-style drama. That's not the worst a person can say about a series.

The modernisms are amusing, and they invite us to take Britannia as a sendup--but then the series doesn't commit to that approach, as it lapses back into straight-up battle drama. It's trashy, but, perhaps, not trashy enough.
Obviously it doesn't have the production values of Game of Thrones, but I have to be honest. I enjoyed it nearly as much as the first season

Obviously it doesn't have the production values of Game of Thrones, but I have to be honest. I enjoyed it nearly as much as the first season of GOT, and even more than that show's most recent season. This show also has a sense of humor and dialogue that wouldn't be out of place in a Joss Whedon show about a certain Vampire Slayer. Great stuff.

…

Expand

This is no fancy schmancy review. This review is simply from a viewer who enjoys good TV and has trouble finding good shows to watch. And I

This is no fancy schmancy review. This review is simply from a viewer who enjoys good TV and has trouble finding good shows to watch. And I LOVE BRITANNIA!! Such an AMAZING CAST and storyline full of interesting characters! Hard to hate any character and they always keep you guessing. I wish people would stop comparing to GOT because they are a similar genre. IDK but I don't think people constantly compare doctor and lawyer shows (as an example). I enjoy both shows and am thankful for both. Obviously this show doesn't have the budget of GOT but I think it is well done. Opinions are subjective so don't judge solely by reviews, give the show a shot and decide for yourself. One of the main thing that gets me into a show is whether or not I care about and am interested in the characters and on Britannia, I do and am. There's suspense, action, drama, and humor. The scenery is beautiful. What's not to like?? Sincerely hoping for a second season!!!!

…

Expand

Very focused and sharply written show with an absolutely brilliant cast. The series shows an in-depth look on an ancient people's intent

Very focused and sharply written show with an absolutely brilliant cast. The series shows an in-depth look on an ancient people's intent driven and survivalist way of life. The mystical Druid aspect is my favorite and echoes many writings that i've read on occult communication with the underworld. It's incredible how the show relates spiritual prophecy with the inevitability of historical changes to an entire society. The way that death is treated is fascinating in an almost documentarian sense. Pls stop using GOT as a shining example, I've always felt like that show has the intellect of a children's fantasy drama, too graphic for actual children to watch, not even in the same ballpark as far as writing, compared to this show.

…

Expand

This review contains spoilers

, click expand to view

.

First of all, no way this resembles Game of Thrones on any level. The political aspects are the most interesting. The Druid mumbo jumbo and all of the mystical nonsense is the least interesting. It tends to be incoherent at times which downgraded it from 7 to 6. The first episode is very confusing. It's very difficult to distinguish between the various tribes. It does get easier as the show develops. Another plus is that they aren't afraid to kill off major characters. The major story line of "a chosen one" has been done to death and better many times. It's not clear where they go with season 2. It's just not that compelling or fresh.

…

Expand

I just finished watching the first season of Britannia and I honestly can't tell you if I like it or not. I go back and forth and it really

I just finished watching the first season of Britannia and I honestly can't tell you if I like it or not. I go back and forth and it really isn't even something I can break up into too many pros and cons. That is because it is all so intermixed that there isn't a clear winner and loser portion.

It is about the Roman invasion of Britannia in 43 AD led by Roman Aulus Plautius. David Morrissey who played the Governor on Walking Dead does well enough, it isn't him, or it really isn't any of the actors. They all do well. I suspect instead I have an innate issue with how they changed the history of the event.

It is to be expected they would change it, this is a supernatural historical fantasy version of the invasion. The druids are portrayed as supernatural (the leader being 2000 years old) and living in what most would consider squalor. It just didn't work for me.

The second part that really bugged me was the references to Rome. It is historically true that Rome (via Julius Caesar) failed to conquer fully Britannia, they did however install a King who was subservient Rome. It was the first time that Rome had started the system of client Kingdoms when Caesar enthroned Mandubracius as King. Rome then kept diplomatic and trading links with Britannia until they finally came back in 43AD and invaded to take it fully. Whereas the show acts like Caesar left, the Britannia went on about their lives and never heard of Romans again for 90 years.

I think with my penchant to read a lot of history, precludes me to not liking the show overall. It isn't that its written badly, just it isn't true and I can't really recommend the show to others because of that. I watch too many people believing things are factual because they watched a show that is fiction that I can't go with this show either.

…

Expand

You will watch episode after episode waiting for a good battle. Hint, don't bother. This is not Vikings nor GOT.

One of the worst shows I've ever seen. None of the characters are in any way sympathetic or interesting. Dialogue is childish. Script is

One of the worst shows I've ever seen. None of the characters are in any way sympathetic or interesting. Dialogue is childish. Script is boring and repetitive. Acting is awful. Need I say more?

…

Expand