Network:

Showtime

Series Premiere Date:

Jan 9, 2011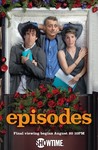 Starring:

Matt LeBlanc

,

John Pankow

,

Tamsin Greig

Summary:

Pucks! is renewed but money problems surface for Matt as Sean and Beverly reluctantly return to Los Angeles for the sitcom.

Genre(s):

Comedy
Please enter your birth date to watch this video:
You are not allowed to view this material at this time.
Episodes remains funny.... Mangan and Greig, whose characters remain perfectly, hilariously, beset by that terrible Hollywood contagion: Self-loathing co-mingled with self-preservation.

Episodes is still the same great, low-key delight. [9 Jan 2015, p.75]

After three seasons, a satisfyingly dense layering of history and tension has been built into the relationships between the main characters.

The new season thus showcases both the program's strengths and inherent weaknesses, alternating between feeling clever (the promise of a trip to a Golden Globes gifting suite represents an effective bribe) and tired (seriously, aren't we done with the agent-doing-business-on-the-treadmill gag yet?).
The best comedy on TV, on either side of the Atlantic. Well written, brilliantly performed and even the minor characters have real depth (the

The best comedy on TV, on either side of the Atlantic. Well written, brilliantly performed and even the minor characters have real depth (the Myra storyline is S4 is pure genius). Still fresh and dearly hope it gets renewed...although great programmes often get dumped way too earlier #newsroom .

…

Expand

Best season so far, I didn't find one single episode bad. People have to watch episodes, tell your friends, tell your parents, tell a homeless

Best season so far, I didn't find one single episode bad. People have to watch episodes, tell your friends, tell your parents, tell a homeless guy on your neighborhood, everyone needs to know how amazing Episodes is. It's easily one of the best comedy series that, I'm watching, and I watch a lot of tv series, trust me. The written is amazing, the cast is amazing, the jokes are hilarious. Everything perfect. Please, more seasons like this one.

…

Expand

This review contains spoilers

, click expand to view

. I had always liked Episodes since the first episode. Its satirical, witty British humor (which is ironically written by American writers) set in Hollywood is refreshing and the fourth season is the best season of Episodes so far mainly because of its humor.

What also made the fourth season the best one is the way how the plot arcs this season were written from start to finish. This season's main plot is not so focused on the show within the show Pucks which is in the verge of being cancelled anyway as Beverly and Sean try to develop a TV show project they made few years ago called The Opposite of Us that seems better than Pucks. Of course, there is a conflict in that a guy who used to work with Sean and despises Beverly as "Yoko Ono" wants to be involved in this project and what complicates the project is that while Sean had the idea, it was also Sean's former writing partner's idea. The way how it was handled is hilarious and fun to watch.

Meanwhile, the way Matt LeBlanc tries to handle his money situation is hilarious. It's not very funny in regular situations but with the show's satirical humor, who could blame me for finding it hilarious?

While this show has always been about Beverly, Sean and Matt, in terms of character development, the winner was Carol. Carol had a very funny yet interesting character development as she realizes she likes women too after all of her relationships were with men, specifically, powerful men. What makes it funnier is that the first girlfriend Carol has is, you guessed it, a powerful woman. The way how Carol handles her first time relationship with a woman is hilarious and fun to watch as well and this also attributes why Carol is one of my favorite characters in the show.

These were the reasons why the fourth season of Episodes is the best one. The writing of the humor and the plot arcs this season were excellent and certainly deserves an Emmy nomination. And of course, the cast performances from Tamsin Greig, Stephen Mangan, (the real) Matt LeBlanc and Kathleen Rose Perkins were excellent to watch.

…

Expand