Network:

Netflix

Series Premiere Date:

Dec 18, 2015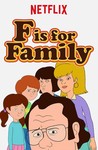 Summary:

Baggage handler Frank Murphy (Bill Burr) and his wife (Laura Dern) raise their three children (Justin Long, Haley Reinhart, and Debi Derryberry) in 1973 in the animated comedy created by Bill Burr and Michael Price.

Genre(s):

Comedy

,

Animation
Season 1 premiere date:

Dec 18, 2015
Please enter your birth date to watch this video:
You are not allowed to view this material at this time.
In just six episodes, F Is For Family will certainly make you laugh, but its dramatic heft is so unexpectedly huge that it might also move you to tears.

It's a bitter, but deeply empathetic portrayal of suburban malaise and depression that also doubles as a very funny TV show.

The show itself is very promising, albeit uneven, as almost any young comedy is, and fits neatly into the dark and very adult animated comedy brand Netflix started for itself with the great "BoJack Horseman."

The semi-serialized six-episode run has a dark, bittersweet quality, but despite some clever moments, F generally merits no more than a "B."

The sadness and unrest in F Is for Family tempers the humor and keeps the show from ever getting too frivolous. The family of its title gives the show a hopeful core, but it's always looking around the corner for the next stumbling block, so mostly, F Is for Family is entertainingly honest.

The show is funny, but a not-always-subtle flip side makes the jokes funny as well. Inevitably, we view it all through both our personal lens and through contemporary sensibilities.

The tone is more restrained than outrageous, but Burr and Price don't have a strong enough perspective to compensate for the mediocre humor. Their average family is a little too average.
This show is funny, charming and overall gives you everything you want in a animated comedy based in the 1970's, the animation is cool, the

This show is funny, charming and overall gives you everything you want in a animated comedy based in the 1970's, the animation is cool, the voice acting is great and this show is just so cool, cant wait to see what's next for the well written show.

…

Expand

if you like bill burr's comedy, you'll get this and you'll love it. i'd say it really gets good around the fourth episode. looking forward to

if you like bill burr's comedy, you'll get this and you'll love it. i'd say it really gets good around the fourth episode. looking forward to season 2.

…

Expand

Hilarious!! Love this new show!! Can't wait for Season 2! Roll on the floor funny! I keep watching it over, and I keep seeing stuff I didn't

Hilarious!! Love this new show!! Can't wait for Season 2! Roll on the floor funny! I keep watching it over, and I keep seeing stuff I didn't catch the 1st time around. (A++++++) I love these kind of shows that make you forget about reality for awhile.

…

Expand

Very funny!!! To compare to other animated shows,its much funnier then Bob's Burgers (which is ok dont get me wrong) but not as funny as

Very funny!!! To compare to other animated shows,its much funnier then Bob's Burgers (which is ok dont get me wrong) but not as funny as family guy or south park. but its close. To be honest, its refreshing to hear profanity in a show. So tired of beeps and censorship from the human garbage at the FCC. Bill Burr's stand up routines are very funny as well so I had a feeling this show would be good ,and I was right! I honestly dont think it would be anywhere near as funny without Bill tho. Lets hope for a second season!!

…

Expand

This show is super quality and is exactly what to expect from the trailer. While the animation is admittedly a bit lacking, the comedy is more

This show is super quality and is exactly what to expect from the trailer. While the animation is admittedly a bit lacking, the comedy is more than enough to make up for it.

…

Expand

This is a Netflix Original staring Bill Burr, The show is supposed to tell the story of Bill Burr growing up and stories of his life. This

This is a Netflix Original staring Bill Burr, The show is supposed to tell the story of Bill Burr growing up and stories of his life. This makes some parts of the show seem slightly realistic or grounded by maybe by 80s standards. Lots of the show is extremely vulgar and surprised me at times. There isn't much to the show other then comedy, It tries to have some more focused episodes but nothing special. The series isn't very long either so binge watching it is very easy. If your a fan of Bill Burr or extremely vulgar humor give F is for Family a look, but don't expect much more.

…

Expand

I am a big fan of Bill Burr and Sam Rockwell. I really did not find this show funny. The swearing is over the top, a bit redundant. The themes

I am a big fan of Bill Burr and Sam Rockwell. I really did not find this show funny. The swearing is over the top, a bit redundant. The themes are actually boring. I noticed that this show did get a lot of positive reviews. I'm sure it will be picked up but I will not be watching.

…

Expand