Network:

TNT

Series Premiere Date:

Jun 1, 2011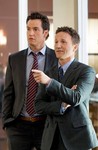 Starring:

Reed Diamond

,

Mark-Paul Gosselaar

,

Garcelle Beauvais-Nilon

Summary:

Jared Franklin (Breckin Meyer) and Peter Bash (Mark-Paul Gosselaar) are two unorthodox lawyers who join an old-fashioned law firm headed up by Stanton Innfeld (Malcolm McDowell).

Genre(s):

Comedy

,

Drama
Franklin & Bash sometimes tries too hard to be edgy, suffering some paper cuts in the process. It's otherwise a good deal of fun delivered with an abundance of energy.

The show works on its own undemanding terms. [6 Jun 2011, p.45]

Nobody will confuse this with "L.A. Law" in its prime, but the vibe is similar to that show's more whimsical side--a breezy tone that carries through the handful of episodes previewed.

TNT bills Franklin & Bash as a dramedy, but it is more accurately a comedic bromance laced with pop-culture jokes and a dash of legal jargon to trick you into thinking you spent an hour on something of substance.

Franklin & Bash has some of the ingredients of perfectly adequate summer filler: it's handsomely shot; the writing, line by line, is as good as or better than that of most of the cable competition; and there are appealing actors like Malcolm McDowell, Reed Diamond and Ms. Davis in supporting roles. The problem is that Franklin and Bash themselves are resolutely uninteresting.

F&B will rise or fall almost entirely on the basis of how likable you find Gosselaar and Meyer, not to mention the wisecrack-stuffed dialogue.

Franklin & Bash is not a guilty pleasure, because there's no pleasure here to regret, just strained, sexist, frat-boy self-love.
I wanted to like this show, since I like the actors in it, but I thought it was poorly written and too juvenile for a successful show. There

I wanted to like this show, since I like the actors in it, but I thought it was poorly written and too juvenile for a successful show. There was too much silliness and quirkiness in all the characters. Why can't they get a better attorney show on TNT? I thought Raising the Bar was much better, but it was cancelled.

…

Expand

This is a fun, lawyer team show, that is good entertainment. The duo uses unorthodox methods to help them win cases, with a supporting cast

This is a fun, lawyer team show, that is good entertainment. The duo uses unorthodox methods to help them win cases, with a supporting cast that seems to have fun doing the show.

…

Expand

I'm all for a show not taking itself and it's plot lines too seriously but the set-up is a bit silly, nevertheless I am hooked on this summer

I'm all for a show not taking itself and it's plot lines too seriously but the set-up is a bit silly, nevertheless I am hooked on this summer bromance series with these two great actors the good supporting cast TNT has assembled around them. I don't take my law shows too seriously and expect this show to offer a lot more laughter than heartfelt moments and efforts to intrigue me with fake science. Light, airy, funny, and involving.

…

Expand

If you like a show with wholesome family values, good clean fun, and a mature law-themed show, then Franklin & Bash is not for you. Franklin &

If you like a show with wholesome family values, good clean fun, and a mature law-themed show, then Franklin & Bash is not for you. Franklin & Bash is a simple show about two lawyers who use their antics to win their (admittedly contrived) court cases, with plenty of humor along the way.

One thing to keep in mind about Franklin & Bash though, is that if you don't like humor obviously directed at young adult males, you probably won't like it very much. The plots and character development take a backseat to the various bits of immature (in a good way) comedy- which is a very fine line to tread, but Franklin & Bash keeps its balance as it unicycles across that line of depth and humor.

Surprisingly, for a show that airs on a station whose motto is "We know drama", it certainly isn't very dramatic. And believe me, that's a good thing. The character depth and plot still exists, but isn't the star of the show in any sense. It's all fairly well balanced, allowing for a very fun, enjoyable time through each episode.

As pointed out earlier however, the court cases can be a little too contrived at times. They're certainly not meant to be taken seriously, but there's still that sense of "Oh, come on, that would never work" if you think it over. Lucky for Franklin & Bash, you usually have to look past the humor and charm of the show to actually think it over. Another good aspect of Franklin & Bash is that you can re-watch some of the episodes, and catch humorous bits that you may not have caught before- making each episode worth re-watching; a rarity in many TV shows.

Ultimately, Franklin & Bash is a show that stars immature, college-level humor, with a supporting cast of charming characters, well placed development, and unusually charming dialogue. It's not the best show ever made, but it's definitely worth the watch if you want a relaxing change from the usual, overly dramatic law shows.

…

Expand

F&B was a great show, for the first and second seasons. After that the main premise had run out of legs, and what was a decent 'buddy comedy'

F&B was a great show, for the first and second seasons. After that the main premise had run out of legs, and what was a decent 'buddy comedy' became very contrived and lost its sparkle.
By the time the fourth season came around, you just knew it would be the last. When one of the established characters fails to return for the third season, and then two more are written out for the fourth.... Well, you're getting to the 'Great Gazoo' stage, when the writers/producers know their original idea can't carry on much longer, and need to bring in some even more wacky and meaningless characters/storyline in an attempt to prop up the ratings

As with most attempts in that vein..... It failed.

My '6' rating is based on an average across the four seasons (oh what a night).

Season One - 9/10
Season Two - 8/10
Season Three - 5/10
Season Four - 2/10

…

Expand

This show is good summer fun. The stories are a lot more interesting than I thought they would be, and the show is decently funny. It

This show is good summer fun. The stories are a lot more interesting than I thought they would be, and the show is decently funny. It certainly has its flaws, but they are worth looking past because overall this show is pretty darn good.

…

Expand

I have tried very hard to like this show. I love all the actors in it and wish them the best, but the story lines make no sense, the writing

I have tried very hard to like this show. I love all the actors in it and wish them the best, but the story lines make no sense, the writing is terrible, there seems to be no logic or continuity behind the characters actions and decisions. I can only hope the actors start working soon on something watchable.

…

Expand