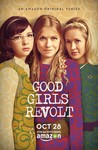 Summary:

In 1969, three female researchers (Genevieve Angelson, Anna Camp, and Erin Darke) at "News of the Week" seek to be treated fairly in this drama based on Lynn Povich's non-fiction book of the same name.

Genre(s):

Drama
Season 1 premiere date:

Oct 28, 2016

Episode Length:

60
In a word, the show is eye-opening, and it's easy to see why people are talking about it.

Bring your 80-cents-on-the-dollar outrage here, for an entertainingly upright tale of the fight for equality.

Good Girls Revolt is an eminently watchable, admiringly written drama that makes women's liberation, so often portrayed as a movement forged by dour, humorless women, seem exhilarating, essential and--would you believe it?--fun.

The show is not perfect. At times, Good Girls Revolt can be very smart about the themes of the '60s; at others, it can be painfully obvious. ... With a show that is as much about atmosphere as plot, some sprawl can be forgiven.

Despite the ambitious effort to show these women as individuals, to explore the ways the men hold them back and the ways they hold themselves back, the show feels generic.

Mad Men used ingenious storytelling to look at people mired in the past; Good Girls Revolt relies on clichés to portray the era's innovators. These women deserve better than that.

A sub-Mad Men piece, filled with trite characters and anachronistic dialogue.
This is one of the best shows I have watched in a long time. It was fascinating to watch the characters growing and realizing how unfair the

This is one of the best shows I have watched in a long time. It was fascinating to watch the characters growing and realizing how unfair the society still as even after all the positive changes in the 1960s. Keeping my fingers crossed for season 2.

…

Expand

One of the best shows I've seen in a long time. I was pulled in from the first episode. Inspiring story, wonderful writing and good acting. I

One of the best shows I've seen in a long time. I was pulled in from the first episode. Inspiring story, wonderful writing and good acting. I hope it's not too late for a season 2.

…

Expand

Refreshing show that puts women protagonists at the center of the series. While other period shows like Mad Men put women in the background,

Refreshing show that puts women protagonists at the center of the series. While other period shows like Mad Men put women in the background, often as weak, exploited characters, defeated by their circumstances, Good Girls puts women in charge and shows how they mobilize to ask for equal rights. This is a story about women, the women's liberation movement, female activism and awakening, it is inspiring and a story that is not often told. Watched the entire series and looking forward to the next season. Amazon has decided not to support a second season, but this is a big mistake. America and the world need more shows like Good Girls right now, it shows struggles with women's rights, minority rights and social struggles every bit as relevant today. Women's voices are often shut out of history, the media and television, shame on Amazon for continuing on this path.

…

Expand

I have to give big props to the writers and casting departments in Good Girls Revolt. Character dialogue never got too witty (people don't

I have to give big props to the writers and casting departments in Good Girls Revolt. Character dialogue never got too witty (people don't talk like that!) like many modern dramas, and it was delivered by a cast that excelled at making that dialogue feel honest. Furthermore, everyone that wasn't background noise had dimension and believability you'd expect from a well-budgeted Masterpiece Theater presentation.

My only major gripe was that is seemed they wanted each episode to have a plot that could stand on its own while contributing to the overarching story. This never clicked for me; or maybe I'm too institutionalized by this formula being well executed in other series, that I wanted to find it here.

…

Expand

Late to the party, but wanted to weigh in on behalf of those getting the chance to bingewatch this on Amazon. Funny how all the critics want

Late to the party, but wanted to weigh in on behalf of those getting the chance to bingewatch this on Amazon. Funny how all the critics want to compare it to "Mad Men," which starts out much earlier in time. It does feel like sort of a feminist-Mad Men-media centric period piece, but starting in the seminal year of 1969. For media-savvy baby boomers like me, the cultural touchpoints and soundtrack are irresistible. Altamont, Vietnam, protesters, hippies, weed, women's rights ... there was a lot going on. I liked the cast (and applaud the cosmetics, such as better wigs than most such shows). But many characters were annoyingly cliched. The anachronistic dialogue was annoying as well -- e.g. no one talked moronically about "unpacking" issues back then. Will be fascinated to see whether its fans succeed in bringing it back, especially in light of the sexual harassment aspects that are echoing so loudly right now. There's a scene with the character Jane, touring an art exhibit with a top editor, that's breathtaking in its relevance to media jerks we've read about recently. But at the same time, it shows how much women have advanced since those turbulent times. Recommended for boomers -- and a "possible" for younger folks who are curious about that period.

…

Expand