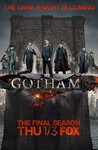 Starring:

Donal Logue

,

Benjamin McKenzie

,

Jessica Lucas

Summary:

Season three introduces the Mad Hatter (Benedict Samuel), Poison Ivy (Maggie Geha), and reporter Valerie Vale (Jamie Chung).

Genre(s):

Drama

,

Action & Adventure
Season 3 premiere date:

Sep 19, 2016

Episode Length:

60
Please enter your birth date to watch this video:
You are not allowed to view this material at this time.
With its opening episodes, the third season of Gotham creates a darkness that I'm not sure I ever want to escape.

The result is a intermittently promising, hugely irritating series that often feels as if it's directly catering to a DC-fan contingency excited for nothing more than to see characters from the comics be realized on the small screen.
Just watched the first 2 episode. New Bruce or Bruce's twin came out its really interesting and ye Gordon is becoming more bad ass. Hope

Just watched the first 2 episode. New Bruce or Bruce's twin came out its really interesting and ye Gordon is becoming more bad ass. Hope remaining episodes will become more better.

…

Expand

This review contains spoilers

, click expand to view

.

Just watched the first episode. It's much more dark than the 2 seasons before. And I think it fits the show. Gordon is much more interesting and he isn't limited to the GCPD. Can't wait for more :)

…

Expand

This review contains spoilers

, click expand to view

. Season 3 off to an amazing start. Phenomenal character growth and realization. The characters are more intriguing that ever. And each episode carries itself with a strong plot while still keeping a good cohesive story. My only real complaint is how they are pushing a lot of comic elements, which kinda loosens its casual viewer appeal. But great nonetheless. There are a couple more nods to the comics (especially some newer plotlines which is very interesting).
Gordon is more free as a character now aswell, moving past his "good cop" persona in Season 1. Character favorites return (from the dead), and we see more of Batman's classic villains come into their form.

…

Expand

The season is not over yet so we have a final opinion but in general she is confused begins showing the superhuman gang of fish mooney that

The season is not over yet so we have a final opinion but in general she is confused begins showing the superhuman gang of fish mooney that appears for some episodes after never again to see the series presents new villains like the hatter who very good foot with a A plot that is well-schooled around him and the contaminated blood of his sister alice, nigma finally assumes the charade of charade because of a very interesting plot between him and the penguin bruce wayne now already knows how to fight and survive in the streets we have the return of the jerome Like a joker with the skin of his face retained on his face, and again placed with staples a clear inspiration to the joker of the new 52, and in principal place the court of the owls that has a leader with a strong genius and that is convincing enough that can To be threatening, ben finally gave some interesting characteristics to Jim as a cold, dark, grumpy, hot-tempered man, and who assumes everything takes the law above all else so far note 74

…

Expand

There is no getting around it; this season is off to a rocky start so far. Do not misunderstand me, it is still good, but not as good as the

There is no getting around it; this season is off to a rocky start so far. Do not misunderstand me, it is still good, but not as good as the last two seasons.

…

Expand

Contrarily to most of the others that have reviewed this season, I have watched the whole season, and let me tell you, it was a ****

TheContrarily to most of the others that have reviewed this season, I have watched the whole season, and let me tell you, it was a ****

The story got EXTREMELY silly and lazy in its writing with romance being the only way known from the writers to do character development, it got to a point (spoiler ahead) where they even shoved a completely stupid and out of place gay crush from the Penguin toward Riddler.

They also ruined a lot their previously interesting characters with weird choices like the sudden growth and inexplicable power of Eve, or the numerous resurrection of people that should have been dead.

…

Expand

This review contains spoilers

, click expand to view

.

the worst season of gotham! It was hard to do worse than the second, but they did it! Bad writing, jim gordon who becomes an assassin, fidelity no-comic book, characters who return and die again a disaster don't look at gotham! all batman villains there are presented before the real presence of batman, police captain who becomes a villain, but what happens in the head of someone who writes this stuff?!!

…

Expand