Network:

NBC

Series Premiere Date:

Apr 4, 2013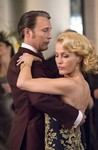 Starring:

Laurence Fishburne

,

Gillian Anderson

,

Hugh Dancy

Summary:

FBI head of Behavioral Sciences Jack Crawford (Laurence Fishburne) brings together FBI profiler Will Graham (Hugh Dancy) and as-yet-unknown-killer psychiatrist Dr. Hannibal Lecter (Mads Mikkelsen) to help solve difficult cases.

Genre(s):

Drama

,

Horror

,

Suspense
Season 1 premiere date:

Apr 4, 2013

Episode Length:

60
Please enter your birth date to watch this video:
You are not allowed to view this material at this time.
NBC's best new drama since forever. [15 Apr 2013]

The result is a challenging psychological thriller within a gripping crime procedural.

Deliciously disturbing, Hannibal is bound to leave viewers hungry for more.

Hannibal moves at a snail's pace to build tension. At the same time, there's an obvious attempt to counter its inertia with a lot of very intrusive soundtrack music.... Fortunately, Dancy's performance is terrific and more than enough to maintain our interest, with or without elks.

The thing that does give this show its grounding is the acting. Dancy is a perfect, tortured soul; Fishburne is everyman with a brain; and Mads Mikkelsen is perfectly named. What is lacking, though, is any respite from the darkness.

In seriously exploring what drives people to kill, Hannibal serves up a meal too heavy to enjoy each week.

Conceptually, this isn't half-bad. The writing, unfortunately, is all-bad.
Mikkelsen and Dancy work wonders together as Hannibal and Grant and their supporting cast is solid as well. I love the mind games that

Mikkelsen and Dancy work wonders together as Hannibal and Grant and their supporting cast is solid as well. I love the mind games that Hannibal has played with Grant through out the season and each episode is as sick and twisted (in a good way) as the next. I absolutely can not wait until season 2.

…

Expand

I'm home on a Friday night and willing to spend my time with Hannibal. Some associations are being made with the great "True Detective", but

I'm home on a Friday night and willing to spend my time with Hannibal. Some associations are being made with the great "True Detective", but I think Hannibal better. Each episode is well written, and the visuals warrant 1080p viewing. The best part is re-watching the episodes for all the cues and innuendos I missed. Try it out... You won't be disappointed.

…

Expand

I find that Hannibal has been a phenomenal TV series thus far. Not only is it highly creative, it also supplements it's shady tone with

I find that Hannibal has been a phenomenal TV series thus far. Not only is it highly creative, it also supplements it's shady tone with mouth-watering suspense. I would highly recommend it to anyone who enjoys a good TV Drama/Thriller.

…

Expand

It was always recommended to me, I never had the opportunity to watch it, I'm incredibly overwhelmed with guilt. This is one of the best

It was always recommended to me, I never had the opportunity to watch it, I'm incredibly overwhelmed with guilt. This is one of the best series I've seen in years and in my life. Dark, violent, psychological and elegant.

Great performances, great technical values, great story, great narrative. Spectacular.

…

Expand

I would have rated this show a 7 after the first two episodes but it has grown just a bit creepier now that the characters are more developed.

I would have rated this show a 7 after the first two episodes but it has grown just a bit creepier now that the characters are more developed. There are some 'horror' type scenes but it is the stuff that you don't see, that is implied, that really sells it. Very good show, I'd say unique as well.

…

Expand

please, come in..

Hannibal Projecting such a dark topic is very tricky but the creator here keeps it smart by letting the audienceplease, come in..

Hannibal

Projecting such a dark topic is very tricky but the creator here keeps it smart by letting the audience imagine it until the series has taken hold of you and then shows you its real tone which is not easy to watch especially post second season. Its stage is really set in a more metaphorical way which opens a dreadful door of the combination of horror and thrills that easily gives you the goosebumps. And in the end the heart of the series lies within the relation between the lead actors which is beautifully poetic.

…

Expand

This review contains spoilers

, click expand to view

.

First season, starts very good, at the middle start to fall... To many questions and details that makes you wonder wtf? How is this possible? (the hand that none saw who placed it in the morgue, or the totem of bodies that someone put them so high, dug the holes and not covered, and not any way explained how the bodies build up so high... Second season, first episode starts awesome... second episode and already start the **** Many reasonless fill in, many scenes with no point (graham stands fishing for 2 minutes, glass of hannibal with camera slowly turning 360 degrees). Avoid it at all costs.

…

Expand