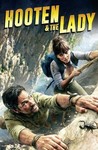 Summary:

American Ulysses Hooten (Michael Landes) meets Lady Alex Lindo-Parker (Ophelia Lovibond) while searching for Percy Fawcett's camp and soon travel together to locate other lost treasures in this British adventure drama import from Sky 1.

Genre(s):

Drama

,

Action & Adventure
Season 1 premiere date:

Jul 13, 2017

Episode Length:

60
While a slapstick, British action-adventure series might not sound like CW material, the fact that it's so different from the rest of the network's typical programming is what makes it fit in perfectly. The show is summer television escapism at its finest.

This is pure escapism, shot on location in London, South Afrida, Russia and Cambodia. It's funny. It's fun.

Hooten & the Lady tries for madcap adventure but settles for mild charm.
A roguish, wise cracking American and a feisty, English posh girl team up for a series of treasure hunting adventures. If that sounds

A roguish, wise cracking American and a feisty, English posh girl team up for a series of treasure hunting adventures. If that sounds derivative and a bit goofy then that's because it is. However that's part this shows charm because Hooten and The Lady is best seen as a tribute to Indiana Jones, the Uncharted games and the 80's TV adventures that were more about great action and witty one liners then violence, dark undertones or political agendas. It's perfect TV to just switch off and enjoy and ther's nothing else on TV like it at the moment.
What a shame there isn't going to be a series 2.

…

Expand