Network:

HBO

Series Premiere Date:

Apr 27, 2014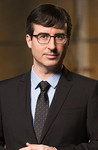 Starring:

John Oliver (II)

Summary:

The Daily Show's John Oliver moves to HBO to host his own weekly half-hour satirical news show.

Genre(s):

Comedy

,

Talk & Interview

,

News
Season 1 premiere date:

Apr 27, 2014

Episode Length:

30
Please enter your birth date to watch this video:
You are not allowed to view this material at this time.
Last Week Tonight With John Oliver
Last Week Tonight probably needs to towel off a bit and present a more relaxed half-hour next Sunday. The premiere outing nonetheless showed considerable ingenuity and a willingness to take on topics that haven't already been parodied to death.

Night One felt almost fully-formed, as if Oliver has spent his Daily Show tutelage making a list of everything that works-- and everything he wanted to do just a little bit differently.

If Last Week Tonight With John Oliver can keep shedding humorous light on international affairs and other stories that fall through the cable-news cracks, this show might make it to eight weeks and beyond.

The first newscast did feel simultaneously long and breathless, maybe because there was little to vary it or break up the topic segments.... But it was a funny, confident start.

His delivery, which falls between Monty Python and Austin Powers, explodes with enjoyable little pips of indignation. [26 May 2014, p.42]

Even at a commercial-free 30 minutes, Last Week Tonight felt rushed and jam-packed with information, heightened by Oliver's tendency to get excited and/or yell. Those are all good traits (and, historically, pretty funny traits of his), but the entire concept might work better at an hour so he could at least breathe.

Everything about Last Week Tonight felt like another spin of the latenight-satire wheel, with nary a new groove in it.
The important thing about John Olivers show is that it is politically sincere and consistent, behind the humor and extravagances. Positioned

The important thing about John Olivers show is that it is politically sincere and consistent, behind the humor and extravagances. Positioned left of the democrats, Oliver jeopardizes unfairness, lobbyism and capitalistic influence on politics and the justice system. He satirizes society just the way a comedian should, not all humor, not all critique, but a mixture of both.

…

Expand

Last Week Tonight is a genius comedy and news show that not only is one of the funniest things currently on television, but also one of the

Last Week Tonight is a genius comedy and news show that not only is one of the funniest things currently on television, but also one of the only news shows that gives accurate and relevant information about the past week. One of the greatest things about this show is that Mr. Oliver will sometimes give serious opinions on things that, while usually out of place in a comedy show, fit in perfectly with the flow of the show. I would recommend this show to anyone who enjoys a good laugh and interesting news.

…

Expand

The most sincere and brilliant late night show on television since Jon Stewart. It's witty, intelligent, investigative, revealing, funny,

The most sincere and brilliant late night show on television since Jon Stewart. It's witty, intelligent, investigative, revealing, funny, likeable and did i mention funny! Truly great writing is visible on this show.

…

Expand

I was hoping for John Oliver to take over the Daily Show, but this is much better. The writing is excellent and the way he delves into the

I was hoping for John Oliver to take over the Daily Show, but this is much better. The writing is excellent and the way he delves into the main stories with humor and a well-researched perspective is unmatched on television.

…

Expand

Last Week Tonight is basically a PBS or BBC version of the news in Satire form. Many compare LWT to The Daily Show, which it is not with the

Last Week Tonight is basically a PBS or BBC version of the news in Satire form. Many compare LWT to The Daily Show, which it is not with the exception of being satirical. LWT looks at the long form news and breaks down the subject to discribe it to the viewer. Watch any of his 10+ minute take downs on Net Neutrality or FIFA.
TDS mocks MSNBC, FOX News, and CNN segments. TDS is described as a show where people young people get their news and being a mid 20's person I never understood that, because it barely covers it (it just mocks what has been reported)
Last Week Tonight, focuses on issues that Al Jazeera or World News tackle, thus being a more engaging topic in news, and less pop culture.

…

Expand

A biting show that has one goal to be that thorn in the side of the world. Whether it is those Oliver rallies against or the viewer

A biting show that has one goal to be that thorn in the side of the world. Whether it is those Oliver rallies against or the viewer themselves, Oliver simply wants to point out ignorance and is not ashamed to bring his own ignorance into focus. It is a show about upheaval and those on the established side of beliefs may struggle to enjoy the anarchy.

…

Expand

Fudging details to trample over the democratic wishes of the average Britain to promote Britain remaining in the EU and losing its

Fudging details to trample over the democratic wishes of the average Britain to promote Britain remaining in the EU and losing its sovereignty? Last show I ever watch of yours John.
You should note in your efforts to be a warrior for justice that your own status as a rich elite may not always put you in the best place to judge the reasons people feel as they do.
You are in the exact class that benefits from Britain's EU membership and as an intelligent person you should realise that other groups in society do not benefit to the same degree and can even suffer.
You are a traitor John and I have no more respect for you.

…

Expand