Network:

ABC

Series Premiere Date:

Sep 24, 2013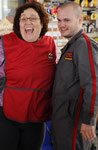 Starring:

Isiah Whitlock Jr

,

Matthew Long

,

Summer Bishil

Summary:

A group of employees of a gas station in Queens share a $45 million lottery jackpot--which impacts their lives in varying ways--in an ensemble drama that's loosely based on the British series The Syndicate.

Genre(s):

Drama
For now, Lucky 7 is a grabber with strong potential for further viewer investment.

There's also plenty of good writing and acting in the drama Lucky 7, though to exactly what purpose is difficult to say.

The concept is predictable, but not tired. The cast is relatable, and the dilemmas are thought-provoking without being heavy-handed.

I found the characters forgettable, and the pilot as a whole--which mostly focuses on the characters' depressing, overwhelmed everyday lives pre-jackpot, along with flashforwards suggesting what a pain the money will turn out to be--weirdly stressful.

Lucky 7 is a soap opera, and it's not a very well-crafted one.

Suffice it to say that I predict Lucky 7 will be the season's first cancellation.
I was looking forward to getting to know the characters and finding out how the money messed with them. I thought there was a lot of

I was looking forward to getting to know the characters and finding out how the money messed with them. I thought there was a lot of potential and expected it to take a while to really get going, since there were so many characters to develop. Oh, well, guess we'll never know.

…

Expand

Looks like Lucky 7 ain't so lucky after all. I heard about it today and man, does this show sucked or what. Lucky 7 is the first new fall show

Looks like Lucky 7 ain't so lucky after all. I heard about it today and man, does this show sucked or what. Lucky 7 is the first new fall show to get the boot after low ratings came tumbling down with just 2 episodes and it seems like Agents of S.H.I.E.L.D might be the only ones who crushed Tuesday with a mighty cast and a soon-to-be renewal that ABC didn't even noticed. I certainly don't get it on Lucky 7. The script is laggy, the cast is sorta frustrating, and even though I thought it was going to air on Sunday nights. Unfortunately, it's a big letdown. R.I.P. Lucky 7 (2013-well... 2013).

…

Expand