Network:

AMC

Series Premiere Date:

Jul 19, 2007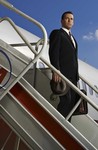 Starring:

Vincent Kartheiser

,

John Slattery

,

Elisabeth Moss

Summary:

The second season of the multi-Emmy-nominated series picks up two years ahead in 1962 where the questions left hanging in season one are slowly answered.

Genre(s):

Drama
Creator:

Matthew Weiner

Season 2 premiere date:

Jul 27, 2008

Episode Length:

60
Please enter your birth date to watch this video:
You are not allowed to view this material at this time.
The Making Of Mad Men: Women's Hair Styles
The writing is a real thing of beauty - from the aforementioned nuance to searing workplace witticisms and pitch-perfect tone from a multitude of characters.

The premiere jumps the series from 1960 to 1962, but it plays coy with most of last season's cliff-hangers, including the whereabouts of Peggy's son with married exec Pete Campbell (played with oily brilliance by Vincent Kartheiser). It's quite a tease, but the debut proves Mad Men is as smart as ever

The vintage look carries a potent, contemporary kick. Here's the rare series that lives up to the advertising hype.

Far from devolving into soapy Madison Avenue pablum, Mad Men is painstakingly building its way to genuine greatness.

Based on the first episode of the second season, "Mad Men" is still one of the best series currently on television, if not the best.

Mad Men relies on its talented cast to communicate the unspoken, to get across the emotions and thoughts that roil just beneath the surface. I'll admit, there are times when I know I'm supposed to intuit something but I'm not completely sure what it is. And that's OK.

There is little in the way of "action"--it is possibly the slowest, most deliberative show on television, which is one of the things that makes it so lovely and mysterious.
Cast and writers are quite simply the most talented on TV. Mad Men is one of those shows you just don't want to end and which you

Cast and writers are quite simply the most talented on TV. Mad Men is one of those shows you just don't want to end and which you anticipate with true pleasure each week. Makes the medium a true art form.

…

Expand

Finally, one of the few television shows in recent years where the second season not improved over an already very good to great show; it is

Finally, one of the few television shows in recent years where the second season not improved over an already very good to great show; it is clearly one of the best dramas to arrive in the past 10-15 years. What an ending last night to the second season. If Elizabeth Moss or Januray Jones don't get nominated next year for Emmys, it will be extremely disappointing.

…

Expand

Probably my most favorite season from the entire series simply because its interesting and tense in the same time. There is really not much to

Probably my most favorite season from the entire series simply because its interesting and tense in the same time. There is really not much to say i absolutely liked every episode and the season finally was amazing as well, great series, great actors!!

…

Expand

Brilliantly crafted down the the last detail. I was born in 1958 and the interaction between the children and the Draper parents has given me

Brilliantly crafted down the the last detail. I was born in 1958 and the interaction between the children and the Draper parents has given me significant goose bumps more than once. This show is spot on.

…

Expand

Still numeral uno! You gel with the characters even when they're whiny pompous spoiled brats. Pampered! Sometimes Mad Men can turn into Cry

Still numeral uno! You gel with the characters even when they're whiny pompous spoiled brats. Pampered! Sometimes Mad Men can turn into Cry Babies and go thru any lengths to get what they want. Super egos!

…

Expand

Set about a year after the first season the 1960's are well and truly up and swinging (Free love, the cold war etc) and we return to the lives

Set about a year after the first season the 1960's are well and truly up and swinging (Free love, the cold war etc) and we return to the lives of the men and women of Sterling Cooper advertising and their families. As with the first season there are periods where it appears as if very little is happening meaning some may find their attention wandering but with every role played to perfection the subtle scripting will ensure that most are drawn back episode after episode. If anything this is a slight improvement on the first season, which did take a few episodes to really develop the characters.

…

Expand

Mad Men is poorly written, it spews continually lackluster dialogue, and it struggles with one boring plot line after another. The show boasts

Mad Men is poorly written, it spews continually lackluster dialogue, and it struggles with one boring plot line after another. The show boasts quite the cast, but this only underscores how poorly the writers have done in utilizing the talent at their disposal. When it first came out I was intrigued, and subsequently watched several episodes, but it didn't take long to come to the realization that there is simply no "there" there. Short of the somewhat unique premise of the series, there is absolutely nothing about this show that warrants the attention it is getting. Are people really so shallow that they fall for this sophomoric, gimmicky drivel? When I heard that it was actually winning awards I couldn't even believe by ears. Mad Men is every bit as trite and pathetic as our modern movies and music. Style over substance, nothing more.

…

Expand