Network:

PBS

Series Premiere Date:

Apr 9, 2019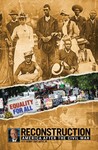 Summary:

The four-hour documentary about Reconstruction after the Civil War narrated by Henry Louis Gates Jr features interviews with historians, authors and politicians as well as archival images, documents and recreations of events.

Genre(s):

News/Documentary

,

Documentary

,

Educational
Show Type:

Mini-Series

Season 1 premiere date:

Apr 9, 2019
A remarkable tour of a terrible part of our history that makes the case--a compelling one--that this history isn't entirely in the past at all.

The series traces, in vivid detail, the struggle to aid black progress in this period and its powerful opposition. ... A rich four hours, including the birth and purpose of the Ku Klux Klan, the way in which black Americans responded, and without anything resembling a dull moment.

Gates's series is a great service, especially in its first two hours. ... The series's second two hours — which cover subjects like the Jim Crow system, the Ku Klux Klan, W.E.B. DuBois, the creation of the N.A.A.C.P. and the ascendance of black popular culture — are engrossing but less urgent.

Despite a somewhat tedious pace, much of Reconstruction: America After The Civil War is revelatory.