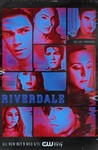 Episode Details & Credits
Starring:
Mark Consuelos, Cole Sprouse, Luke Perry, Mädchen Amick, Marisol Nichols, Skeet Ulrich, Vanessa Morgan, K.J. Apa, Ashleigh Murray, Camila Mendes, Lili Reinhart, Madelaine Petsch, Casey Cott, Charles Melton
Summary:
Betty follows some strong leads in hopes of finding out who the true Gargoyle King is after confronting the parents, who were part of "The Midnight Club" 25 years ago. Meanwhile, Veronica's attempt to prove Archie's innocence lands her in hot water. Finally, Archie turns to Kevin for help making things right.
Seasons & Episodes
Season 4

Season 3

Season 3 Overview

Air Date: October 10, 2018

S3:E22. Chapter Fifty-Seven: Survive the Night

Air Date: May 15, 2019

S3:E21. Chapter Fifty-Six: The Dark Secret of Harvest House

Air Date: May 8, 2019

S3:E20. Chapter Fifty-Five: Prom Night

Air Date: May 1, 2019

S3:E19. Chapter Fifty-Four: Fear the Reaper

Air Date: April 24, 2019

S3:E18. Chapter Fifty-Three: Jawbreaker

Air Date: April 17, 2019

S3:E17. Chapter FiftyTwo: The Master

Air Date: March 27, 2019

S3:E16. Chapter Fifty-One: BIG FUN

Air Date: March 20, 2019

S3:E15. Chapter Fifty: American Dreams

Air Date: March 13, 2019

S3:E14. Chapter Forty-Nine: Fire Walk With Me

Air Date: March 6, 2019

S3:E13. Chapter Forty-Eight: Requiem for a Welterweight

Air Date: February 27, 2019

S3:E12. Chapter Forty-Seven: Bizarrodale

Air Date: February 6, 2019

S3:E11. Chapter Forty-Six: The Red Dahlia

Air Date: January 31, 2019

S3:E10. Chapter Forty-Five: The Stranger

Air Date: January 24, 2019

S3:E9. Chapter Forty-Four: No Exit

Air Date: December 13, 2018

S3:E8. Chapter Forty-Three: Outbreak

Air Date: December 12, 2018

S3:E7. Chapter Forty-Two: The Man in Black

Air Date: December 5, 2018

S3:E6. Chapter Forty-One: Manhunter

Air Date: November 28, 2018

S3:E5. Chapter Forty: The Great Escape

Air Date: November 14, 2018

S3:E4. Chapter Thirty-Nine: The Midnight Club

Air Date: November 7, 2018

S3:E3. Chapter Thirty-Eight: As Above, So Below

Air Date: October 24, 2018

S3:E2. Chapter Thirty-Seven: Fortune and Men's Eyes

Air Date: October 17, 2018

S3:E1. Chapter Thirty-Six: Labor Day

Air Date: October 10, 2018

Season 2

Season 1