Network:

ABC

Series Premiere Date:

Sep 30, 2014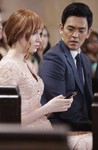 Starring:

David Harewood

,

Karen Gillan

,

John Cho

Summary:

Eliza Dooley (Karen Gillan), who has 263,000 social media followers, realizes she has no real friends and hires marketing man Henry Higenbottam (John Cho) to help her learn how to interact with people face-to-face.

Genre(s):

Comedy
Creator:

Emily Kapnek

Season 1 premiere date:

Sep 30, 2014

Episode Length:

30
Both the title and the first few minutes ... nearly ruin what could turn out to be a charming show. ... Fortunately, the tone starts to shift, soften, and gain stronger comic footing. ... Additionally, almost all of the snarky skewering of the corporate environment of Henry and Eliza's Big Pharma workplace radiates the same wonderfully acidic tone as Better Off Ted.

It has real possibilities, but since the "My Fair Lady" climax is repurposed in the pilot, it's unclear where the relationship will go.

To see its potential, you'll have to grit your teeth through a lot of painful moments early on.

Selfie's addiction to topical techie satire tends to get in the way of Gillan and Cho's attempts to convey an unlikely chemistry that might help the show rise above a concept that already feels like yesterday's clicks.

When you suspend disbelief and watch Selfie through a prism where it's a fantasy-world alternate reality, where people speak in self-aware, carefully crafted maxims and quotables, lines like this are actually really funny--exceptionally astute and observant about today's culture. But if you look at Selfie as some sort of realistic meditation on a social media-obsessed, narcissistic generation--which it's tempting to do, especially as some of Eliza's self-serving transgressions hit closer to home than others--then you'll likely find writing like this to be maddening.

The premise still seems shaky, but the final few minutes may earn Selfie a second look.

There's the usual assortment of quirky neighbors/co-workers, none of whom register as more than caricatures in the pilot, and the social media buzzwords sprinkled with abandon throughout the pilot comes off as hashtag desperate.... Selfie is actively grating.
A hilarious show that depicts modern day life with technology and how social programs can change us compared to real life. This show has fun

A hilarious show that depicts modern day life with technology and how social programs can change us compared to real life. This show has fun humor, lovable characters, heart warming or string tugging moments, great acting, and hilarious jokes. A show that's worthy of lasting for more than 1 or 2 seasons, vote help this keep going.

…

Expand

Americano não sabe assistir séries mesmo viu, eu não tinha expectativas alguma com essa série, mas a séries trás um conteúdo bom e engraçado,

Americano não sabe assistir séries mesmo viu, eu não tinha expectativas alguma com essa série, mas a séries trás um conteúdo bom e engraçado, acabei assistindo tudo ontem e não me arrependo, ótima série! Eliza e Henry otp

…

Expand

This review contains spoilers

, click expand to view

.

I personally first thought by the tittle it was going to be a sitcom about a middle age lady who couldn't grow up. When I watched the first episode my initially hypothesis was correct but. I was pleased to see it taking todays day and age and turning it to a funny show. To watch seeing Eliza arguing with Henry telling him to get a social life and Henry teaching her how to become a better person was interesting. I am defiantly looking forward to this weeks new episode.

…

Expand

This show came to fill a space for easy laughs, and it kind of do it. The story maybe went forward too fast, and it became a romance comedy on

This show came to fill a space for easy laughs, and it kind of do it. The story maybe went forward too fast, and it became a romance comedy on the go, but it has potential. I enjoyed the minutes the show took from me.

…

Expand

The name of the show is the wrong choice. Cast is nice, Cho and Gillian are suitable for each other in the show. The series has the

The name of the show is the wrong choice. Cast is nice, Cho and Gillian are suitable for each other in the show. The series has the opportunity to make it over "change and be a hero" thing. I had the idea it can be just a rubbish after watching first episode. However the second part oft the pilot was promising for the next episodes and maybe for renewal. After watching second episode i'm glad to keep watching this.

…

Expand

I think a lot of people are watching this just for the interesting pairing of Cho and Gillan and I am one of them. I think Gillan has earned a

I think a lot of people are watching this just for the interesting pairing of Cho and Gillan and I am one of them. I think Gillan has earned a loyal fan following and it was a no-brainer to put her in a series. Gillan's accent slips from time to time and she hasn't gotten the hang of pronouncing some things properly. It's mildly unbelievable that someone can have such a complete lack of self-awareness, but the thing that gets me is the stunningly beautiful Gillan, who I think most people would agree could easily pass for a cover model, is so unbelievable as a woman so completely unwanted. I wouldn't dare suggest beautiful people don't have a right to be sad, but, as an average human, I just don't believe her life is that hard. She's pretty, seems to have a good paying job and, while the show wants us to believe she's got no friends, she gets and receives copious amounts of help whenever she asks. She's got pretty girl problems, not real problems, though that's nothing new on TV. I think the premise is compelling and the jokes are funny enough, but the budding chemistry between the two leads is what will probably keep the show afloat.

…

Expand

Could not get all the way through the first episode but read some positive reviews and thought I would try it again. Could not get through

Could not get all the way through the first episode but read some positive reviews and thought I would try it again. Could not get through that episode either. I like Cho but I find Gillan's character too annoying to be entertaining. The jokes are flat, the situations are even flatter. Sorry. No more of this show for me. I think it is appalling how bad this season's sitcoms have been so far. Marry Me is the only one that I am likely to continue watching although Blackish isn't terrible but I certainly would not miss it if it was cancelled.

…

Expand