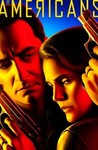 Creator:

Joe Weisberg

Season 2 premiere date:

Feb 26, 2014

Episode Length:

60
Please enter your birth date to watch this video:
You are not allowed to view this material at this time.
Sometimes watching greatness expand and realizing that a foundation is in place for the future (excellent writing, superb acting, a clear conceptual vision) is just the kind of assurance you need to cement your allegiance.

Season 2 finds ways to introduce even greater tension, even as [Philip and Elizabeth are] a more fundamentally sound unit, while also adding a whodunnit element that spices things up nicely.... Absolutely dynamite.

The new season--suspenseful as ever, more brutal in its violence, perhaps, and more expansive in its reach into history--easily upholds the standard of the first.

Watching, it is almost impossible not to root for these two Communists as they do any and everything they can to undermine America. In this regard, The Americans works its American audience as effectively as its heroes work their marks: It makes double agents of us all.

what these two characters, so fabulously played by Keri Russell and Matthew Rhys, are about to realize as this excellent series returns is that their jobs put their children at risk.

Credibility starts to fray when our heroes, or anti-heroes, keep needing miraculous last-second evasions and escapes.
Wow I have finally caught up in full with all three seasons of "The Americans" and it's the best Suspense/Drama show I have ever watched and I

Wow I have finally caught up in full with all three seasons of "The Americans" and it's the best Suspense/Drama show I have ever watched and I watch a ton of television shows. I will say this is a review for all three seasons and not just one or two of them. I will start off with the story which takes place in Washington, D.C. during the Cold War in the 1980's. The story progresses outside of this conflict to center on a married KGB couple with children that are spies working for their Motherland Russia. I love the story because no show to my recollection has ever dived into a story like this one and least of all not centered on it. I will move onto the acting which is Superb. I mean Matthew Rhys and Keri Russell as the main protagonists are Incredible and really flesh the characters out. The other actors and actresses all do an Amazing job including Noah Emmerich as the FBI Agent. I will follow up now on the action which is in my opinion extremely scrutinized and I mean that in a great way. The action/espionage is done Masterfully as it was created by Joe Weisberg who used to be in the CIA. I believe he recreates that time period with exquisite detail. The action is not Game of Thrones violence but when it's there it's all out and running for the finish line. I will finish with the cinematography which is done flawlessly and every shot and angle is shot with a purpose. I will close by saying this is a Must See television show. I mean I can think of no other show that keeps my Heart racing every episode at what might happen next like this show does and you will not regret watching it of that I can assure you. I can't wait for Season 4.

…

Expand

Whats not to like about a gritty spy show with relatively unknown actors!? Sure it has some cheesy character moments (its set in the early

Whats not to like about a gritty spy show with relatively unknown actors!? Sure it has some cheesy character moments (its set in the early 80's after all, so like no DUH!), but 99.99% of it is fantastic acting and great edge of your seat entertainment! Love it.

…

Expand

Only 1 episode of this new season aired but 'The Americans' is a much more confident show than it ever was. It's well acted, well written and

Only 1 episode of this new season aired but 'The Americans' is a much more confident show than it ever was. It's well acted, well written and the story the show is telling is extremely compelling. Must watch tv. Absolutely loved it.

…

Expand

Not only is it still a good series, it got better as well.

The series continues with following their family as Philipp and ElizabethNot only is it still a good series, it got better as well.

The series continues with following their family as Philipp and Elizabeth continue spying. It starts with a horrific death of another "illegal" couple they are friends with, and wraps the season up with finding out who and why the murder happened.

They got over the whole "will they, won't they" situation and established the two main protagonists (are they protagonists if they are the Soviets?) who love each other. We get a bit more of a larger overarching story and the plots run together well.

The only real negative I have is not the actress playing Paige, their 14 year old daughter, and not the actual writing, I just hate the whiny self-entitled privilege that she works from. That is a good writing thing, but its the part of the series that drives me nuts.

Pros: This is still better than Homeland, and a great thriller.

Cons: I still hate angsty 14 year old drama.

…

Expand

It's really hard to fault "The Americans" and its an interesting feeling to be rooting for the supposed bad guys. Keri Russell and Matthew

It's really hard to fault "The Americans" and its an interesting feeling to be rooting for the supposed bad guys. Keri Russell and Matthew Rhys are a great pairing of solid actors, especially Rhys. My only qualm is that Annet Mahendru's character Nina is probably getting too much screen time this season. The subplot is dull and the time could be better spent elsewhere.

…

Expand

The 2nd season so far (from what i understand almost didn't happen) has begun to develop alot more plot twists and turns than the first season

The 2nd season so far (from what i understand almost didn't happen) has begun to develop alot more plot twists and turns than the first season seemed to have. Main characters are being developed further-sometimes polarizing for the viewer. The show is based in the 80's, and as per the first season, it is amuzing to watch the show take place with this 80's backdrop. Further, use of russian to give some authenticity to the show (despite the lack of authenthicity of their accent).

…

Expand

I love the plotline. I love the cast. However i loathe the extreme sexual content. Do we really need to see them engaged in 69?? Do we

I love the plotline. I love the cast. However i loathe the extreme sexual content. Do we really need to see them engaged in 69?? Do we need to see blowjobs??? Sadly i will never watch this show again.

…

Expand