Network:

The CW

Series Premiere Date:

Oct 7, 2014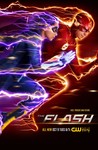 Starring:

Thomas Cavanagh

,

Jesse L. Martin

,

Danielle Panabaker

Summary:

Season two introduces multiple universes which brings Jay Garrick (Teddy Spears) and Wally West (Keiynan Lonsdale) into the picture.

Genre(s):

Drama

,

Action & Adventure

,

Science Fiction
Please enter your birth date to watch this video:
You are not allowed to view this material at this time.
Nitpicks aside, though, The Flash is definitely off to a strong start, proving that last year most definitely wasn't a fluke. Building on the history of what's come before and adding a lot of new elements which are sure to pay off at some point over the course of the next 22 episodes, season 2 of The Flash has all the makings of another amazing year of television.

It is amusing in the right places.... It's also reasonably smart without being show-offy. Tuesday's launch, meanwhile, is a nice reminder that nothing--at least that good stuff--has changed.

Although these series can't compete with feature budgets, The Flash delivers enough action to effectively work on that level, and has developed a strong array of characters to function as a drama, peppered with humor that happily avoids the trap of camp.... This CW series--seemingly emboldened by its success--isn't hitting the brakes at all as it races into the future, or the past, or wherever its two-dimensional roots might lead it.

The whole season promises to be about head-spinning paradox, as exec producers Greg Berlanti and Andrew Kreisberg and their writers are boldly venturing into multiverse territory.
So far the second season of The Flash hasn't let viewers down.
I am waiting for the return of Harrison Wells AKA Zoom.
What would be reallySo far the second season of The Flash hasn't let viewers down.
I am waiting for the return of Harrison Wells AKA Zoom.
What would be really interesting is if the real Harrison Wells emerges from a parallel dimension and how the Flash team would react.

…

Expand

Keep up the good work!!!! The co-stars need more back story. We got flash but how did everyone else end up at STAR LABS? A Flash real romance

Keep up the good work!!!! The co-stars need more back story. We got flash but how did everyone else end up at STAR LABS? A Flash real romance wouldn't hurt.

…

Expand

Season 1 was good but with a new big bad by the name of Zoom leading the way this season It has carried the show to new heights. This is what

Season 1 was good but with a new big bad by the name of Zoom leading the way this season It has carried the show to new heights. This is what a super hero show is supposed to be. Fun, dramatic, smart and action packed The Flash is one of the best shows going. This season Zoom brings a horrifying bad guy to the table that will actually frighten you everytime he shows up on screen. With all the twist and turns this show brings you feel like you can't miss an episode. Great for all ages! My grandmother, mother, and father all watch this show. Outstanding! 10 out of 10

…

Expand

As a whole, the Flash is still a great show. In my opinion, it's the second best superhero show on TV right now, only being slightly beat by

As a whole, the Flash is still a great show. In my opinion, it's the second best superhero show on TV right now, only being slightly beat by Arrow. But this season is not as good as last season, not by a long shot. For starters, the amount of personal drama on the show has gotten horrible. Second off, the mystery elements that made season one so good just aren't here anymore. Nonetheless, it is still a tremendously good show with a great story and great villains.

…

Expand

DC's The Flash remains smart, cocky and fun in its sophomore season, delivering thrills and a complex plot while developing its sprawling

DC's The Flash remains smart, cocky and fun in its sophomore season, delivering thrills and a complex plot while developing its sprawling characters well.

…

Expand

This review contains spoilers

, click expand to view

.

Likeable plucky Flash, but he is no hero and that type of ending yet again, really? Yet again the writers ret-con reality oh deary me. Why because the writers can't string together a continual Flash universe something? Twice now a sense of disconnection with all the characters leading into the third series. Who am I supposed to care about again from season to season if the characters personalities and lives keep changing? Plus it is getting old hat seeing him face off to yet again another speedster.

…

Expand

I had to stop watching this horrible show. I loved the first season, it was so awesome! But season 2 became a TV drama where there were more

I had to stop watching this horrible show. I loved the first season, it was so awesome! But season 2 became a TV drama where there were more romantic/dramatic scenes than fight scenes. The Flash really let me down.

…

Expand