Please enter your birth date to watch this video:

You are not allowed to view this material at this time.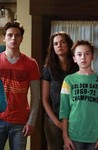 Episode Details & Credits
Summary:
Callie and Aaron discuss taking their relationship to the next level. Mariana finds fulfillment training with the Latina derby team. Brandon's new girlfriend Grace catches him playing hero to his ex-girlfriend Courtney.
Seasons & Episodes
Season 5

Season 5 Overview

Air Date: July 11, 2017

S5:E22. Where the Heart Is

Air Date: June 6, 2018

S5:E21. Turks & Caicos

Air Date: June 5, 2018

S5:E20. Meet the Fosters

Air Date: June 4, 2018

S5:E19. Many Roads

Air Date: March 13, 2018

S5:E18. Just Say Yes

Air Date: March 13, 2018

S5:E17. Makeover

Air Date: March 6, 2018

S5:E16. Giving Up the Ghost

Air Date: February 27, 2018

S5:E15. Mother's Day

Air Date: February 13, 2018

S5:E14. Scars

Air Date: February 6, 2018

S5:E13. Line in the Sand

Air Date: January 30, 2018

S5:E12. #IWasMadeInAmerica

Air Date: January 23, 2018

S5:E11. Invisible

Air Date: January 16, 2018

S5:E10. Sanctuary

Air Date: January 9, 2018

S5:E9. Prom

Air Date: September 5, 2017

S5:E8. Engaged

Air Date: August 29, 2017

S5:E7. Chasing Waterfalls

Air Date: August 22, 2017

S5:E6. Welcome to the Jungler

Air Date: August 15, 2017

S5:E5. Telling

Air Date: August 8, 2017

S5:E4. Too Fast, Too Furious

Air Date: August 1, 2017

S5:E3. Contact

Air Date: July 25, 2017

S5:E2. Exterminate Her

Air Date: July 18, 2017

S5:E1. Resist

Air Date: July 11, 2017

Season 4

Season 3

Season 2

Season 1