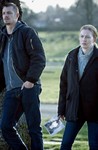 Starring:

Bill Campbell

,

Sterling Beaumon

,

Mireille Enos

Summary:

The final season of the police drama finds Linden (Mireille Enos) and Holder (Joel Kinnaman) still recovering from what happened at the end of season three as they begin investigating the murder of family connected to a military academy.

Genre(s):

Drama

,

Suspense
Season 4 premiere date:

Aug 1, 2014

Episode Length:

60
Please enter your birth date to watch this video:
You are not allowed to view this material at this time.
It took a circuitous route, with two cancellations and a move to Netflix, but it sticks the landing with this affecting, impressive final season.

It has woven well-crafted murder dramas and, beyond that, given us wonderfully complex lead characters who go way beyond the light banter, gruff exterior and "will they/won't they" tease of most TV cop teams.

The Killing still has some pulling power, even if the initial thrill of Season 1 is long since gone.

Season 4 was a mess well before it got to the parts designed to wrap up the series for good.

Despite flashes of what initially made the Danish adaptation so intriguing, this stretch drive can't escape the feeling of a show ready to be put out of its misery.

The Season 4 struggle starts somewhat intriguing, but gets repetitive quick.

The show's not horrible, like the seemingly indestructible Walking Dead, but I wish it had amounted to more.
Mireille Enos and Joel Kinnaman return for a fourth and final season, and their work in these 6 episodes is undoubtedly their best yet. The

Mireille Enos and Joel Kinnaman return for a fourth and final season, and their work in these 6 episodes is undoubtedly their best yet. The supporting cast, Joan Allen and Tyler Ross churn out fine performances as well. As a season, separate from the rest of the series--Season 4 is a solid mystery-drama. As a conclusion to the series as a whole--it's astounding.

…

Expand

Season 4 was absolutely amazing from beginning to end. I was in shock at how incredible the ending was. 2 amazing characters, brilliant

Season 4 was absolutely amazing from beginning to end. I was in shock at how incredible the ending was. 2 amazing characters, brilliant ending, I will be praying there will be another season.

…

Expand

I absolutely love this show, I have watched from the beginning. I love the way it ended, I am not going to spoil it for anyone, but THANK YOU

I absolutely love this show, I have watched from the beginning. I love the way it ended, I am not going to spoil it for anyone, but THANK YOU Veena Sud! It would have love to see the Kiss which I know they filmed. But I am satisfied anyway. I am going to miss this show very much.

…

Expand

I found the condensed story-line riveting. The main problem with The Killing was the deliberate stretching of the cases. The Rosie Larsen case

I found the condensed story-line riveting. The main problem with The Killing was the deliberate stretching of the cases. The Rosie Larsen case was infamously stretched throughout two seasons, and the Seward case for illogical 13 episodes. This time the story unfolds in six episodes, and the pace is realistic and logical.

The performances and the atmosphere were mesmerizing as well. The only problem I got was the side-story involving Linden and Holder trying to cover up Skinner's murder. Reddick's investigation seemed silly, the constant emphasis on that blue ring, and the overall illogical plotting that stems from the last season were terrible.

This show was always more of a psychological study of Linden (and Holder), alongside the people involved in the case, not so much of a whodunit. If it was bold enough and stayed away from shocking endings (like Skinner being last season's killer) and instead focused on emotional story-lines such as Seward's hanging, it would have reached heights none other show ever reached. I am sad to see it go, I am truly grieving...

I want to hug Linden and help her, and this season has given me some of it.

…

Expand

Season 4 is worth watching but not as good as the other seasons. FYI you cannot watch season 4 until you watch season 3. A big part of the

Season 4 is worth watching but not as good as the other seasons. FYI you cannot watch season 4 until you watch season 3. A big part of the plot derives directly from season 3 so you won't get what's going on unless you watch season 3 first. Though the best seasons are 1 and 2, which together comprise a single story.

There are a lot of reasons season 4 isn't as good as prior seasons. The main reason is that the detectives do not piece together clues and finally figure out who did it. The whole solution depends upon a kid who has amnesia and at the very end remembers what happened, conveniently. That is one of the worst kinds of plots there is. Right up there with the main character waking up at the end to discover everything has been a dream (as in that season of the original Dallas where the 'dead' Bobby Ewing suddenly appears in the shower).

But the story is good despite this major flaw, largely because of the secondary plot the is the fallout from season 3, and ultimately because season 4 ends realistically and well. I was really worried there for awhile, but the part of the story that was following up on season 3 ended just as it would have in real life.

…

Expand

Great and decent ending! Well done folks. The show may have been a little slow at some points, Linden may have been to much whining at some

Great and decent ending! Well done folks. The show may have been a little slow at some points, Linden may have been to much whining at some points, but the ending was good and the showrunners decent enough to give the character at the end some silver lining.

…

Expand

I thought it was as so-so as the previous season. The final episode poorly wraps up a once promising story line in a disappointing way and the

I thought it was as so-so as the previous season. The final episode poorly wraps up a once promising story line in a disappointing way and the series itself ends on a rather disappointing low note. Shame to see a great premise get wasted on something so poorly executed.

…

Expand